You already know that Harry Potter fans are the best fans, but are you aware of all of the awesome creative projects that the Potter fandom has taken on over the years? Many of these undertakings, like A Very Potter Musical by StarKid or Potter Puppet Pals, have grown so large that they have fan bases of their own! This page is where we feature some of the amazing fandom projects that have been born out of a love for Harry Potter. Check 'em out below!
Fan Fare
Potter Puppet Pals
Potter Puppet Pals
Potter Puppet Pals have been captivating the Internet for over seven years, believe it or not! The fad that began with "Bothering Snape" now includes over 20 videos, including the classic "The Mysterious Ticking Noise," and the group even performs live! Visit their website and YouTube page to find out more!
Team StarKid
Team StarKid
Many parody series have come out of the Potter fandom, but not much comes close to the glory of A Very Potter Musical. Check out all three installments from StarKid Productions below!
Check out their website and YouTube page.
Fan-Made Videos
The Battle of Hogwarts
The Battle of Hogwarts
The Battle of Hogwarts gives fans a look at what was happening in areas of Hogwarts not addressed in the book during the Final Battle. A fan project that had zero budget, the result is a must-watch. What's even more impressive for this film is that it was completed without any outside funding from fans – a magical accomplishment in and of itself!
View the film in its entirety above and visit the Facebook page. Also, check out our interview with the director here.
The Greater Good
The Greater Good
The Greater Good is a fan-made film that depicts a crucial moment in Albus Dumbledore's life: his battle with Grindelwald that resulted in the death of Dumbledore's beloved younger sister. Once best friends and co-conspirators, the two talented young wizards come to blows over fundamental differences in their beliefs about how Muggles should be treated. The Greater Good gives us not only a poignant view of one of the most important moments of Dumbledore's life but also glimpses of the great man he will one day become, as evidenced by his insistence on the importance of love and his impressive magical abilities. Aberforth also has his role to play in The Greater Good, and it's a real treat to see the interaction between all three Dumbledore siblings. Be sure to check out their website and Facebook page.
The OMEn Chronicles
The OMEn Chronicles
The OMEn Chronicles is another fan-film project, but this one focuses on events that occur fifteen years after the events of Deathly Hallows. The movie is like a fan fiction brought to life, following a totally new story in the wizarding universe, lacking any familiar faces from the world of Harry Potter but incorporating familiar spells and practices. Be warned: the film ends on a cliffhanger, so here's hoping we get another installment soon!
Sirius Black and the Secret Keeper
Sirius Black and the Secret Keeper
Sirius Black and the Secret Keeper is a fan-created mini-series that chronicles Sirius Black's attempt to protect James, Lily, and Harry as Voldemort searches for them. The first episode, embedded above, was well-received, but since the show's Kickstarter was unsuccessful, another episode has not been released. However, the series' Facebook page is still active, so hopefully we'll get to see more of this story. You can also check out the series' webpage, where the creators are still trying to raise funds to complete the project, here.
The Tale of the Three Brothers
The Tale of the Three Brothers
The Tale of the Three Brothers is a short film project produced by a group of students at the New England School of Communication, adapted from the story by the same name in The Tales of Beedle the Bard. We're hoping it gets posted online at some point so that fans around the world can enjoy it, but in the meantime you can get updates from their website and read MuggleNet's review of the film here.
Miscellaneous
Conventions
Conventions
There's nothing quite like the power of fans uniting over shared Potter passion, and there have been some amazing gatherings that have taken place. Potter cons of all types and sizes have occurred over the years, and each one is a special opportunity to bond with fellow fans and geek out over all things Rowling-related. Only a couple of conventions are highlighted here, but be sure to tell us about your favorites in the comments below!
MuggleNet Live!
MuggleNet Live! 2015: Expo Patronum took place in London on April 18, 2015 at the ICC London Suites within the ExCel Centre London complex and marked the very first fan convention for MuggleNet. The event was a complete success with a very high satisfaction rating as over 200 fans attended and met 19 of the film stars and crew members.
Potter stars included:
Natalia Tena – Nymphadora Tonks
Afshan Azad – Padma Patil
Harry Melling – Dudley Dursley
Chris Rankin – Percy Weasley
Nick Shirm – Zacharias Smith
Robbie Jarvis – Young James Potter (OOTP)
Jessie Cave – Lavender Brown
Anna Shaffer – Romilda Vane
Georgina Leonidas – Katie Bell
Warwick Davis – Professor Flitwick/Griphook
Nick Moran – Scabior
Jon Campling – Unnamed Death Eater
Alfie Enoch – Dean Thomas
Rohan Gotobed – Young Sirius Black
with a special visit by Ryan Turner (Hugo Weasley)
Film Crew guests included:
Eduardo Lima – Graphic Artist
Miraphora Mina – Graphic Artist
Gary Tomkins – Art Director
Paul Harris – Wand Choreographer
LeakyCon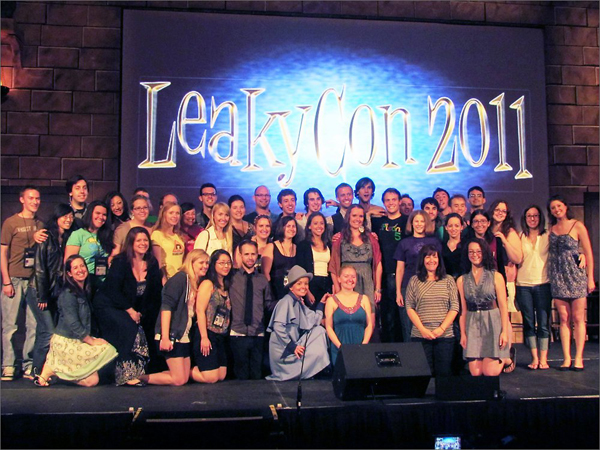 LeakyCon began in 2009 as a Harry Potter convention by fans, for fans. After four years and five more conventions, LeakyCon has become one of the biggest fandom events around. Past years have seen the convention visit Boston, Orlando, Chicago, Portland, and the mecca of all things Potter, London. More information can be found on their website.
MISTI-Con
Held at the Margate Hotel in Laconia, New Hampshire, MISTI-Con offers a unique Potter experience. Limited to 500 guests, the convention transforms the Margate Hotel into a little piece of the wizarding world. The focus at this convention is the relationship between fans and their shared passion for Harry Potter – panels are all fan-led, and you won't find any long lines for exclusive panels or autographs here. MISTI-Con took place for the first time in May 2013 but will return in 2015. Keep an eye on their website for details!
Enlightening 2007
Enlightening 2007 was hosted by the University of Pennsylvania right after the theatrical release of Harry Potter and the Order of the Phoenix. Adults and children alike enjoyed four days full of workshops and classes, and enjoyed the added benefit of being able to stay in the university dorms, granting a taste of true Hogwarts living! Highlights of the convention included a red-carpet screening of the latest movie, covered by both real and fictional reporters – including Rita Skeeter! The video above is YouTube user dune9694's photo compilation from the weekend.
Nimbus 2003, The Witching Hour, Lumos 2006, Prophecy 2007, Portus 2008, Azkatraz 2009, Infinitus 2010, Ascendio 2012
HPEF, or Harry Potter Education Fanon, began putting on Harry Potter conventions in 2003, when they hosted their first event, Nimbus 2003. Past events include The Witching Hour, Lumos 2006, Prophecy 2007, Portus 2008, Azkatraz 2009, Infinitus 2010, and Ascendio 2012, which was billed as being the last HPEF event that the organization was planning on holding. No matter which event they were at, attendees experienced an ultimate fan weekend, bonding with others in the Potter community. HPEF events were some of the first major fan celebrations in the Potter community, and they were just the beginning of a thriving legacy of Potter conventions.
Arthur & Merlin Film
Arthur & Merlin Film
Watch the entire film here on MuggleNet
Arthur & Merlin is a 2015 British feature film, directed by Marco van Belle.
The film is an epic fantasy adventure of good against evil, that tells the story of these two iconic characters as you've never seen it before. The film stars Kirk Barker as Arthur and Stefan Butler as Merlin.
The script, written by Marco van Belle and Kat Wood, was inspired by the same Celtic tales that J.R.R. Tolkien read as a young man, and presents a compelling new origins story for these two iconic characters.
Synopsis
In dark ages Britain, a time of myth and magic, a Saxon force attacks the Celtic people from the East. But they are not the only threat the Celts face. A powerful druid, Aberthol, secretly plots to destroy them. He controls the ailing King Vortigern, and leads the Celts to their slaughter. But hope is not lost…
Arthur, an outspoken young warrior captain, will not see his people fall. Fiercely loyal to the King, Arthur is banished by the druid. Determined to save the King and his people, Arthur sets out to find Merlin, a boy whose life he saved many years ago… a boy with seemingly magical powers, feared dead when he was forced to flee into the dangerous and forbidden Wynar Forest.
In the forest, young Merlin lost all connection to humanity and immersed himself in the forest's ancient magic, growing up to become a hermit wizard. Merlin agrees to help Arthur only when he discovers that Arthur is in possession of a sword from legend, a sword with a destiny only Merlin can understand…
Together, Arthur and Merlin embark on a heroic quest to stop the druid and save the King and their people – before the Celts are overrun by Saxons and become a mere myth themselves.
I Ship It
I Ship It
If you've seen the Very Potter musicals (and let's be honest, who hasn't?), then this short film, written and directed by Yulin Kuang, is one for you. After a bad split with her boyfriend (Joey Richter), Zoe (Mary Kate Wiles) spirals into depression with her best friend, Charlie (Sean Persaud), who also recently broke up with his girlfriend. At first, Peter finding a new "Ginny" depresses Zoe, and she spends her time sulking over wrock songs she and Peter sang together. Drama with the Wizard Rock Battle of the Bands ensues, and with the help of Charlie, Zoe writes a new song to get back at Peter. In the end, all seems lost, but Charlie has something to confess Zoe – could it be his feelings?
In a visual storytelling full of witty one-liners, broody soliloquies, and plenty of clever wrock lyrics, I Ship It, influenced by Harry Potter and starring Joey Richter, is definitely worth the 20 minutes. While watching, also pay careful attention to the scenery and other little details. It's one of my favorite aspects that gives the film its charm.
Watch the full video here:
Enjoy!