So You Want to Plan a Yule Ball
How many of you have dreamed of attending the Yule Ball straight out of Harry Potter and the Goblet of Fire? Twirling in gorgeous gowns, enjoying succulent wizard treats, and dancing the night away to the Weird Sisters? Well, I've done all that, and I've been doing it for four years.
When I was the president of a nationally ranked Harry Potter club at SUNY Oneonta, my top priority was to plan the annual Yule Ball. If you want to arrange your own, here's how it's done: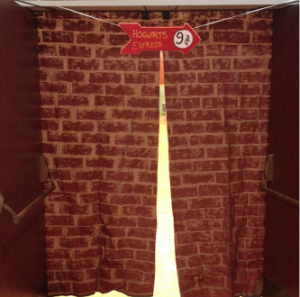 1. Time and Place
You want to book your event as far in advance as possible, especially if you are looking for a large space. If you are planning your first Yule Ball, I would suggest a smaller venue so you don't overwhelm yourself. I recommend an evening event; for me, it was always the 8 p.m. to 11 p.m./12 a.m. zone. The Yule Ball in Goblet of Fire was on Christmas, but my events ended up being in late February and early March due to school breaks.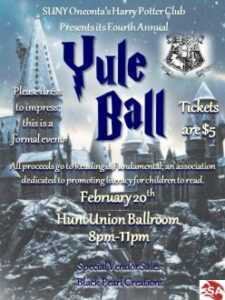 2. Decorations
For a film-authentic feel, blue and white are the appropriate colors for balloons, tablecloths, napkins, and more. Hang snowflakes on the walls and have tulle draped over staircases with glitter keys tied around it to give it shape. For a touch of elegance, hang string lights along the stage area with small artificial trees stationed on either side. You can even try making some floating candles using battery-powered tea lights, toilet paper rolls, and fishing string.
3. Music
A DJ is preferable, but here's a word of caution: You want a DJ who loves Potter and actually wants to be there. Nothing could be worse than someone working at your event looking miserable and unwilling to play that song from A Very Potter Musical for the fifth time. You want a DJ who is going to play a dubstep version of "Hedwig's Theme" and jam out. Feel free to include the "Cha Cha Slide" and "Cotton-Eye Joe" because those are guaranteed to get your guests out of their seats. I also highly recommend celebrating your inner nerd by playing the famous "Do the Hippogriff" from the Yule Ball scene in the Goblet of Fire film.
4. Food
Everyone loves food. If you do not already own The Unofficial Harry Potter Cookbook, buy it. It is beautiful, wonderful, and magical. You can either make these treats yourself (they're not difficult recipes) or reach out to your school's catering department to take over. We had everything, including Pumpkin Pasties, Cauldron Cakes, Rock Cakes, Licorice Wands, Lemon Drops, Bertie Botts Every Flavor Beans, and sometimes Spell Pops (cake pops colored to match different spells). The Lemon Drops were really Lemonheads, the Bertie Botts were general assorted flavored jelly beans, and the licorice wands were Twizzlers dipped in melted chocolate to form a wand core. Check out some other recipes from our DIY page as well!
5. Drinks
I'm talking nonalcoholic, of course. Our biggest hit was the mocktail bar with a number of Potter-themed drinks, including the Flaming Weasley, Felix Felicis, and Dudley. I loved ordering color-changing cups from Custom Ink with the event name and date on them to give away as a keepsake to guests. In an effort to be more eco-friendly, we asked everyone to reuse their cups throughout the night.
6. Activities
Create your own photo booth station with props or get professional with a green screen and high-tech background image. Leave out tea bags and cups of water with instructions on how to read your own tea leaves. You can also do a Herbology station with soil and an arrangement of seeds for guests to bring home. Take guests back to their 11-year-old selves with a coloring book station. Amazon happens to sell Potter books online. You can even have trivia games going for those who want to test their wit.
7. Special Guests and Vendors
This could work with any size crowd. This past year, I had a friend do tarot cards, and it was a hit! If you have musically inclined friends, invite them to perform as well. We invite one of the school's a cappella groups to sing every year. A Yule Ball is a great way to promote outside vendors. Know people who make wands or potion necklaces? Invite them to sell their products and thrill your guests.
8. Giveaways
People love free stuff. Go around town and see if anyone will donate a gift card or two. For colleges, students love winning cards to the school store or a local restaurant. Also, for my club's events, every year, we hid a small Golden Snitch around the building and gave the receiver a Harry Potter Club T-shirt.
9. Charity
We charge a small fee of $5 for admission to donate to our charity of choice, Reading Is Fundamental. RIF is the largest nonprofit children's literacy organization in the world that promotes reading by donating books to underprivileged children. This is optional for those who are hosting a private party. For organizers trying to make their Yule Ball a large-scale event, it is always nice to give back in any way that you can.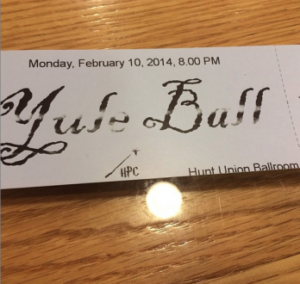 10. Funds
In order to fund the Yule Ball, we pitched the event to different departments and organizations around campus asking for donations. We were very lucky to have a community that believes in us and was willing to generously give because without them, all of this would have never been possible. If you want to plan your own large-scale Yule Ball, reach out to your campus community! Remember to budget and have spreadsheets with all of your purchases to ensure you're not getting into debt. Also, shopping lists priced out in advance are highly recommended.
If you are hoping to do a small-scale celebration, everything can be done on a tighter budget. Walmart is a godsend for streamers, balloons, candy, and more. You can even ask friends to contribute their own Potter treat to ease some of the prep for your party.
Have you had a Yule Ball of your own? Or your own Potter party? Comment below. I would love to hear about it!