DIY Leather Wand Sheath: Part 3
Welcome to the third and final installment of the "DIY Leather Wand Sheath" series! In this installment, I'll be teaching you how to create a modern riveted design. There's been a slight change to the list of supplies that you'll be requiring.
Supplies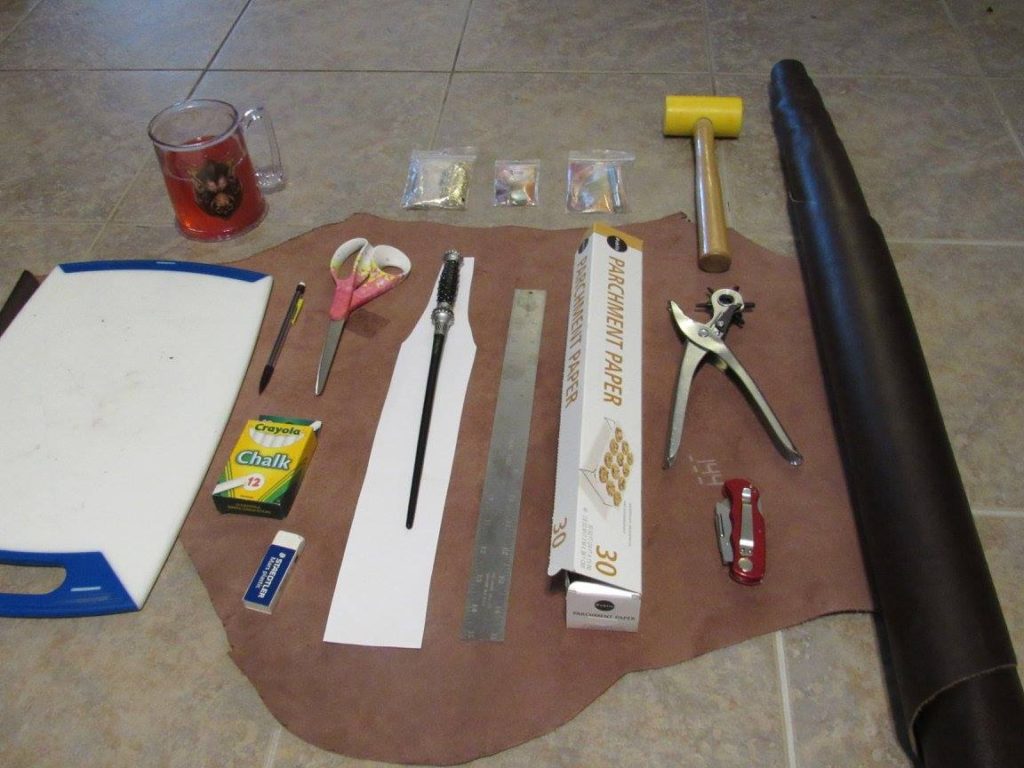 For this design, you'll be needing:
*A box-cutter or fabric scissors
*A cutting board that can be destroyed
*Some long paper (I used parchment paper, but it's very thin and very apt to curling up on itself, so if you find a better replacement, use that one.)
*A pair of paper scissors
*A pencil
*A ruler
*A rubber mallet
*A rivet punch
*A rivet anvil
*A rivet setter
*Small rivets – You can pick whatever style of rivets you'd like, as long as they are small and double-cap. There are many different styles to chose, from black-plate rivets, to antique brass rivets. There are even rivets topped with crystals and colored stones! The ones I'm using today are small double-cap brass rivets.
*Thin white chalk
*Leather (I used thin dark brown lambskin.)
*And of course, your wand!
Before you begin to work, you must remember… CONSTANT VIGILANCE! These tools are not toys!
The Pattern and Leather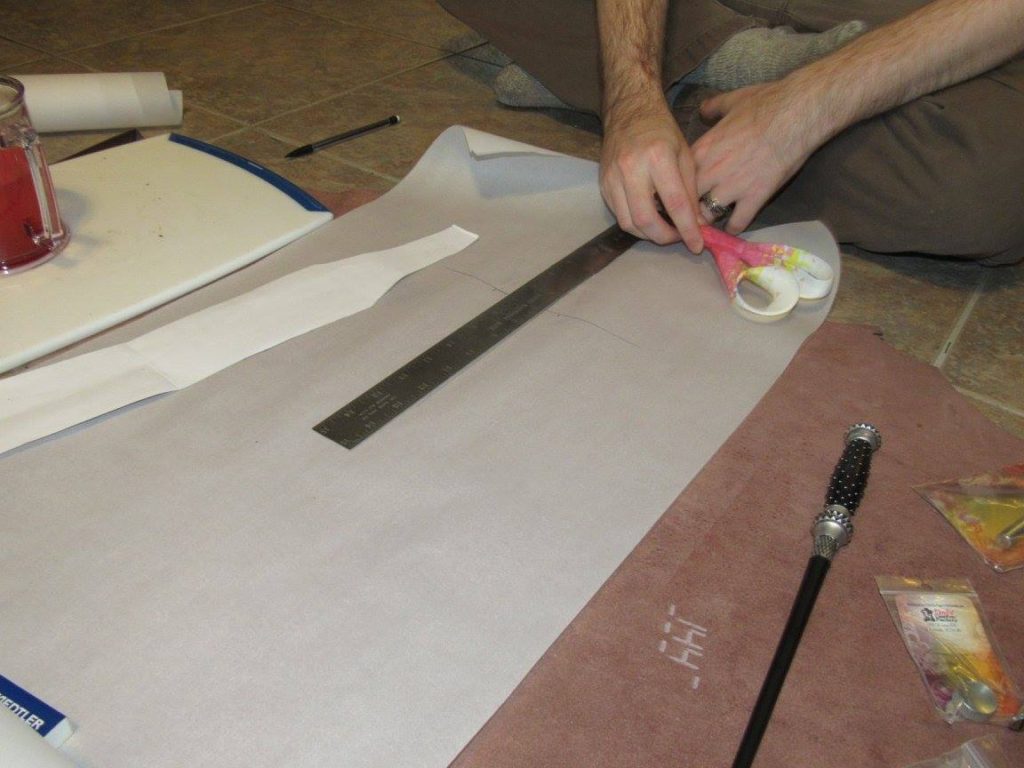 We begin with making a pattern out of paper. Since we'll be using a singular piece of leather today, we only need one long sheet of paper. I got some advice from our local Tandy shop, since I was unsure about how to properly do a belt loop. The leather-master taught us how to rivet properly and how to create a belt loop, all done with one piece of leather. Always consult your local leather shop if you have questions, especially if you're working with a different leather! Create your pattern on the paper and cut it out, making sure to measure it out against your wand and using the ruler. Get as creative as you want, but I tried to keep it simple with straight lines that were easily checked by the ruler.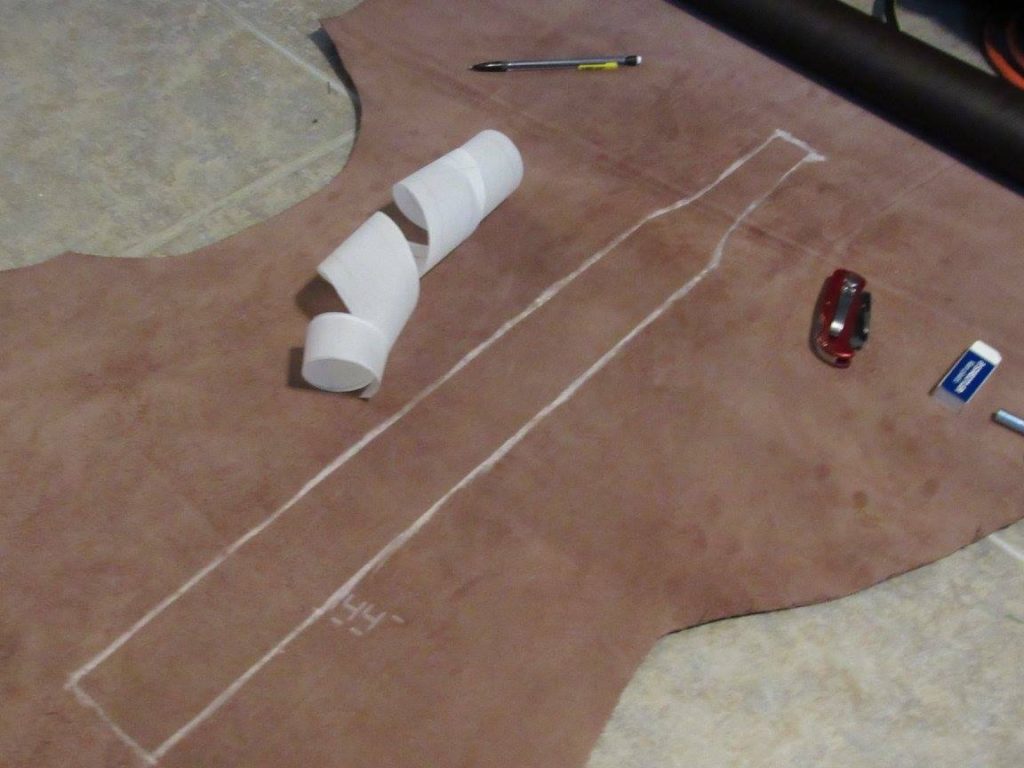 Trace the pattern out onto the "light" unfinished side of the leather in the white chalk. Now, my leather was thin enough that I could cut it with my fabric scissors, but I recommend cutting it out with the box cutter so that you can take your time and go slowly. After you cut out the leather, prep your workspace. Get your double cap rivets, rivet anvil, rivet setter, rivet punch, and rubber mallet ready.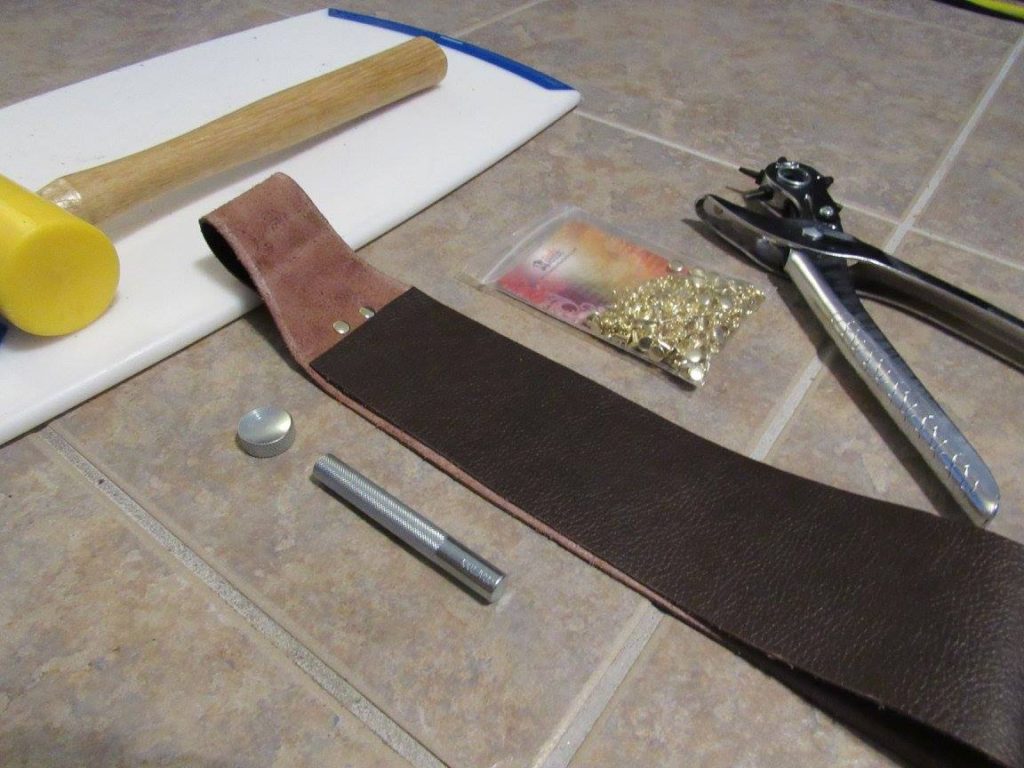 Rivets and How They Work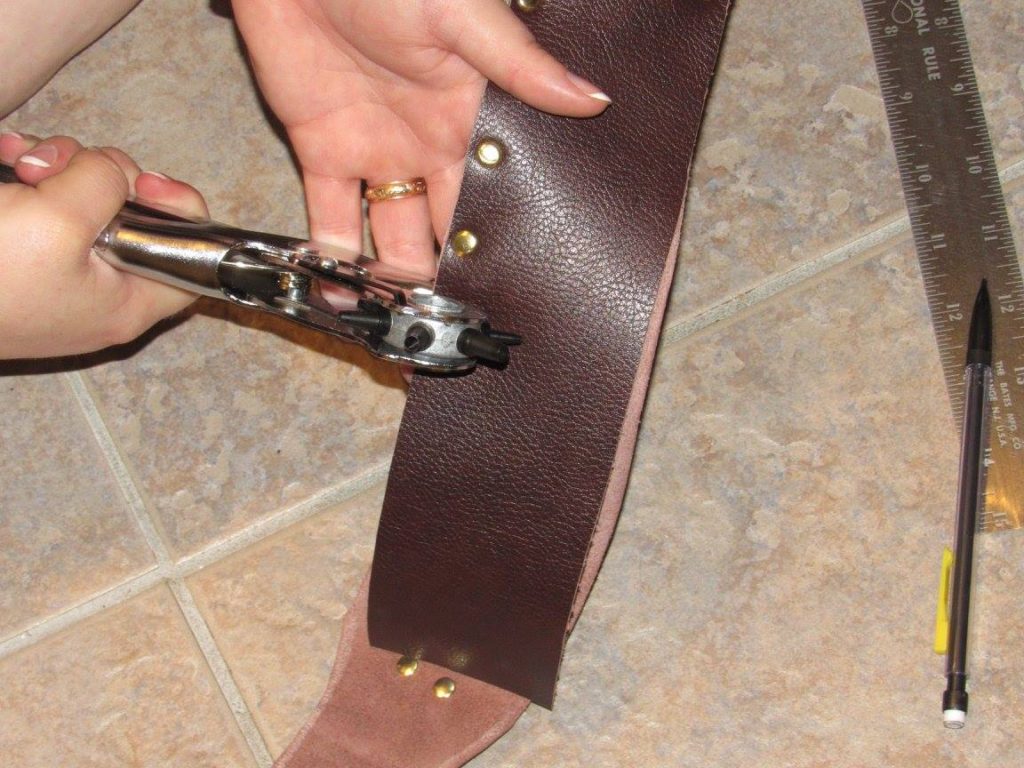 The act of riveting leather is relatively easy. First, you'll want to rivet the belt loop. Take the leather and bend it whichever way you'd like and line it up on the front or back of the sheath piece. I went backward, showcasing the unfinished leather for the belt loop. Next, use the pencil or a needle to mark where you'd like to punch the holes with the rivet punch. This belt loop is more about looks than actually measuring. You can use one, two, or as many rivets as you'd like. I used two. Prep your rivet bottoms and tops, and punch the holes into the leather.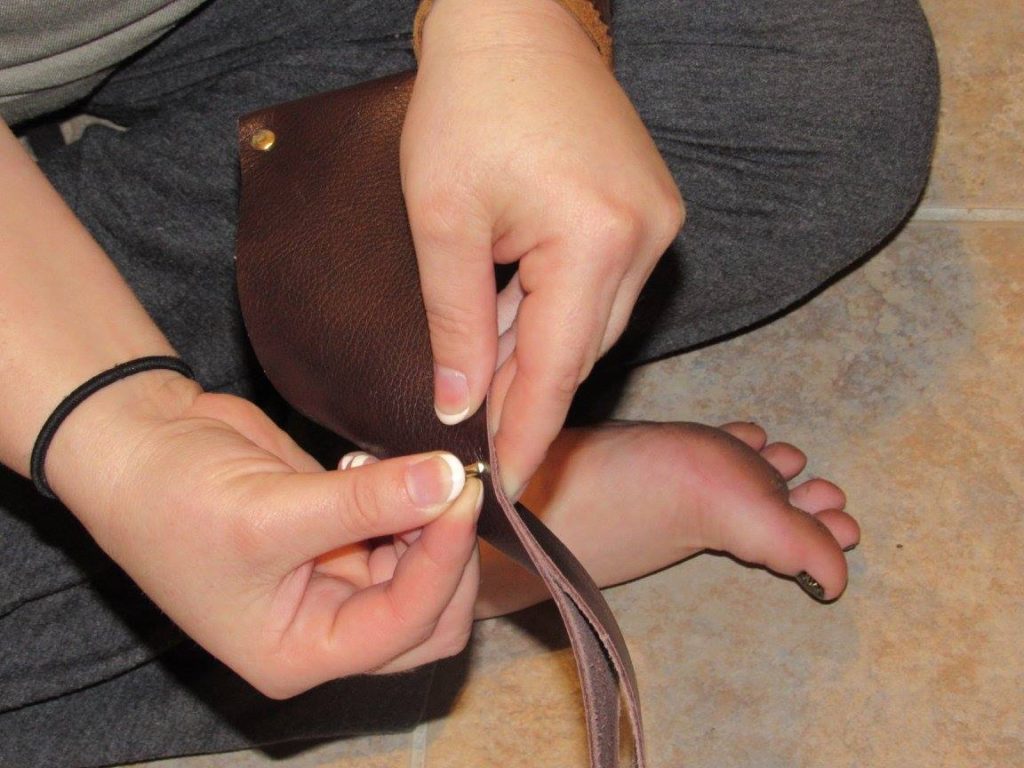 Push the bottom section of your rivet, the piece with the pin, and push it through the hole. Take the cap and connect them until you hear or feel the connection click. Next, move the rivet and leather so that one end of the rivet is centered on the rivet anvil. Place the rivet setter on the other side, and using the rubber mallet, hammer the rivet until it's beaten into each other and is tight in the leather. Once you've riveted the belt loop to the sheath, you can work on riveting up the sides.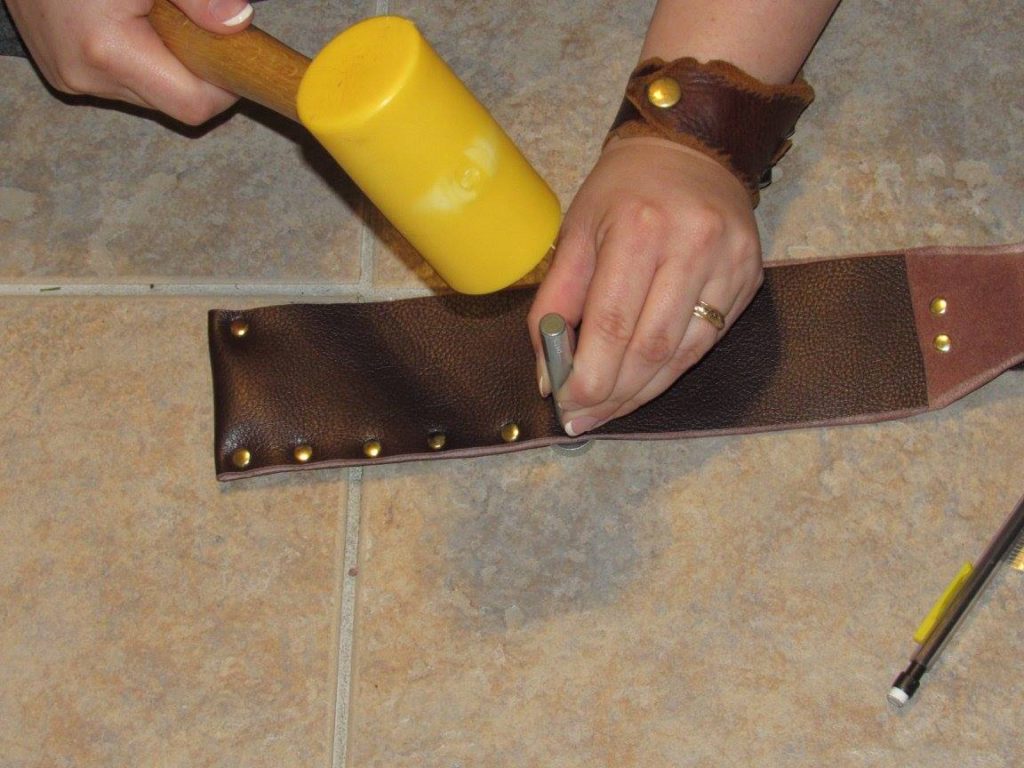 I first riveted the bottom corners before working my way up the sides at one-inch intervals. There will be some discrepancies at the corners, but that's all right as long as the rivets line up.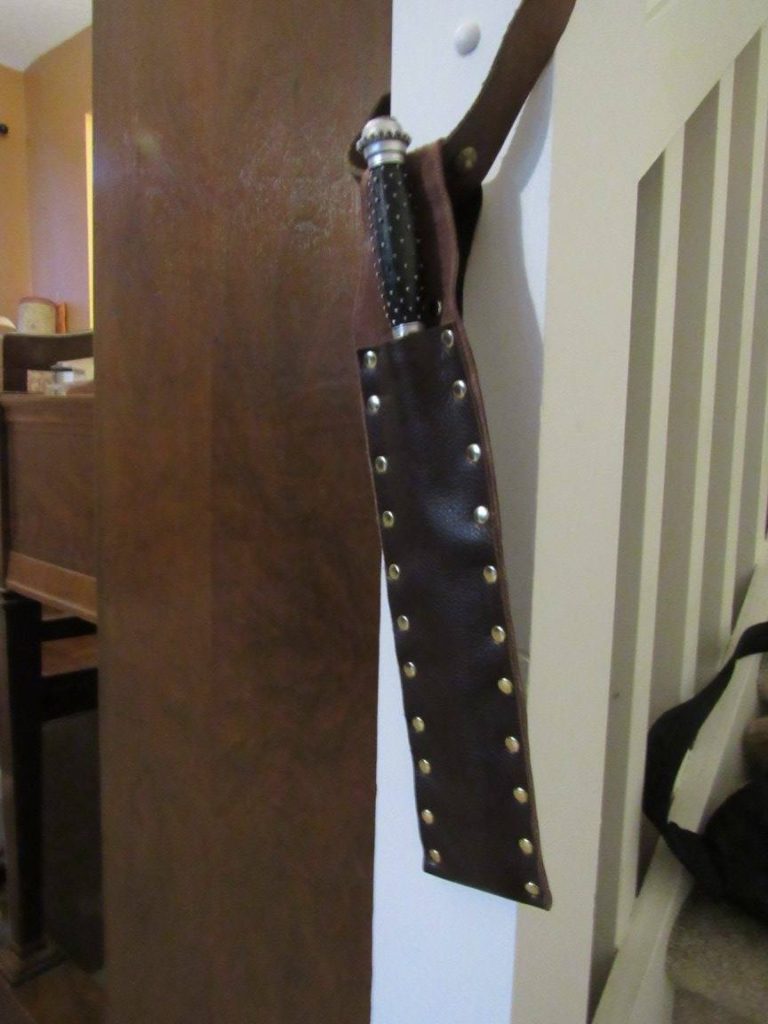 Once the sides are riveted, set it on your belt, sheath your wand, and get ready to go on an adventure!