New Dining and Hotel Options at Universal Orlando Resort Promise "Endless Summer"
If you're planning a trip to Universal Orlando Resort to ride the new Hagrid's Magical Creatures Motorbike Adventure, you'll have some new choices for food and accommodations too. In addition to our coverage of the ride, we also had the opportunity to preview the newest dining experience on Universal's CityWalk, Bigfire, and Universal Parks & Resorts' latest hotel, Surfside Inn & Suites, part of Universal's Endless Summer Resort.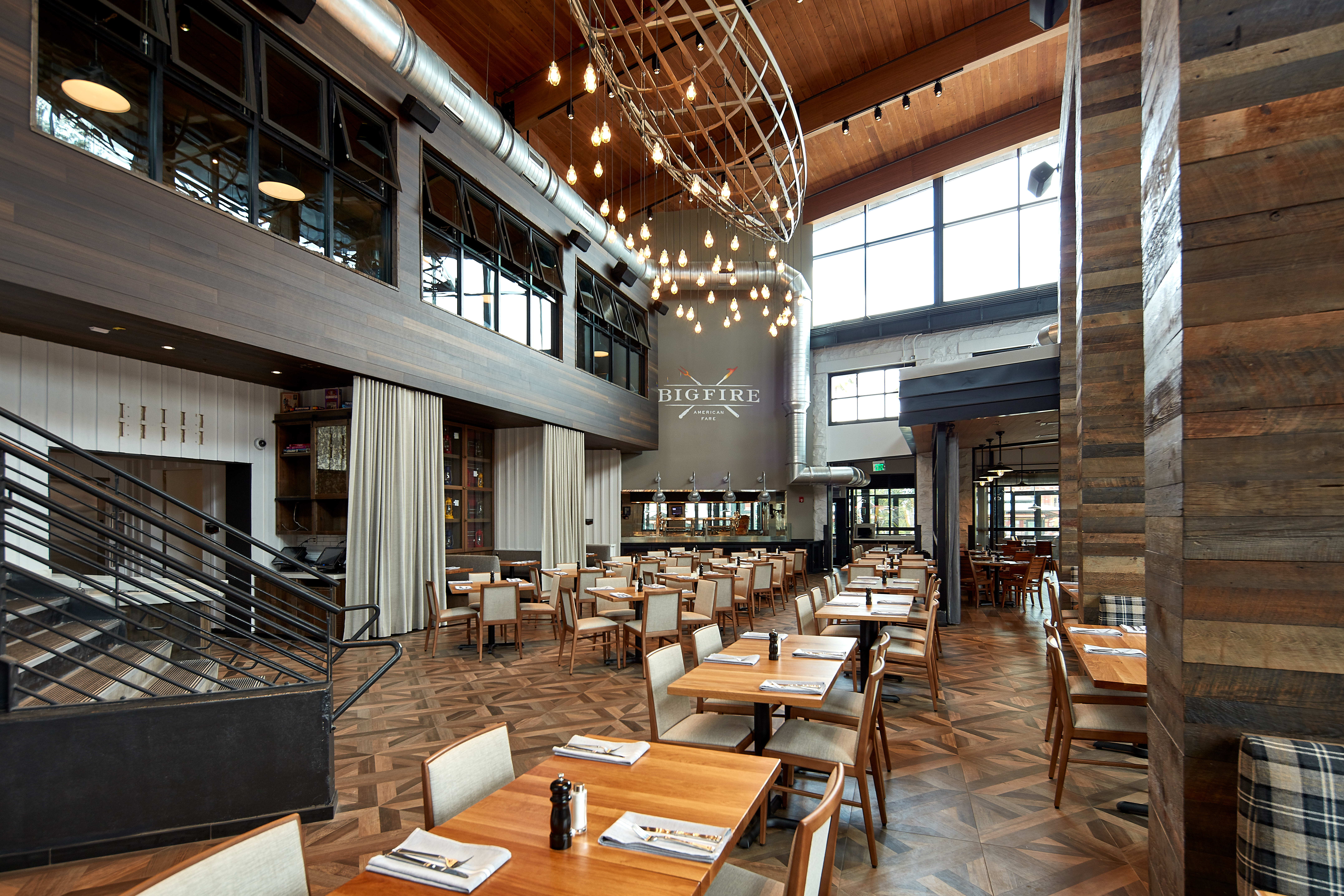 Opening this summer, Bigfire is designed to feel like a cozy lake house, where the best meals are homemade and shared among close friends and family. Bigfire, inspired by cooking over an open flame, is spread out over two levels and offers views of the surrounding CityWalk and theme parks. Each ingredient is matched with the perfect wood – cherry, pecan, or oak – to bring out the best flavors. The menu boasts a variety of American dishes, from burgers to seafood, steaks to salads, and cocktails to desserts, and includes vegetarian, vegan, and gluten-free options. The bar-style seating against the windows had alternating bag hooks and USB/standard outlets for every seat, ensuring that guests can stay comfortable and take time to recharge.
Between the two of us, we sampled the bison burger, lamb slider, smoked brook trout dip, campfire chili, brook trout, BBQ shrimp with cornbread, pork belly mac 'n' cheese, and coleslaw. These were followed by chocolate cherry flourless cake with bourbon ice cream, apple pie with vanilla ice cream, and deconstructed s'mores in both vanilla and chocolate flavors. The bar highlighted bourbon-based and vodka-based cocktails, putting a spin on classics such as an old-fashioned and raspberry lemonade. As we tasted our way around the restaurant, we spotted board games and a homey fireplace to emphasize that lake house atmosphere.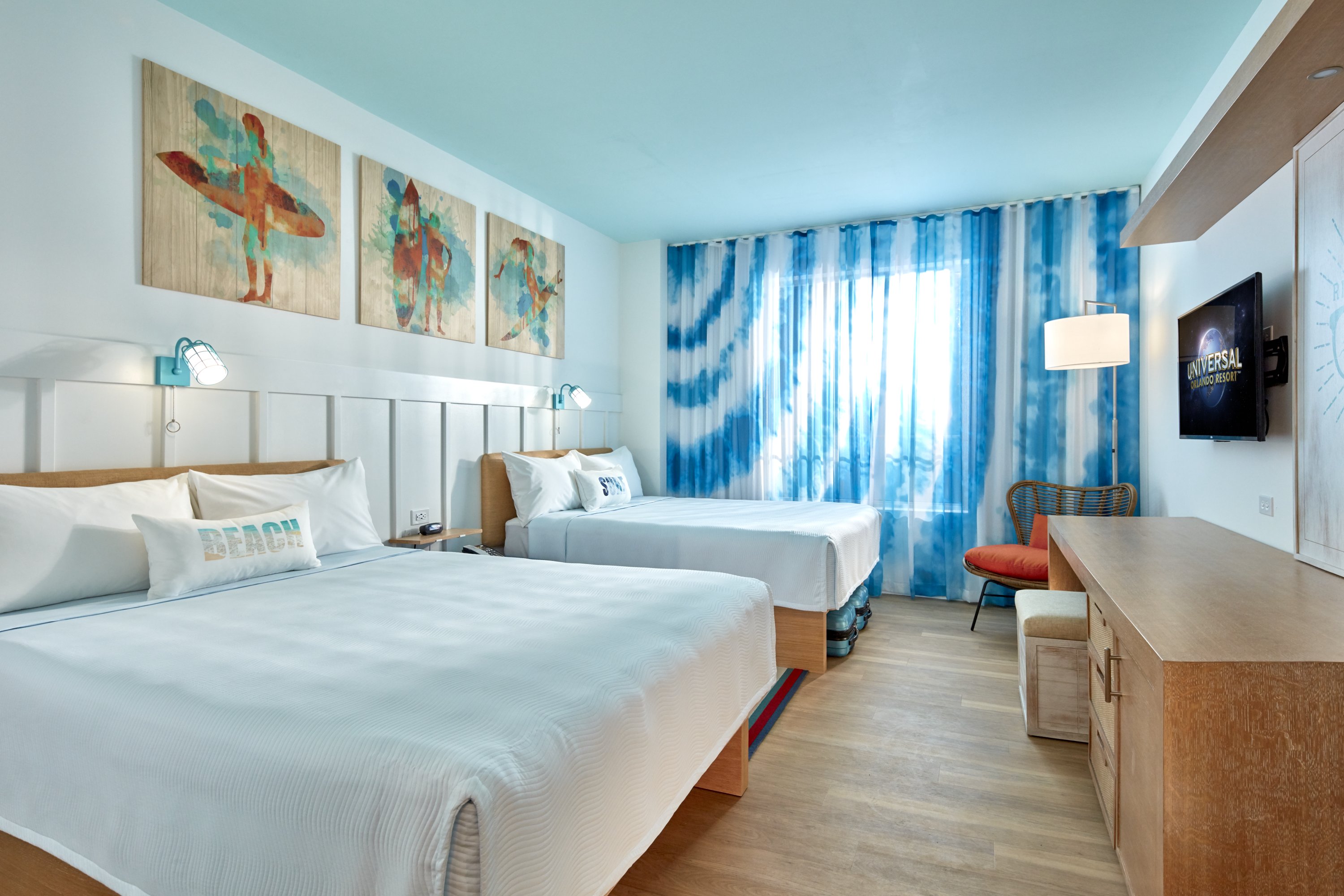 Surfside Inn & Suites is Universal's first hotel in the value category, with rooms starting at $73 per night for a 7-night stay. Even at this price point, the beach-themed hotel offers all the benefits of staying at a Universal hotel, including nonstop complimentary shuttles to the theme parks, Early Park Admission, and the ability to using their room key to make hotel purchases. All entrees and cocktails offered at the hotel are under $10, a stunning deal compared to what you can usually expect to spend on meals and refreshments in a resort like this.
A tropical color scheme of turquoise, orange, and white continues throughout the hotel, complemented by a surfboard-shaped pool, hibiscus and wave patterns, and other designs that remind you that you're here to chill out. Standard rooms contain two queen beds, while suites, which make up over half of the hotel's 750 rooms, also have a kitchenette with a dining area and a second queen bedroom, sleeping up to six people total. Surfside Inn & Suites is available to book beginning June 27 and will be joined by Dockside Inn & Suites in March 2020 to form Universal's Endless Summer Resort.
Last month, the TODAY Cafe opened at Universal Studios Florida. After taking the train from Hogsmeade to Diagon Alley, we took advantage of the sudden downpour to check out another new dining option, splitting the avocado toast, tomato basil soup, and a hot chocolate for just over $20. The entree was served with four bread and butter pickle slices and a handful of assorted fruit, including strawberries, blueberries, pineapple, cantaloupe, and honeydew melon.
The cafe, located close to the park's entrance across from the Universal Studios Store, features a variety of fresh, healthy, and vegetarian options, including some delicious breakfast options such as overnight oats, an açaí bowl, and breakfast sandwiches. Click here to see a full menu, including prices.