Main PS/SS PoA GoF OotP HBP DH
Released on July 2, 1998, in the UK and June 2, 1999, in the US, Harry Potter and the Chamber of Secrets is the second book in the Harry Potter series. It has 18 chapters and is is 251 pages long in the UK and 341 pages long in the US.
The Dursleys were so mean and hideous that summer that all Harry Potter wanted was to get back to the Hogwarts School for Witchcraft and Wizardry. But just as he's packing his bags, Harry receives a warning from a strange, impish creature named Dobby who says that if Harry Potter returns to Hogwarts, disaster will strike. And strike it does. For in Harry's second year at Hogwarts, fresh torments and horrors arise, including an outrageously stuck-up new professor, Gilderoy Lockheart, a spirit named Moaning Myrtle who haunts the girls' bathroom, and the unwanted attentions of Ron Weasley's younger sister, Ginny. But each of these seem minor annoyances when the real trouble begins, and someone–or something–starts turning Hogwarts students to stone. Could it be Draco Malfoy, a more poisonous rival than ever? Could it possibly be Hagrid, whose mysterious past is finally told? Or could it be the one everyone at Hogwarts most suspects… Harry Potter himself?

– Back cover description
Discuss the Book!
Buy on Amazon
Buy on Bookshop
History
Rowling found it difficult to finish Chamber of Secrets because she was afraid it would not live up to the expectations raised by Sorcerer's Stone. After delivering the manuscript to Bloomsbury on schedule, she took it back for six weeks of revision. When published in the UK, it immediately took first place in UK best-seller lists.
There were several large changes in editing along the way. In early drafts of the book, the ghost Nearly Headless Nick sang a self-composed song explaining his condition and the circumstances of his death. This was cut as the book's editor did not care for the poem, which has been subsequently published as an extra on J.K. Rowling's official website. The family background of Dean Thomas was removed because Rowling and her publishers considered it an "unnecessary digression," and she considered Neville Longbottom's own journey of discovery "more important to the central plot." First edition printings had several errors, which were fixed in subsequent reprints. Initially Dumbledore said that Voldemort was the last remaining ancestor of Salazar Slytherin, instead of his descendant. Gilderoy Lockhart's book on werewolves is entitled Weekends with Werewolves at one point and Wanderings with Werewolves later in the book.
The audiobook in the US is read by Jim Dale and Stephen Fry in the UK.
Summary
This summary is from SparkNotes.
Chamber of Secrets begins when Harry is spending a miserable summer with his only remaining family, the Dursleys. During a dinner party hosted by his uncle and aunt, Harry is visited by Dobby, a house-elf. Dobby warns Harry not to return to Hogwarts, the magical school for wizards that Harry attended the previous year. Harry politely disregards the warning, and Dobby wreaks havoc in the kitchen, infuriating the Dursleys. The Dursleys angrily imprison Harry in his room for the rest of the summer. Luckily, Harry's friend Ron Weasley steals Harry away in a flying car, and Harry happily spends the rest of the summer at the Weasley home.
While shopping for school supplies with the Weasleys, Harry has two unfortunate encounters. He first encounters Lockhart, one of his teachers, who demands to be in a photo shoot with Harry. Harry then encounters Lucius Malfoy, the evil father of one of Harry's enemies, who almost starts a fight with Mr. Weasley. As Harry prepares to return to Hogwarts, he finds that he and Ron are unable to enter the magically invisible train platform, so they fly the Weasley car to Hogwarts. They land messily, and both boys are given detentions. Lockhart, who believes Harry flew the car to get attention, lectures Harry.
Quidditch practices begin and Draco Malfoy is the new Slytherin seeker. On the field, he calls Hermione a "mudblood," insulting her Muggle heritage. After taunting Hermione, Draco is the suspect when, on Halloween night, someone petrifies the school caretaker's cat and writes a threatening message. Before the cat is attacked, Harry twice hears an eerie voice. He hears it first during his detention and second during a party, moments before the cat is attacked. Everybody in the school is alarmed. By doing some research, Harry, Ron, and Hermione learn that fifty years ago a chamber at Hogwarts was opened and a student was killed.
Playing for Gryffindor, Harry wins the Quidditch match against Slytherin. During the game, an enchanted ball hits Harry and causes him to lose the bones in his arm. Dobby, a house elf, has enchanted the ball in an effort to have Harry injured and sent home. That night, Harry sees the body of a first-year who has been petrified arrive at the hospital. Soon after, Lockhart begins a dueling club. During the first meeting, Harry terrifies his fellow students by speaking in Parseltongue to a snake. Harry's ability frightens the others because only the heir of Slytherin, who is responsible for opening the chamber, would have the ability to converse with snakes. Harry comes under further suspicion when he stumbles upon the petrified bodies of Justin Finch-Fletchley and Nearly- Headless Nick.
Determined to catch the culprit, Ron, Harry and Hermione brew a potion called Polyjuice. The potion allows them to assume the bodies of Slytherins and question Malfoy on the Chamber of Secrets. They find out that Malfoy is not the heir of Slytherin. No more attacks occur for a while, and right before Valentine's Day, Harry finds a diary in the broken toilet. The diary belongs to a ghost named Moaning Myrtle who haunts the girls' restroom. Harry writes in the diary, which responds by writing back. Through this dialogue, Harry meets Tom Riddle, a boy who many years before had accused Hagrid of opening the Chamber of Secrets.
Hermione and a Ravenclaw girl are mysteriously petrified. Harry and Ron venture out of the castle to question Hagrid. Before they reach Hagrid, the Minister of Magic, Cornelius Fudge, and Lucius Malfoy remove Dumbledore and Hagrid from Hogwarts. As Hagrid is led away, he instructs the boys that by following the spiders, they can find out about the Chamber monster. Several nights later, Harry and Ron sneak into the Forbidden Forest to follow the spiders. They discover the monster who killed the girl fifty years before was not a spider, that the girl's body was found in a bathroom, and that Hagrid is innocent. The boys are almost killed by a colony of giant spiders. As they escape, Harry and Ron decide that Moaning Myrtle must have been the girl killed by the monster.
A few days later, Ron and Harry discover a piece of paper with a description of a basilisk on it in Hermione's frozen hand. They deduce the Chamber monster is a basilisk. Before the boys can act on their knowledge, the teachers announce that Ginny Weasley has been taken into the chamber. Ron, Harry, and Lockhart slide down a secret passage in Myrtle's bathroom to underground tunnels. When Lockhart accidentally curses himself, Ron helps him and Harry leaves them behind. Harry enters the Chamber of Secrets and encounters Ginny's still body and Tom Riddle. Tom turns out to be a younger version of Voldemort, who has been enchanting Ginny through his journal. Harry calls for help from Dumbledore. A phoenix and a magic hat arrive. Tom summons a basilisk, but the phoenix punctures its eyes. The hat produces a sword, which Harry uses to kill the giant snake. Harry sticks a basilisk fang through the diary, destroying Tom. Ginny wakes up.
Harry explains his adventure to Dumbledore. Lucius Malfoy storms into the office with his house-elf, Dobby, and Harry frees Dobby from by tricking Lucius into giving Dobby a sock. All is well in the castle as the students leave for their summer vacations.
Dedication
For Sean P.F. Harris, getaway driver and foulweather friend.
Jo met Sean at her secondary school, Wyedean, when she was 11. From JKRowling.com:
He was the first of my friends to learn to drive and that turquoise and white car meant FREEDOM and no more having to ask my father to give me lifts, which is the worst thing about living in the countryside when you are a teenager. Some of the happiest memories of my teenage years involve zooming off into the darkness in Sean's car. He was the first person with whom I really discussed my serious ambition to be a writer and he was also the only person who thought I was bound to be a success at it, which meant much more to me than I ever told him at the time.
Accolades
Awards Won
ALA Notable Children's Books, 2000
ALA/YALSA Best Books for Young Adults, 2000
Booklist Editors' Choices, 1999
Booklist Top Ten Fantasy Novels for Youth, 1998-99
The Booksellers Association/The Bookseller Author of the Year 1998
British Book Awards 1998 Children's Book of the Year (NIBBY)
CBC Not Just for Children Anymore! List
CCBC Choices 2000: Fiction for Children
FCBG Children's Book Award 1998 Overall Winner and Longer Novel Category
International Reading Association: Children's Choices, 2000
International Reading Association: Young Adult Choices, 2000
Nestlé Smarties Book Prize, Gold Award, 9–11 Years, 1998
North East Book Award 1999
North East Scotland Book Award 1998
Publishers Weekly: Best Books of 1999
School Library Journal: Best Books 1999
Scottish Arts Council Children's Book Award 1999
Whitaker's Platinum Book Award 2001
Nominations/Shortlists
Carnegie Award Shortlist for 1998
Guardian Children's Award Shortlist for 1998
Illustrated Edition
Jim Kay
The illustrated edition of Chamber of Secrets was released on October 4, 2016, by Bloomsbury and Scholastic. It features over 115 color illustrations provided by award-winning artist Jim Kay. The cover of the hardcover edition depicts the blue Ford Anglia flying toward the Burrow. The cover of the UK illustrated paperback edition, released on August 22, 2019, depicts a different version of the same image. The hardcover edition also includes a ribbon marker and illustrated endpapers.
Buy on Amazon
Buy on Bookshop
Deluxe Illustrated Edition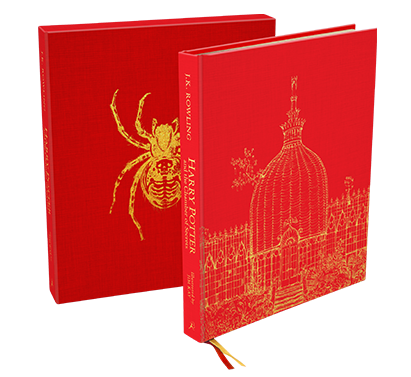 Buy on Amazon
Buy on Bookshop
Released on October 10, 2016 by Bloomsbury and Scholastic, the deluxe illustrated edition of Chamber of Secrets features a red cloth cover and a slipcase adorned with gold foil-stamped artwork by Jim Kay. This edition also includes special features such as premium-grade paper with gilt edges, a two-and-a-half-foot-wide accordion-folded removable poster, and two ribbon bookmarks.
MinaLima
The graphic design team behind much of the beloved art of the Wizarding World franchise has just announced that a special edition of Harry Potter and the Chamber of Secrets will be coming next fall! MinaLima made the announcement in an IGTV video, in which Miraphora Mina and Eduardo Lima are shown discussing their nearly 20 years of collaboration, the MinaLima edition of Harry Potter and the Sorcerer's Stone, and the new House of MinaLima location. After teasing that an announcement was coming, the artists revealed that the MinaLima edition of Harry Potter and the Chamber of Secrets will be released in fall 2021 and that the edition is currently in production. Mina commented on the new edition.
[We are] very excited and very grateful to be still part of this journey with Scholastic, and we need to get back and get busy and reimagine all those special moments of 'Chamber of Secrets'.