Released on June 26, 1997, in the UK (as Harry Potter and the Philosopher's Stone) and on September 1, 1998, in the US, Harry Potter and the Sorcerer's Stone is the first book in the Harry Potter series.
Harry Potter has never played a sport while flying on a broomstick. He's never worn a cloak of invisibility, befriended a giant, or helped hatch a dragon. All Harry knows is a miserable life with the Dursleys, his horrible aunt and uncle, and their abominable son, Dudley. Harry's room is a tiny closet at the foot of the stairs, and he hasn't had a birthday party in eleven years. But all that is about to change when a mysterious letter arrives by owl messenger: a letter with an invitation to a wonderful place he never dreamed existed. There he finds not only friends, aerial sports, and magic around every corner, but a great destiny that's been waiting for him… if Harry can survive the encounter.

– Back cover description
History
In 1990, Rowling was flat hunting in Manchester and took the train back to London on her own, and the idea for Harry Potter fell into her head... "A scrawny, little, black-haired, bespectacled boy became more and more of a wizard to me... I began to write
Philosopher's Stone
that very evening. Although, the first couple of pages look nothing like the finished product." Then Rowling's mother died and, to cope with her pain, Rowling transferred her own anguish to the orphan Harry. Rowling spent six years working on
Philosopher's Stone
.
In 1996, Jo obtained a grant of £8,000 from the Scottish Arts Council, which enabled her to finish the book and plan the sequels. She sent the book to an agent and a publisher. The second agent she approached spent a year trying to sell the book to publishers, most of whom thought it was too long at about 90,000 words. Bloomsbury accepted the book, paying Rowling an advance of around £1,500. Editor Barry Cunningham was less concerned about the book's length than about its author's name, as the title sounded like a boys' book and he thought that boys would prefer a book written by a male author. Rowling, therefore, adopted the nom de plume J.K. Rowling.
In June 1997, Bloomsbury published Philosopher's Stone with an initial print run of 500 copies in hardcover, 300 of which were distributed to libraries. The short initial print run was standard for first novels, and Cunningham hoped booksellers would read the book and recommend it to customers. Examples from this initial print run have become quite valuable, selling for as much as $33,460 in a 2007 Heritage Auction.
Scholastic Corporation bought the U.S. rights at the Bologna Book Fair in April 1997 for $105,000, an unusually high sum for a children's book. They thought that a child would not want to read a book with the word "philosopher" in the title, so the American edition was published in September 1998 under the title Harry Potter and the Sorcerer's Stone. Rowling claimed that she regretted this change and would have fought it if she had been in a stronger position at the time. The change lost the connection with alchemy, and the meaning of some other terms changed in translation, such as "crumpets" to "muffin" and "jumper" to "sweater." While Rowling accepted the change from both UK English "mum" and Seamus Finnigan's Irish variant "mam" to "mom" in Sorcerer's Stone, she vetoed this change in the later books.
Publishers Weekly's report in December 2001 on cumulative sales of children's fiction placed Sorcerer's Stone 19th among hardcovers with over 5 million copies sold and 7th among paperbacks with over 6.6 million copies. The total amount of sales over the years is unknown.
Summary
Harry Potter spend most of his life at Number Four, Privet Drive thinking is doomed to misery. Everything changes when a giant called Hagrid breaks down the door one day and tells him the truth: he is a wizard, and he is about to begin his magical education at Hogwarts School of Witchcraft and Wizardry. As he takes his first steps into this strange new world, Harry begins to understand that both his past and his future are even more complicated than he could have imagined. It's a good thing Harry finally has some friends to help him along the way: Ron Weasley and Hermione Granger.
Harry and his fellow first years begin their time at Hogwarts in the usual way: friendly greetings from Headmaster Albus Dumbledore, classes in everything from potions to the history of magic, and encounters with bullying figures like fellow-student Draco Malfoy and the unpleasant potions master Severus Snape. As if all of this weren't enough, Harry and his friends become aware that a powerful object, the Sorcerer's Stone, is being kept at Hogwarts and someone is trying to steal it.
With no one else to help them, Harry, Ron, and Hermione penetrate the school's defenses and attempt to rescue the stone. This brings Harry face to face with Lord Voldemort, the dark wizard who murdered his own parents and once held the wizarding world in terror. The trio manages to prevent Voldemort's taking of the Sorcerer's Stone just in time, though they do not prevent Voldemort's escape. Harry celebrates with his friends, though he knows that he and Voldemort will meet again one day.
Dedication
For Jessica, who loves stories, for Anne, who loved them too, and for Di, who heard this one first.
Jessica is J.K. Rowling's firstborn daughter, then 12 years old. Anne was Jo's mother, who unfortunately died of multiple sclerosis on December 30, 1990. Dianne, or "Di," is Jo's younger sister, to whom she read Sorcerer's Stone before sending it off to be reviewed.
Accolades
Awards Won
ALA Notable Children's Books, 1999
ALA/YALSA Best Books for Young Adults, 1999
ALA/YALSA Best of the Best 100, Selected from BBYA 1966-99, 1999
ALA/YALSA Top Ten Books for Teens, Ranked #1, 1999
American Booksellers Association Book of the Year (ABBY), 1999
Anne Spencer Lindbergh Prize for Children's Literature
Arizona Young Reader's Award, 2000
Birmingham Cable Children's Book Award, 1997
Blue Peter Winner of Winners Book Award, 2020
Book Links Lasting Connections, 1998
Booklist Editors' Choices, 1998
Booklist: Top Ten Fantasy Novels for Youth, 1999
British Book Awards Best of the Nibbies at 30, 2020
British Book Awards Children's Book of the Year (NIBBY), 1997
CBC Not Just for Children Anymore! 1998
CCBC Choices, Fiction for Children, 1998
Colorado Blue Spruce Young Adult Book Award, 2001
FCBG Children's Book Award, Overall and Longer Novel Category Winner, 1998
Great Stone Face Children's Book Award, New Hampshire, 2000
International Reading Association: Teacher's Choices, 1999
List International Reading Association: Children's Choices, 1999
Michigan Reading Association Readers' Choice Award, 2001
National Council of Teachers of English: Notable Children's Books in the Language Arts, 1999
Nene Award, Hawaii, 2000
Nestlé Smarties Book Prize, Gold Award, 9–11 Years, 1997
New York Public Library 100 Titles for Reading and Sharing, 2000
Parenting Magazine: Book of the Year, 1998
Parenting Magazine: Reading Magic Books, 1998
Publishers Weekly Best Books, 1998
Rebecca Caudill Young Reader's Award, Illinois, 2001
Sasquatch Reading Award, Washington, 2000
School Library Journal Best Books, 1998
School Library Journal: One Hundred Books that Shaped the Century
Sheffield Children's Book Award, 1998
Voice of Youth Advocates: Best Science Fiction, Fantasy and Horror, 1998
Whitaker's Platinum Book Award, 2001
Wisconsin Educational Media Association Golden Archer Award, Middle/Junior High, 2000
Wyoming Indian Paintbrush Book Award, 2000
Young Telegraph Paperback of the Year, 1998
Nominations/Shortlists
Carnegie Medal Shortlisted for 1997
Children's Book Award Nominee, Massachusetts, 2000
Children's Book Award Nominee, Utah, 2000
Guardian Children's Fiction Prize, Shortlisted, 1998
Mythopoeic Fantasy Award for Children's Literature Nominee, 1999
New York State Charlotte Award Nominee, 2000
New York State Children's Choice Award Nominee
Young Reader's Choice Award Nominee, Pacific Northwest Library Association, 2001
Illustrated Editions
Jim Kay
The illustrated edition of Philosopher's Stone/Sorcerer's Stone was released on October 6, 2015, by Bloomsbury and Scholastic. It features over 100 color illustrations by award-winning artist Jim Kay meant to interpret the characters and the story from a new perspective. The cover of the hardcover edition depicts Harry beside the Hogwarts Express at platform nine and three-quarters. The cover of the UK illustrated paperback edition, released on August 23, 2018, depicts Hagrid on the flying motorbike. The hardcover edition also includes a ribbon marker and illustrated endpapers.
Buy on Amazon
Buy on Bookshop
Deluxe Illustrated Edition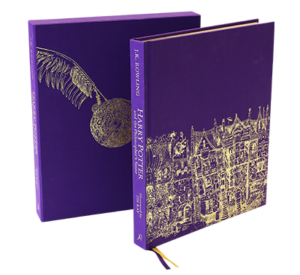 Released on March 1, 2016, by Bloomsbury, the deluxe illustrated edition of Philosopher's Stone features a purple cloth cover and a slipcase adorned with gold foil-stamped artwork by Jim Kay. This edition also includes special features such as premium-grade paper with gilt edges, an exclusive pull-out double gatefold of Diagon Alley, and two ribbon bookmarks.
MinaLima
A new and magical edition of Harry Potter and the Sorcerer's Stone illustrated by graphic designers Eduardo Lima and Miraphora Mina was published simultaneously by Scholastic and Bloomsbury (which published it as Harry Potter and the Philosopher's Stone) on October 20, 2020. MinaLima has provided extensive designs for the Wizarding World for more than two decades, including designs for the Harry Potter and Fantastic Beasts films. The new edition designed and illustrated by MinaLima features interactive folding pages for the Hogwarts acceptance letter, a feast in the Great Hall, Hogwarts Castle, and more.
Buy on Amazon