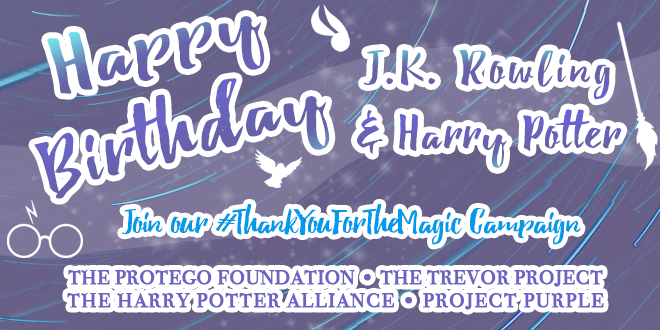 July 31 is a very special day every year for us here at MuggleNet, as well as for the rest of the Potter fandom! The reason it's so important to us is because both J.K. Rowling and Harry Potter celebrate their birthdays that day!
This year, we want to do something extra special in order to give both Jo and Harry the best birthday present ever! Help MuggleNet make their birthday even more magical by supporting one of these four Potter-friendly charities!
These specific charities were chosen for this campaign because they strongly support and reflect the same positive values and messages that the Harry Potter series represents. They are also smaller organizations that don't typically get as much attention and publicity and could therefore really use our support!
Below you'll find information on each of the four charities and links to their donation pages. After you've made a donation, please click the "tweet" button below to share our special birthday message for the Boy Who Lived and his creator. Even if you are unable to donate at this time, please commit to supporting our Daycause campaign in order to spread as much awareness for these charities as possible!