CC #112: Week of December 12, 2004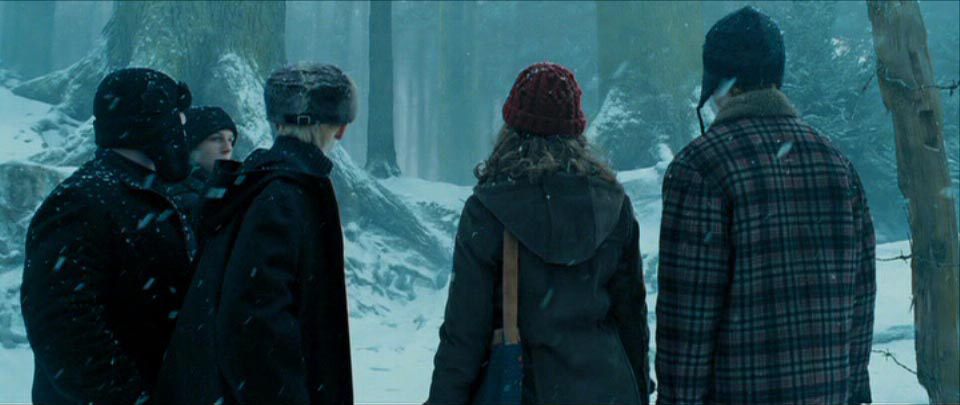 ---
⬇️⬇️ Scroll down in the below area to read all captions from this week! ⬇️⬇️
---
Draco: 'What do you mean the Russians want their hat back?'
-Laura
---
Hogsmeade's newest attraction: funny mirrors hidden all around for the amusement of captioners!
-Bri_Star
---
The Mad 'Hat'ers Group joined for their first meeting early today in Hogsmeade.
-Julie
---
In the seriousness of the state of the wizarding world, all wizards were required to be inspected in line-up for the possible hiding place of Voldie. Hey – nobody saw it coming in Philosopher's Stone!
-Vicki
---
Draco, Crabbe, Goyle, Hermione, Ron: Must laugh at Eric's caption. Must laugh at Eric's caption.
Moe: Oh no! It's STARTING!
-LooneyLouise
---
Ron: 'I didn't know that Hermione had a paper route through Hogsmeade…'
-Mystery
---
Draco: Lions!
Hermione: And tigers!
Ron: And bears!
Goyle: Oh my!
Cuaron: For the last time, Harry Potter and the Wizard of Oz is a joke!
-Carrie Z.
---
Ron: Hermione, I got you a Christmas gift.
Hermione: Oh, Ron, a link to the MuggleNet Caption Contest! It's beautiful. *Kisses Ron*
Every Kiss Begins with CC…
-Katie
---
Draco: I think I saw Sirius Black!
Ron: Where?
Hermione: No, that was just a werewolf that looked a lot like Professor Lupin.
-Brandon S.
---
Ron: Don't worry, Hermione, we'll find away around 'The Management', there's always a loophole.
Hermione: Like 'Is that really what my hair looks like from the opposite side of my eyes, nose, and mouth?'?
-Joey
---
Hermione: Malfoy, that hat you're wearing… what's it made of?
Malfoy: Only the most expensive ferret skin, of course!
Foreshadowing? I think so!
-Becky
---
Malfoy: So what is this place? Narnia?
-Hasib
---
Hermione: 'Is that really what the tree looks like from the back?'
-Kekelina
---
Eric: Phew… no one can see the faces of these people, so no one can make any shipper jokes this week! Finally!
Anonymous People Shippers: Nice try, Eric.
-Austin
---
Harry thought that if he wore his Invisibility Cloak, maybe the Old Navy Christmas Carolers wouldn't find him.
-Tabitha
---
Stan Shunpike: *Pops out of nowhere* 'What choo lookin' at?'
-Joelle
---
Malfoy: 'Okay. On ''3", we moon'em!'
-Caitlin
---
Hermione: 'Maybe when that little old man said that he was at his wits with carolers and that he would easily send us away, he wasn't kidding…'
-Ani
---
Harry Potter and the Cold Shoulder.
-Blacfirehigh
---
Loudspeaker: 'Meeting is adjourned! All members of the Fellowship of the Wing report back to Buckbeak and his king of the world.'
-Ari
---
Hermione: Look! A Thestral!
Ron: You've seen death?
Hermione: Just the death of about a thousand shpper, back-of-the-head, and Fargo captions!
-Ali
---
Over the river and through the woods, to Hogsmeade village they go!
-Kim Ha
---
The original plot-line for the second book.
Malfoy: Wow, Weasley, you're standing next to Granger! She's a mudblood!
Ron: So what! I love her!
Hermione: I love you too, Ronnie! Oh, this is just wonderful! We can have a little boy together… and he'll be a half-blood… and he'll marry a princess! He'll be the 'Half-Blood Prince'!
Ron: How about we wait four years for that, Hermione?
-Olivia M.
---
The Hogwarts Choir: *Singing 'The 12 Days of X-Mas'*
12 Grimmauld Place
11 Weasley Wizarding Wheezes
10 Points from Slytherin
9th level the Department of Mysteries
8 Prefects
7 Weasley children
6 Students fighting Death Eaters
5 Defense Against the Dark Arts teachers
4 Hogwarts houses
3 Great friends
2 Harry Potter books left to write
1 Lightning bolt scar
-Gillian
---