In 2014, when MuggleNet celebrated its 15th anniversary and news of the Fantastic Beasts franchise was still fresh in the fandom, MuggleNet decided it was time to bring its fans from the digital world together in the real world. Hoping to bridge the gap between the eras of the wizarding world, they realized that the answer to what was missing from MuggleNet was a simple one: an event that would bring fans together from all over to celebrate the Hogwarts saga's past, present, and future.
First held in 2015, MuggleNet Live! is the place where fans from around the globe can access their favorite Harry Potter alumni through interaction and discussion with a focused lens on the future, uniting cast and crew in a unique and exciting way. Past events have been held in London, England; Orlando, Florida; and New York, New York.
MuggleNet Live! 2019: Into the Pensieve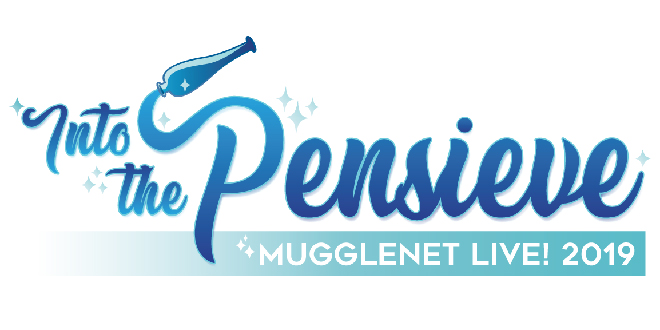 2019 was a special year for MuggleNet Live! since MuggleNet celebrated its 20th anniversary. Fans were treated to an unforgettable experience over New York Comic Con weekend to celebrate this momentous milestone and relive some of MuggleNet's most memorable moments.
On the evening of Friday, October 4, around 400 fans gathered at New York Comic Con for MuggleNet Live! 2019: Into the Pensieve. Before the show, fans were treated to a montage of some of MuggleNet's best videos, which evoked a sense of nostalgia about how far MuggleNet has come since its humble beginnings. Emcee and longtime staff member Eric Scull then shared MuggleNet's founding and hosted a modern rendition of the Crazy Caption Contest, with volunteers having to come up with captions on the spot.
The crowd was then surprised by several special appearances. Dan Fogler, who plays Jacob Kowalski in the Fantastic Beasts franchise, kicked off the Erumpent dance contest, while Andy Miller, who plays Leanne in the Off-Broadway hit Puffs, or: Seven Increasingly Eventful Years at a Certain School of Magic and Magic, joined fans for some intense rounds of Harry Potter charades. 20th-anniversary video messages from Warwick Davis, who plays Griphook and Professor Flitwick, Evanna Lynch, who plays Luna Lovegood, and Alan Gilmore, art director for the Wizarding World of Harry Potter at Universal Studios, were also played.
There were lots of other exciting and hilarious activities, including a dramatization of a scene that never made it to the movies (Ron calling Harry at Privet Drive), a synchronized rendition of Potter Puppet Pals' "The Mysterious Ticking Noise," and even a Mad Libs morality tale created entirely out of audience suggestions. MuggleNet staff members put up impressive improv performances.
As the show drew to a close, fans heard inspiring messages from MuggleNet's Potter It Forward campaign and were encouraged to donate to Magical Books for Muggle Teachers, a unique campaign to bring Harry Potter books into school classrooms and spread the joy of reading Harry Potter.
After the New York Comic Con event, MuggleNet hosted the MuggleNet 20th Anniversary Virtual 20K to raise funds for Potterhead Running Club. Participants travel the distance of 20K, or about 12.5 miles, to receive a personalized digital bib and a platinum 3'' Time-Turner-themed finisher's medal. To top it off, participants in the New York City area on Saturday, October 5, were encouraged to join MuggleNet in completing the last mile together.
On Saturday night, MuggleNet hosted a progressive dance party at Hard Rock Cafe New York, which had around 200 people in attendance. It was a nostalgic evening of drinking Harry Potter-themed drinks, admiring creative cosplayers, and dancing to songs from 1999, the year MuggleNet was founded, till 2019.
MuggleNet Live! 2017: Nineteen Years Later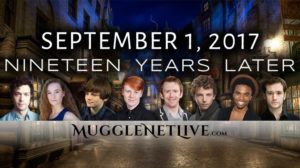 All fans of the Harry Potter series likely already know the significance of September 1 in the magical world. September 1, 2017, however, holds a special place in our hearts as the date Albus Potter was sent off to Hogwarts in the epilogue of Harry Potter and the Deathly Hallows, 19 years after the main events of the original series.
As the longest-running Wizarding World fansite, we at MuggleNet were excited to celebrate one of the most iconic dates in the Potter fandom. Because, of course, only the most extravagant celebration would do for such a special occasion, we decided to take this event to the next level - by reserving the Wizarding World of Harry Potter - Diagon Alley at Universal Studios Florida.
Nearly 500 fans gathered at the Orlando, Florida, location from 7 p.m. to 1 a.m. EDT on Friday, September 1, 2017, for MuggleNet Live! 2017: Nineteen Years Later. The event kicked off with three high-energy, star-studded panels, the first featuring "the new generation" of Harry Potter stars: Ellie Darcy-Alden (young Lily Evans), Rohan Gotobed (young Sirius Black), and Ryan Turner (Hugo Weasley).
The second panel was a highly anticipated reunion of Potter stars, hosted by Rohan Gotobed: Chris Rankin (Percy Weasley), Christian Coulson (16-year-old Tom Riddle), Luke Youngblood (Lee Jordan), and Sean Biggerstaff (Oliver Wood). The third and final panel was hosted by the hosts of MuggleCast, Andrew Sims, Micah Tannenbaum, and MuggleNet's Eric Scull.
After the panels concluded, event attendees were granted exclusive access to Diagon Alley and Knockturn Alley for three charming hours packed with Potter fun. All shops and attractions were open, including interactive experiences like stories from The Tales of Beedle the Bard, the Gringotts Money Exchange, Ollivander's wand experience, and performances by Celestina Warbeck and the Banshees and rides like Escape from Gringotts and the Hogwarts Express. There was also buffet service and unlimited butterbeer. The most exciting part to many, however, was the opportunity to meet - and for VIP guests, to visit certain park attractions with - the stars who had appeared in the day's panels.
MuggleNet Live! 2015: Expo Patronum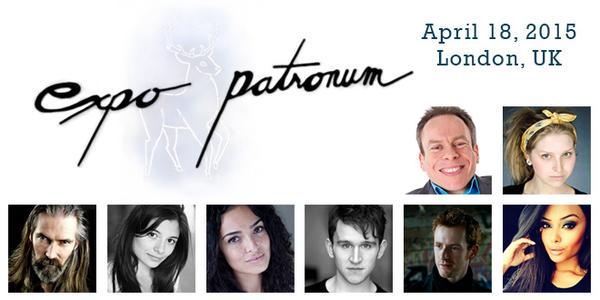 On Saturday, April 18, 2015, from 10 a.m. to 6 p.m., MuggleNet hosted its first-ever in-person Harry Potter celebration, MuggleNet Live! 2015: Expo Patronum, at ExCeL London, with about 200 people in attendance. Event profits were donated to Lumos, J.K. Rowling's charity, to support vulnerable children worldwide.
The event boasted appearances by Harry Potter stars Warwick Davis (Filius Flitwick and Griphook), Natalia Tena (Nymphadora Tonks), Harry Melling (Dudley Dursley), Jessie Cave (Lavender Brown), Alfred Enoch (Dean Thomas), Chris Rankin (Percy Weasley), Luke Youngblood (Lee Jordan), Afshan Azad (Padma Patil), Anna Shaffer (Romilda Vane), Georgina Leonidas (Katie Bell), Nick Shirm (Zacharias Smith), Robbie Jarvis (young James Potter), Rohan Gotobed (young Sirius Black), Nick Moran (Scabior the Snatcher), and Jon Campling (Death Eater).
Other special guests included Gary Tomkins, the films' art director; Eduardo Lima and Miraphora Mina (MinaLima), the beloved graphic artists of the Potter films; and Paul Harris, the wand combat choreographer.
While the four panels, eight autograph sessions, merchandise, raffles, and rows of exhibition booths were a blast, the true highlight of the event was the Expo Patronum Signature Experience from 6:30 to 8:30 p.m. Signature Experience attendees were treated to an exclusive session with the special guests after the main event, featuring autographs and photographs with the visiting cast and crew of the Harry Potter films. The Signature Experience also included VIP preferred reserved seating at all panels throughout the day, a complimentary officially licensed photograph of Warwick Davis from the Signature Shop, and a limited-edition commemorative tote bag.
MuggleNet also offered an exclusive vacation package for Expo Patronum attendees. The package included seven nights' accommodation at Ibis Styles London Excel, a daily buffet breakfast, a Harry Potter walking tour in London, transportation and admission to the Warner Bros. Studio Tour, and a full day in Oxford including a two-hour guided Harry Potter tour and attendance to the European Quidditch Cup.