In 2014, when MuggleNet celebrated its 15th anniversary and news of the Fantastic Beasts franchise was still fresh in the fandom, MuggleNet decided it was time to bring its fans from the digital world together in the real world. Hoping to bridge the gap between the eras of the wizarding world, they realized that the answer to what was missing from MuggleNet was a simple one, an event that would bring fans together from all over to celebrate the Hogwarts saga's past, present, and future.
First held in 2015, MuggleNet Live! is the place where fans from around the globe can experience their favorite Harry Potter alumni through interaction and discussion with a focused lens on the future, uniting cast and crew in a unique and exciting way. Past events have been held in London, Orlando, and New York City.
2019
2019 was a special year for MuggleNet Live as MuggleNet celebrated its 20th anniversary! Fans were treated to an awesome experience over New York Comic Con weekend (October 4th and 5th) to celebrate this momentous milestone and relive some of MuggleNet's most memorable moments.
On Friday evening, fans gathered at New York Comic Con for A Journey Into the Pensieve: An NYCC Variety Show. Before the show, fans were treated to a montage of some of the best MuggleNet videos, which evoked a sense of nostalgia about how far MuggleNet has come since its humble beginnings as a fan site. Emcee and senior staff member, Eric Scull, then shared about MuggleNet's founding and hosted a modern rendition of the Crazy Caption Contest, with volunteers having to come up with captions on the spot!
Many Potter celebrities then surprised the crowd with special appearances. Dan Fogler, who plays Jacob Kowalski, kicked off the Erumpent dance contest, while Andy Miller, who plays Leanne in the Off-Broadway hit Puffs, joined fans for some intense rounds of Harry Potter charades. 20th-anniversary video messages from Warwick Davis, who plays Griphook and Professor Flitwick, Evanna Lynch, who plays Luna Lovegood, and Alan Gilmore, art director for the Wizarding World at Universal Studios, were also played.
There were lots of other exciting yet hilarious activities, including a dramatization of a scene that never made it to the movies (Ron calling Harry at Privet Drive), a synchronized rendition of Potter Puppet Pals' The Mysterious Ticking Noise, and even a Mad Libs morality tale created entirely out of audience suggestions. MuggleNet staff members even put up impressive improv performances!
As the show drew to a close, fans heard inspiring messages from MuggleNet's Potter It Forward campaign and were encouraged to donate to Magical Books for Muggle Teachers, a unique and worthy campaign to bring Harry Potter books into school classrooms and spread the joy of reading Harry Potter.
On Saturday night, MuggleNet hosted a progressive dance party at Hard Rock Cafe New York. It was a nostalgic evening of drinking Harry Potter-themed drinks, admiring creative cosplayers, and dancing to songs from 1999, the year MuggleNet was founded, till today.
MuggleNet Live! 2019 was a huge success and a truly fantastic way to remember the endless memories fans have made through MuggleNet. On to the next 20 years!
2017
All Potterheads know the significance of September 1 in the Potter series. September 1, 2017, however, held a special place in our hearts, as the setting of the Harry Potter and the Deathly Hallows epilogue, nineteen years after the end of the series. Of course, only the most extravagant celebration would do for such a special day!
MuggleNet, the longest running Harry Potter and Wizarding World fan site on the internet, is known for wonderful events full of geeky experiences. To celebrate one of the most iconic dates in the Potter fandom, they took events to the next level—by reserving The Wizarding World of Harry Potter™ - Diagon Alley™ at Universal Studios Florida™!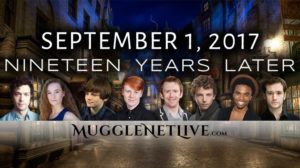 Everyone was looking forward to this monumental occasion, and none more than the stars themselves!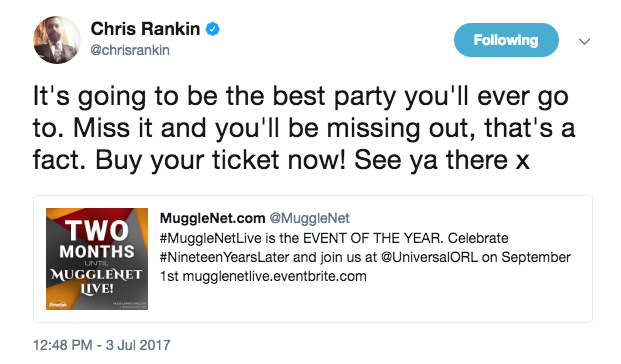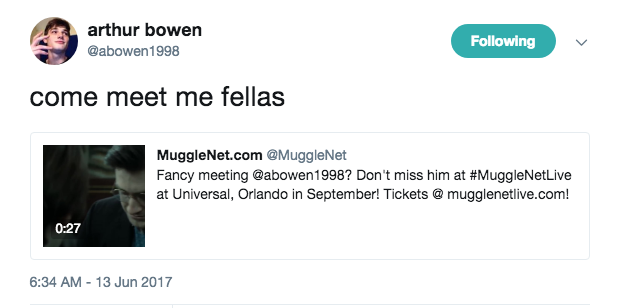 As the day approached, we saw plenty of evidence that they were just as excited as any fan attendee! Read more posts and tweets from the celebrity guests in Twitter Proof That "Potter" Talent Gets Excited About Special Events by Amy Hogan.
Fans gathered at the Orlando, Florida location from 7 PM – 1 AM EDT on Friday, September 1, 2017 for MuggleNet Live! 2017: Nineteen Years Later. The event kicked off with three high-energy, star-studded panels, the first featuring "the new generation" of Harry Potter stars: Ellie Darcy-Alden (Young Lily Evans), Rohan Gotobed (Young Sirius Black), and Ryan Turner (Hugo Weasley).
The second panel was a highly-anticipated reunion of Potter stars, hosted by Rohan Gotobed: Chris Rankin (Percy Weasley), Christian Coulson (Tom Marvolo Riddle, Harry Potter and the Chamber of Secrets), Luke Youngblood (Lee Jordan), and Sean Biggerstaff (Oliver Wood).
The third and final panel was hosted by our very own, the hosts of MuggleCast.
After the panels concluded, event attendees enjoyed three hours packed with Potter fun. All attendees were granted exclusive access to the celebration in Diagon Alley™ and Knockturn Alley™; all shops and attractions were reserved for MuggleNet Live! guests. The celebration included Interactive experiences like stories from The Tales of Beedle the Bard, Gringotts Money exchange, the Hogwarts Express ride, Ollivander's wand experience, and performances by Celestina Warbeck and the Banshees. Park rides like Escape from Gringotts and the Hogwarts Express were open to all guests, as was buffet service and unlimited butterbeer in Diagon alley. The most exciting part to many, however, was the opportunity meet--and for VIP guests, to experience certain attractions with--Potter stars.
Got to meet @chrisrankin at @MuggleNetLive and he even took the time to say hello & sign my book. Such an awesome guy!! Thank you, Chris! pic.twitter.com/hRBUMnLUwg

— Gracie (@GracieCandido) September 9, 2017
Represent! @MuggleNetLive was one of the best nights of my life! Would relive it anytime! @chrisrankin @Rohan_Gotobed @CeeofCee pic.twitter.com/O4d3mlrYys

— Emily Konczal (@emilynkonczal) September 22, 2017
I had the most amazing time at @MuggleNetLive met some amazing people now will there be a twenty years later party? #19yearslater pic.twitter.com/dt7O8jC4NO

— ❤️🦁Alyssa🦁❤️ (@Gryffindorgal02) September 8, 2017
An honest review of Mugglenet Live! 2017 #19yearslater #HarryPotter @MuggleNetLivehttps://t.co/mZzJC9yGzC
In short: pic.twitter.com/omqGfAepIo

— Hermione's Library (@HSecretLibrary) September 21, 2017
MuggleNet Live! 2017 was truly a night to remember. Check out MuggleNet staff members' memories in MuggleNet Live! 2017: Nineteen Years Later, One Year Later.

2015
Taking place in the homeland of Potter on Saturday, April 18, 2015, Expo Patronum was hosted in the heart of London at the ExCeL Centre London Suite. Expo Patronum is the upcoming Potter-centric convention that will offer a unique opportunity to see and hear from the talent and creatives behind the Harry Potter books, film series, and the surrounding materials.
We posted some of the social media highlights from Saturday's MuggleNet Live! 2015: Expo Patronum, featuring the special guests. Of course the event would have been nothing without the fans and so in today's special social roundup post, we're celebrating you, the fans.
Throughout the day there were plenty of group photo opportunities:
@Cheryljcp @FlizLovesKon Found this amazing photo from yesterday's brilliant #ExpoPatronum @KeithWHawk @MuggleNetLive pic.twitter.com/fx30y1wshx

— Natasza Ann Lentner (@Natasza_l) April 19, 2015
As well as selfies with the special guests:
Here we go!!!!#HarryPotter #Convention #ExpoPatronum so much fun!!!!@NatTenaLady #GoT & #HP together#GameofThrones pic.twitter.com/du18L0kLYM

— Andrea Bizzotto (@AndreaBizzBizz8) April 18, 2015
.@NatTenaLady was freaking amazing today at @MuggleNetLive 😂👍 pic.twitter.com/LTV62iTqqw

— Charlotte Molton (@CharlotteEM21) April 18, 2015
Harry Melling! Aka - Dudley dursley! pic.twitter.com/mODe9lAkSa

— Jenessa Baber (@NymphadoraLupin) April 18, 2015
Hope I didn't give you concussion @chrisrankin! Thanks for the Selfie. pic.twitter.com/Mn1J8or74w

— Kirsty 'Booksy At Home ' Stanley 🦡📚🖋 (@kirstyes) April 18, 2015
Alfie Enoch! Aka Dean Thomas! pic.twitter.com/ezBeNISIAV

— Jenessa Baber (@NymphadoraLupin) April 18, 2015
A Twitter break for a fan and Chris Rankin:
Hey look @MuggleNetLive it's Mr.sociable @chrisrankin 😉 #ExpoPatronum pic.twitter.com/IADTL4lf9L

— Jenessa Baber (@NymphadoraLupin) April 18, 2015
There were plenty of excellent cosplays to be seen throughout the day:
Fantastic day at @MuggleNetLive #ExpoPatronum . My little Luna was a star and enjoyed every moment. Well done to all pic.twitter.com/A77UdcTKIk

— Iona Livesey (@eyeowna) April 18, 2015
And of course, we can't forget this amazing Marauder's Map dress:
Proudest moment of the day! @minalima Loving my Handpainted Marauders Map dress. It makes all those hours worth it!:) pic.twitter.com/ObHoQxjoy6

— Jenessa Baber (@NymphadoraLupin) April 19, 2015
Raffle prizes were won:
I won a wand remote in the #ExpoPatronum raffle for @lumos ...and I love it!

— David Lord (@LordOfVillainy) April 19, 2015
And while all good things must come to an end, luckily the Potter fun didn't end when the doors closed at the end of the day:
Potter Pals finally at PotterHut after a fab day at #ExpoPatronum & an epic tube journey! @pizzahut @MuggleNetLive pic.twitter.com/x7XmlXDL0G

— Natasza Ann Lentner (@Natasza_l) April 18, 2015
This is an amazing pic of some of the fans from #ExpoPatronum leaving as new friends. Mischief Managed! pic.twitter.com/LoshuzlHMG

— ᴍᴜɢɢʟᴇɴᴇᴛ ʟɪᴠᴇ (@MuggleNetLive) April 20, 2015
While others reflected on the day:
V. happy with my #ExpoPatronum goodies! Thank you @FlizLovesKon for winning my ticket & @MuggleNetLive for having me pic.twitter.com/0FgsX2RxHf

— Natasza Ann Lentner (@Natasza_l) April 19, 2015
Hey @MuggleNet, thanks for the expo! 🙂 Cc/ @MuggleNetLive #ExpoPatronum pic.twitter.com/zrQIu7kVp4

— Puritan Hipster (@Amatorculist) April 18, 2015
A HUGE thank you to everyone who came out to the event and helped us celebrate Harry Potter.
If you attended MuggleNet Live! 2015: Expo Patronum, we'd really love to hear your thoughts on the experience. Any feedback, good or bad but preferably amazing, would be greatly appreciated. Contact us here.