CC #113: Week of December 19, 2004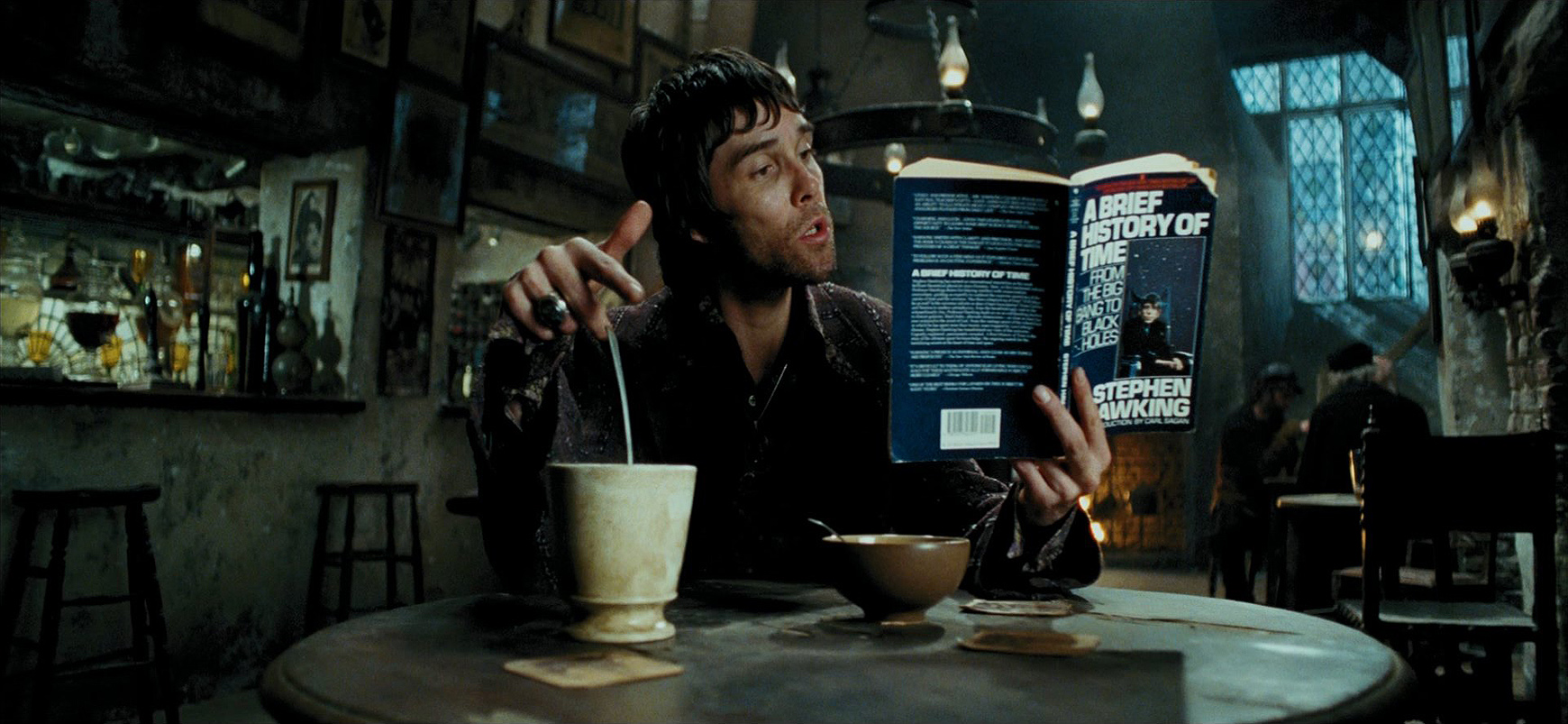 ---
⬇️⬇️ Scroll down in the below area to read all captions from this week! ⬇️⬇️
---
This is what became of the old wizard in Bath who had a book that he could never stop reading. As you can see, he is still doing everything one-handed.
-Ivinia
---
'I'm getting too old to turn my cup… where was that turn back time spell again?'
-Sephine
---
Even though Bob could magically move a spoon without touching it, he had no idea how the universe was created.
-Sara
---
Peter Parker: Fifteen years from now. What, can't you see the web in his cup of tea?
-Austin
---
Harry Potter and the Year He Grew Up Fast.
-Anna
---
'Wow, this ''tea from your fingertip" spell actually works. Lipton won't like this…'
-Romy
---
Man: 'This Stephen Hawking guy is full of it. Honestly, a Muggle thinking he knows the origins of the universe!'
-Matt N.
---
Stan: *Popping out of book* What 'choo drinking?
Man: *Tosses book out* Last time I buy a realistic pop-up book from Flourish and Blotts…
-Adil
---
He was so fascinated by the chapter on Black Holes that he didn't realize his finger was peeing milk.
-Lucy
---
Most movies advertise something 'cool' like Pepsi or Abercrombie. However, Harry Potter and the Prisoner of Azkaban is a unique movie because director Alfonso Cuaron has successfully sneaked in advertising for… a book.
-Avital
---
Starbucks conquers the Wizarding world after running out of space in the Muggle one.
-MGH
---
Man: Hmm… *glances at cover* 'A Brief History of Time from the Beginning to Black Holes…'
*POOF!*
Man: Hmm… *glances at cover* 'A Brief History of Time from the Beginning to Black Holes…'
*POOF!*
Man: Hmm… *glances at cover*
Guy Nearby: Must be one of those darned enchanted books…
-Jade
---
'Quantum Physics… black holes… string theory… subatomic particle interaction… worm holes… my goodness, this Muggle just figured out the Floo Network!'
-RJ
---
'The Big Bang? Quantum Physics? Unification Theory? These Muggles have the most harebrained ideas. Everyone knows the universe was actually created by J.K. Rowling.'
-JulieRae
---
Guy:
Roses are Red,
Violets are Blue,
Black has escaped,
To come after you.
*Points to Harry*
-Tamara
---
Many people were upset with PoA, believing that Alfonso didn't exactly stay on topic. What they failed to realize is that Alfonso actually read the wrong book.
-Mia
---
Mr. Anon: *Reading to Ron* According to Stephen Hawking, if you kick a cat in space, no one will hear it scream.
Ron: Oy, Hermione, can I borrow Crookshanks a moment?
-Chris and Mela
---
'It's amazing how I need to say the same incantation over and over to keep this spoon moving, while Lupin doesn't need to move his lips at all to do the Patronus Charm…'
-Rosie
---
Man: 'Look! I'm multi-tasking! I can read, stir my coffee, and practice kissing at the same time!'
-Katie
---
'And if I've followed these instructions correctly, there should be a mini universe in my coffee cup…'
-X Offender
---
'Ah, who'd have thought that a one-time Stone Roses groupie would have become a top-selling author who'd give me a cameo in the movie version of her best book…?'
-T.M.M.
---
'Okay, so it's one turn backward on my Time Turner to reheat the coffee or two turns forward for an iced cappuccino…'
-Jen G.
---
Eric: 'If I get ONE more freaking Guy/Spoon Shipping Caption I'll… I'll.. I'll really make that marquee give you all a tumor!'
-Colette
---
Got Magic?
-Slouise
---
Even the Wizarding world is not safe from pretentious coffeehouse patrons.
-Sasha
---
Man: Waiter?
Waiter: My name is Eric; can I be of service to you?
Man: Yes, there is a fly in my soup!
Eric: Come on, people! Get creative! Do you know how many entries said that?
Man: The same as the number of flies you put in the soup?
Eric: …
Man: …
Eric: …
Man: So… are you gonna do something about this?
-Bradley C.
---
'Ohh! So that's the function of a rubber duck!'
-Alastor Cruise
---
Title of book behind 'A Brief History of Time': '1001 Surefire Ways to Get Eric to Pick Your Caption Finally!'
-Sidney
---
'Amazing, how Hawking condenses millions of years of existence into a tome 1/28th the size of OotP!'
-Jake
---
J.K. Rowling: My favorite scene…
Alfonso Cuaron: Mine, too…
-Ken
---