CC #126: Week of March 20, 2005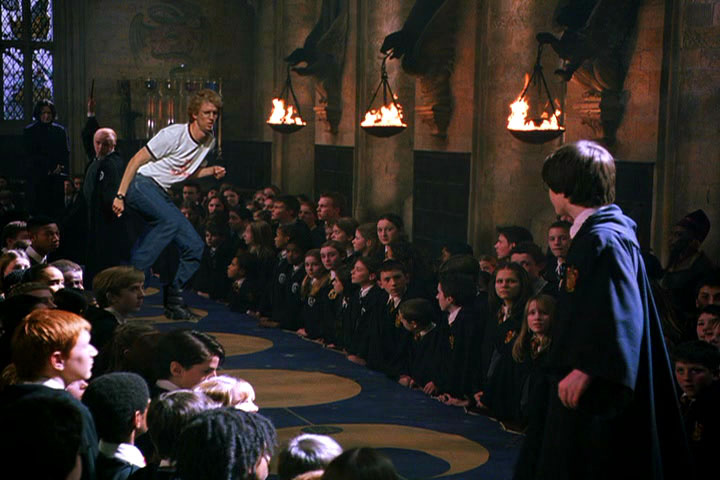 ---
⬇️⬇️ Scroll down in the below area to read all captions from this week! ⬇️⬇️
---
Draco: Napoleo Dynamitus!
Students: *Gasp* The fourth Unforgivable Curse!
-Nicole
---
Napoleon: 'Gosh, stop pointing those wands at me. All I wanted was a freakin' magical Liger!'
-Joey S.
---
'That's it, Potter! We'll settle this as only British wizards can – with a dance off!'
-Sharon
---
Figuring that it had worked for Pedro, Hermione hired Napoleon Dynamite to campaign for SPEW.
-Bri
---
As MuggleNet went through the upgrading process, some unforeseen bugs showed up in the caption contest pictures.
-Olivia M.
---
Revenge of the Nerds IV: Hogwarts Invasion
-Rae
---
The entire dueling club broke out into a collective gasp when Draco's Patronus took the form of a clearly defined muggle.
-Kittea
---
Due to a spell going wrong, Hogwarts students see what Mr. Filch looked like growing up.
-Meggle
---
The Boy Who Lived was not prepared to face The Boy Who Danced.
-Inylan
---
Snape: *Rubbing his temple* I think it's about time for me to retire…
-Kekelina
---
Napoleon: 'Dude, your sleeves are bigger than Deb's! She's gonna be so T.O.ed! Sweet!'
-Alex
---
Napoleon: Dude, you got any tots around here?
Harry: …What?
Napoleon: Tots, idiot! Gosh!
Harry: Um, no.
Napoleon: Isn't this place magic? Are there any ligers around here?
Harry: …Ligers?
Napoleon: Yeah, they're like, my favorite animals ever.
J.K. Rowling: *Banging her head repeatedly against a wall* What are they doing to my poor characters?!?!
-Squid
---
In an effort to appeal to American culture, the role of Ron Weasley in Order of the Phoenix will be played by Napoleon Dynamite.
-Greg L.
---
The house elves had to call in Napoleon Dynamite when they attempted to make a 'dang quesadilla'.
-Katie
---
Napoleon Dynamite: Taking 'Whatever I feel like' to a whole different level.
-Rileyface
---
Napoleon: *To Harry* Pedro offers you his protection.
-Brett Bretterson
---
Chaos ensues when Napolean realizes that Uncle Rico's time machine was actually a portkey.
-Jen
---
Napoleon: Hey, can I have your tots?
Harry: No! They're mine, my preciousss, preciousss is all MINE!
Harry Potter and the Pop Culture References: Coming soon to a theatre near you!
-Oria
---
Malfoy: 'You were supposed to be a snake, not some freaky haired Muggle! Hey, Granger, I just transfigured you a boyfriend!'
-Kate
---
The Fourth Unforgivable Curse: Discos Infernio!
-Alan
---
Harry Potter and the Half-Brained Prince.
-Tulipa
---
Harry: 'If this is what happens when Maniacal March is ''in the house", I am so moving out.'
-Jeweled Jade
---
Snape: *Thinking* Maybe if I stand in the back of the picture, people won't make any captions about my clothes!
-The Grim
---
Napoleon: Harry, will you get your junk out of my locker? My nunchuks don't fit anymore!!
Harry: An American kid with a French name, who carries Japanese weapons and wants us to vote for a Mexican? What ever happened to keeping the cast all British?
-Ann J.
---
Napoleon: 'So THESE are the people on the T-shirts next to mine at Hot Topic…sweet!'
-Melly
---
Suddenly, Harry realized that he was not an only child. The clues were there the whole time – glasses, messy hair, horrible uncles, and unquestionable popularity.
-Derek
---
Harry: 'I said ''accio broom", not ''accio super-weird-freaky-alternate-universe-version-of-Malfoy"!'
-Sar Sar
---