CC #128: Week of April 3, 2005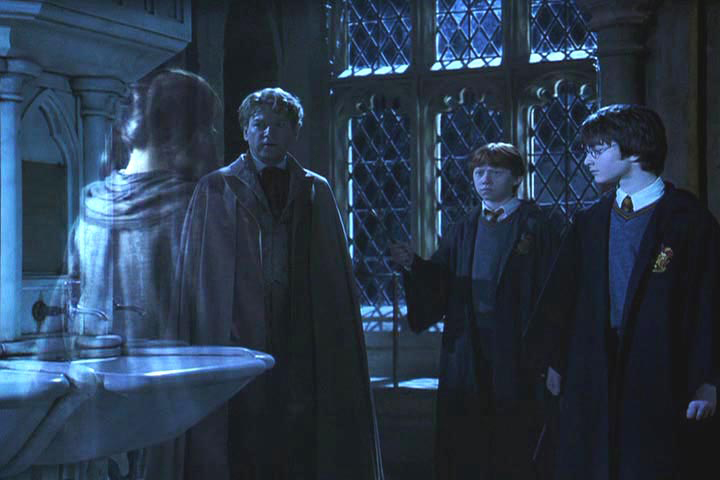 ---
⬇️⬇️ Scroll down in the below area to read all captions from this week! ⬇️⬇️
---
Lockhart: Hmm – reminds me of the time I single-handedly fought off the Girlie Ghost of Vietnam! Nobody knew who to turn to, then, WAM! I killed it with my bare hands!
Harry: Ghost's can't be killed because they're already dead – and your hand would've gone straight through th-
Myrtle: *Wailing* That was my cousin!
-Hel
---
–Inspired by Harris's caption last week—
Myrtle: *Giggles* Just wait till you see! It's so funny!
Ron: Hermione…? Are you alright…?
Hermione: *Sobs* Yes – just go away!
Harry: *Opens door* What?!
Ron: Hermione! Why didn't you tell us you had a Spock costume to match your impersonations?!
-AlbA
---
Myrtle was delighted that Ron, Harry, and Professor Lockhart happened to stumble in on Saddiehawkins Day.
-TMC
---
Myrtle: 'Don't just stand there like you can see right through me!'
-Amy
---
Myrtle: I'm blue…
Lockhart: Yes, I can see that. Maybe, with the help of MuggleNet, we can give you a new background color?
-Matt N.
---
Gilderoy: Amazing! Hologram technology in a castle!
Harry: That's a ghost, professor. Honestly, are you even a wizard at all?!
Gilderoy: ….
Ron: We should have seen that one coming…
Harry: Oh yeah.
-Angel
---
Myrtle: 'You would moan too if you still had pimples fifty years after you died!'
-Kazza
---
Ron: Oh, no, this is Atomic April, isn't it?!
Harry: *Sighs* Ron, ghosts are real. Myrtle isn't edited.
Ron: No, not that, I was talking about how we turned into the Blue Man Group.
-Joey S.
---
Myrtle: Hey, guys, look at my new pet! Can I keep him? I taught him to do tricks, watch! *Throws a bit of pipe* Fetch, Gildy!
Lockhart: *Runs, trips, and falls down the entrance to CoS*
Myrtle: Oh, bugger. I lose more pets that way…
Harry and Ron: *Slowly back away*
-May and Leatah S.
---
Harry: I feel so unmotivated to live after this fight. I mean, if I DO live I get to find out that Sirius Black is my godfather but I won't be able to prove it, and then I find out my life has to include or end in murder and that Dumbledore's going to be different in the next movie! What's there to live for?
Myrtle: Oh, Harry! If you die down there, you're welcome to share my toilet.
Harry: Right! New motivation found!
-Angel
---
Harry: So, you say you know who the Half-Blood Prince is?
Lockhart: It's me! I bet it's me! I mean, come on, look at my hair!
-N.A.
---
Harry: How did you die, Myrtle?
Myrtle: I had a heart attack because of MuggleNet's April Fool's prank…
-Malkore
---
Lockhart: Isn't that the girl from The Ring?
Ron: No, it's a girl from The Grudge!
Harry: No, it's just Myrtle – Maniacal March ended last week!
-Brian S.
---
Lockhart was terrified to conclude that he would have to change his book 'Gadding with Ghouls' to 'Sharing Bathrooms with Spooks'.
-Mafalda
---
She thought she could lead them astray, but her motives were completely transparent!
-Jacquelynn F.
---
Harry: 'I thought you said she was colorfast…'
-Catherine
---