CC #131: Week of April 24, 2005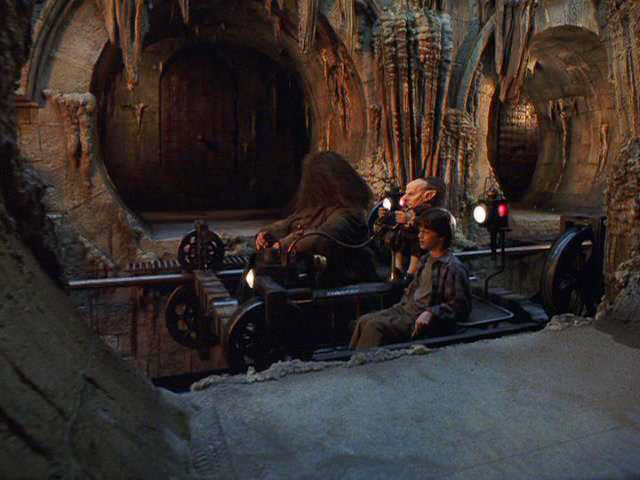 ---
⬇️⬇️ Scroll down in the below area to read all captions from this week! ⬇️⬇️
---
Goblin: *Breaking into song* I've been workin' on the raaaail-rooad, aaaall the live-long daaaay… I've been workin' on the raaaail-rooad, just to pass the time awaaay!
Harry: Is it really that boring down here?
Goblin: It's worse.
Harry: How could it be worse?
Goblin: We've finished the railroad.
-Myra K.
---
Harry: Hagrid, what's the difference between a stalactite and a stalagmite?
Hagrid: Stalagmite's got an 'm' in it.
Harry: That's it?
Hagrid: There could be more, but I think JKR was feeling particularly uninspired the day she wrote this chapter…
-Julie
---
Harry: Nun-nun-nun-nun-nun-nun-nun-nun BAT-MAN!
Griphook: Bloody muggleborns…
Hagrid: Bats? Where?! Are they monster size?
-Megan H.
---
'Where's ''Pimp My Ride" when you need them?!'
-Meghan H.
---
After Gandalf got rid of the Balrog, the dwarves made a fortune giving tours through the mines of Moria.
-Leeloo
---
Hagrid: 'An' now for my ''Cousin It" impression…'
-Silver
---
Hagrid: Try not ter go so fast next time!
Griphook: I need to go fast! I've always wanted to be a racecar driver for NASCAR!
-Annie
---
Harry: It looks like Disneyland!
Hagrid: It would be best not ter say anything, Harry. Griphook here's been rejected from that cause he's too short…
Harry: Rejected from… what?
Hagrid: Portraying Grumpy, of course!
-Peggysus
---
What happens when Harry Potter meets the Little Engine That Could?
'I Think I can, I think I can, CONSTANT VIGILANCE!'
-Emily
---
Goblin: 'Please keep all arms, wands, legs, noses, tentacles, tongues and feet inside the car at all times.'
-Violet
---
A tribute to Monty Python and the Holy Grail.
Goblin: Welcome, brave Mr. Potter. Welcome to Castle Anthrax.
Harry: The Castle Anthrax?
Goblin: Yes – it's not a very good name, is it? Oh, but we are nice, and we'll attend to your every need.
-Mandi
---
Goblin: '…and if you look to your right, you can see Frodo Baggins' hobbit-hole…'
-Nita
---
Goblin: 'Cell 239 was once the home of Martha Stewart. You can easily see that some of her more artistic touches remain.'
-Moo
---
Goblin: Vault 713. Stand back! *Opens vault*
Gollum: *Bursts out* Precious! Where's my precious?!
Goblin: Ah, Mr. Gollum. You're here for vault 712, over there.
-Angel
---
'…And right here you'll see the MuggleNet home offices…'
-Lowell
---
Sydney train commuters felt that the transportation crisis had entered a new low.
-Luke B.
---
Harry Potter and the Journey to the Center of the Earth.
-Gillian
---
Hagrid: Do I know you?
Griphook: Why yes. I also play Professor Flitwick, R2D2, and an array of creatures ranging from Elves to Ewoks in various other movies.
-James
---
Goblin- '…and these are the vaults where we keep the people who have driven themselves to insanity by trying to lick their own elbows after reading last week's Caption Contest…'
-Kurtzy
---
–Courtesy of Eb's Caption Last Week–
Harry: Hey, Hagrid, do you know it's physically impossible to lick your elbow?
Hagrid: I don' believe that. *Secretly Tries and then Falls Over*
Harry: Gets 'em everytime.
-Scioscia
---
–Continuation of Eb's caption last week–
Hagrid: 'I'm just afraid that after a ride in this bloody thing, I WILL be able to lick my elbow…'
-Agatha
---
Goblin: *monotonous voice* Welcome to Eric Land. You are about to experience Caption Catastrophe. Please keep your hands and feet inside the vehicle, especially as we approach 'Maniacal May'….
Harry: I'm scared, Hagrid… can't we just yell 'HAPPY BIRTHDAY ERIC!!!' instead of going through this…?
-Chipotle
---
Stoplight: 'It's red! Red, you idiot! Eh, what's the use, goblins are colorblind anyway…'
-Anyana
---
Goblin: …and on your right is the lovely and very special Secret Door!
Harry: What's so special about it?
Goblin: It only opens once every few months, and always from the other side.
Hagrid: Wot IS on the other side?
Goblin: JKR's website
-Bandmum
---
The all new Bathtub 2000: travel while you paddle!
-Natalie
---
Harry Potter in the Mines of Moria
(and you thought Maniacal May didn't start until next week)
-Hazel
---
Stalactite and Stalagmite shippers were disappointed when the romance abruptly broke off… Apparently, 'tite and 'mite felt things were heading in the wrong direction…
-Amanda PF
---
Hagrid: Harry, why are you looking like that? I thought I was the one who get's carsick
Harry: I'm not carsick, Hagrid, I'm what-are-they-gonna-do-to-me-when-Maniacal-May-comes-next-week sick…
-Caroline
---
Harry couldn't help but feel that Dumbledore's new stair-lift was a little over the top.
-Lee
---
'Welcome to Grand Central Station. Please proceed carefully to the exits on your right. Our next destination is the Renaissance Center.'
-Alicia
---
[otw_shortcode_button href="http://www.mugglenet.com/fans-fun/crazy-caption-contest/" size="medium" icon_position="left" shape="square"]Return to Caption Contest Home[/otw_shortcode_button]