CC #134: Week of May 15, 2005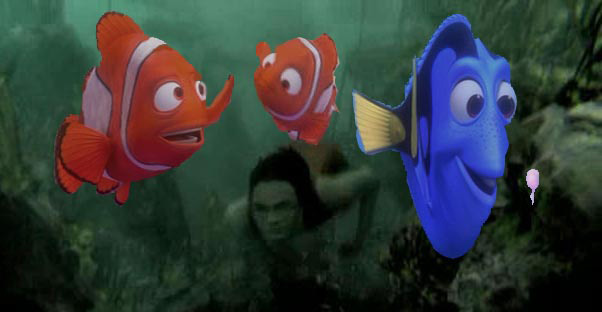 ---
⬇️⬇️ Scroll down in the below area to read all captions from this week! ⬇️⬇️
---
Since Hermione's valiant efforts in her S.P.E.W. campaign have become so successful, the Hogwarts students are left with no choice but to catch their own dinner.
-Dana
---
Ludo Bagman: '…However, the Merchieftaness informs us that Mr. Potter was the first to reach his hostages, and to complete the bonus task of finding Nemo!'
-Freezair
---
Dory: 'Loooook… a baby speech bubble!'
-Fl08b3rw0rm
---
And then, Harry realized that following Dory was more dangerous than following a hinkeypunk.
-Josh
---
Harry was disappointed when, after following a glimpse of orange, he discovered that he had found Nemo… and not Ron.
-Sam
---
Harry: Blub blub blubby!
Dory: 'blub blub blubby' …Teehee, you're funny!
Harry: Where can I find the captives?
Dory: P. Sherman 42 Wallaby Way Sydney!
-Allie
---
Marlin: Remember what I told you?
Nemo: Watch out for strange boys who are half-fish thanks to the weird plant they just ate?
Marlin: I was going to say look both ways before crossing the current, but yours is true, too…
-H.M.D.
---
Dory: FINALLY! WE'RE IN A CAPTION PICTURE!
Marlin: Yeah, but for what? They're probably just going to talk about how fish can't lick their elbows either!
Harry: Hey, at least you're not wearing Snape's clothes…
-QuidditchMoke
---
Dan: 'And I thought changing POA was bad.. Look what Mike Newell's done to Hermione, Ron, and Cho!'
-Connor
---
Marlin: Oh, no – a fish-eating merman!
Dory: Hey, look – a squishy!!!!
-Ajadeo
---
Harry: What is Nemo doing?
Marlin: I knew he was spending too much time on MuggleNet's Caption Contest – he's trying to lick his elbow!
-Luna Alba
---
Harry: SCORE! I found Nemo! Now all I have to do is find Waldo… how am I ever going to do that?
Dory: Just keep swimming! Just keep swimming…!
-Erica
---
If we take the time to peer into Dory's past, we will find out why she created her song 'Just Keep Swimming, Just Keep Swimming'…
-Skalyse
---
Still munching his Gillyweed, Harry catches up to the other Triwizard contestants in Transfigured form.
-Jake A. Ralphing
---
Harry Potter and Nemo's Adventure: to find the most two smallest people to fit in Emerson's suitcase.
-Nicole M.
---
Nemo, Marlin, and Dory are BACK…in 'Finding Weasley'…
-Victoria P.
---
Malfoy, Crabbe and Goyle wished they had never accepted those Fin-Fingers Biscuits from Fred and George.
-Jess D.
---
You sat through 'Freddie VS. Jason'…
You suffered through 'Alien VS. Predator'…
Next summer, prepare yourself for the next joint franchise…
'HARRY POTTER FINDS NEMO … AND FEEDS HIM TO THE GIANT SQUID'!
-Bill J.
---
Happy faces at Pixar after $500 million takeover bid of Warner Brothers is successful.
-Kirsten J.
---
'…I shall call him Harry and he shall be mine and he shall be my Harry…'
-Charley
---
Due to the lack of funding from Warner Bros, Chris Columbus had to resort to a pretty fishy deal with Pixar Animated Studios.
-Fleur
---
The results of different studios booking the same place on the same day…
-Rusty S.
---
My name's Harry,
Skrewts are scary,
I'm swimming in the reef,
'Cause of a Gillyweed leaf!
-Taya
---
'I'VE FOUND NEMO!!!'
This caption was sent in by approximately 2456 people…
-Jac
---
Voldemort frowned. His idea to send Potter to sleep with the fishes wasn't exactly working out as planned.
-Phantom
---
Harry Potter and the Order of Fish.
-Nina
---