CC #135: Week of May 22, 2005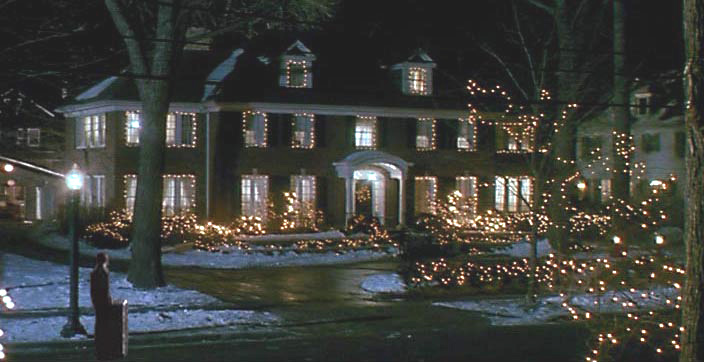 ---
⬇️⬇️ Scroll down in the below area to read all captions from this week! ⬇️⬇️
---
Harry: '…The Dursleys sure have taken an interest in Christmas since I left…'
-Jess
---
After clearing out the doxies from Number 12 Grimmauld Place, The Order discover the firefly infestation.
-Jake A. Ralphing
---
Dumbledore regrets lending the Put-Outer to Fred and George Weasley.
-Fakey
---
Harry: *Reads sign* 'Voldie's Headquarters…'
-Ivy
---
Number 12 Grimmauld Place: Makes you wonder how Muggles can just walk straight past it…
-Caz
---
The Optimist: I love these lights! They're so pretty and bright! I just wanna hug them!!
The Pessimist: I hate these lights! They're so bright and happy! The owner should be sued!
The Perfectionist: Oh my! That bulb over there! It's blown! Hurry, someone change it!! Oh and that one over there, it's too far to the right!
-Qi
---
Chris: 'I told them not to caption my house…'
-Osshi
---
Harry: 'Mr. Columbus, come back! After you left, the movies have stunk!'
-C.P.
---
'I guess Uncle Vernon got the promotion he wanted…'
-P.B.
---
After figuring out the function of a rubber duck, Mr. Weasley got a raise.
-Ant
---
Standard Apparating Accident 416: Arriving in the wrong place, in the wrong season, and into an alternate reality.
-Emily
---
Harry, with the help of the Hogwarts ghosts, devised a plan that would introduce Dudley to the ghosts of Christmas past, present and yet to come.
-Megan J.
---
After being forced to come home over Christmas Holidays, Harry realized exactly what the Dursleys would do if they found out about his fortune in Gringotts.
-Kekelina
---
When Harry arrived back at No. 12 Grimmauld Place for Christmas, he realized exactly how bored Sirius had been!
-Sammy
---
*From inside 12 Grimmauld place*
Harry: 'Sirius, don't you think the Muggles might notice that there are fairies hovering around your house, even if it is invisible?
-Josie
---
On the twelfth day of Christmas, my true love gave to me:
12 House-elves working
11 goblins mining
10 thestrals flying
9 death eaters killing
8 Muggles screaming
7 broomsticks flying
6th Harry Potter book
5 Lockhart fans…
4 Triwizard Contestants
3 evil Dementors
2 magic wands
And 1 golden snitch!
-Sean
---
The Hogwarts choir presents: A Hogwarts Melody
'Dashing through the snow, in a thestral-open sleigh, Over the lake we go, Shivering all the way! We see a rope clothes line, on it we see an ugly pair of graying underwear that we know belongs to Snape!'
Chorus: 'Oh! Jingle Bells, Malfoy Smells, Hagrid's got an itch, Ron is mad, Hermione's sad, and Harry caught the Snitch!'
-CTL
---
Lamp post: I can't believe I got this part! 500 lamp posts tried, and I got it!
Dan: Umm… I don't think this movie is called 'The Lamp post and the Part it Got'…
Lamp post: Nag, nag, nag. That's all you stars do, is nag!
-Katie
---
Harry: 'I wonder if this family has a boot-leg copy of Star Wars Episode III. Maybe they'll let me borrow it!'
-Ammerz
---
…And you never believed your parents when they said Christmas was right around the corner…
-Emily
---
Dear Harry,
You shouldn't have told my Dad where to get Christmas lights. This is what you get, and it's only August. There's even more on the inside. I think I'm going blind.
I'll see you when you come visit.
Ron
-Miia
---