CC #137: Week of June 5, 2005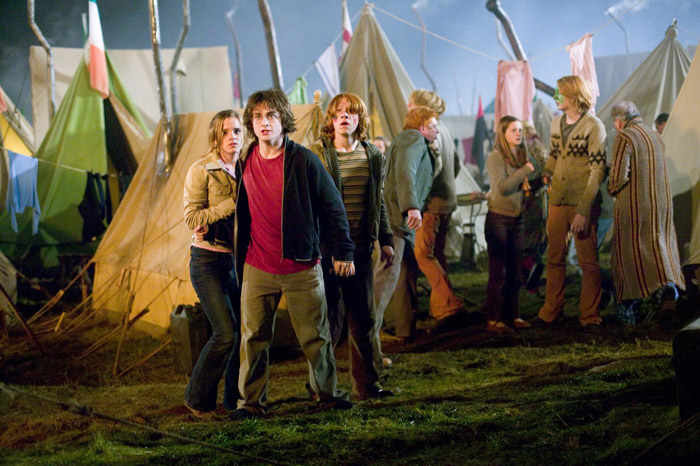 ---
⬇️⬇️ Scroll down in the below area to read all captions from this week! ⬇️⬇️
---
Harry: *Looking at green Dark Mark* …So Voldemort goes for Ireland too… right?
-Schnook
---
Entire Group: *Bursting into song and dance*
Can you see them? Old Navy's new pants!
Grab a pair when you get the chance.
I got me some. We're havin' such fun;
Here at the Cup waking the family up!
Go get yourself some pants to share.
They're seventies just like your ha-a-air!
-Chels
---
–Continuation of Rusty S.'s caption last week—
Harry: *Struggling* Must…curse…Simon…Cowell!
Hermione: No, Harry! He's not worth it!
Ron: We all think your scar is just fine!
-Malka
---
–Inspired by M.J.'s caption last week–
Announcer: And now, the next Triwizard Tournament Task will be…Karaoke with Snape! Our judges will be Cornelius Fudge, Randy Jackson, Paula Abdul, and Simon Cowell!
Simon: *looking up* Oh, please…you call this a caption?
-Brent
---
Ginny: 'Fred, come back here! I'm not done with your facial yet!'
-Libby
---
Harry: 'Hermione, please let go of my arm – the fans are getting suspicious!'
-Michele
---
Harry: Dear God! Look at the size of that spoiler!
-Josh R.
---
Scenes from the original Woodstock.
-The Snoo
---
Dan: 'Quick! Hide behind me so the scene looks more dramatic and people won't notice the obviously fake sky!'
-Elsa
---
*All three stop dead, eyes bulging in disbelief*
Ron: I don't believe it – it's John Kerry! Should we run?!
Hermione: What's he doing abroad?
Harry: Either he's realized his biggest supporters are the French or he's promoting the waffle iron sales in Britain…
-Julia
---
Though everyone else had decided to move on, Rupert, Dan and Emma were intent on getting that werewolf scene *exactly* right…
-Peon
---
And once again, Rupert and Emma are forced to stand in the background in an attempt to make Dan look taller.
-Chantelle
---
And now presenting the new show: DUMBLEDORE'S ANGELS
-Chelsea
---
Harry: Guys, Look – it's the Dark Mark!
Ron: Oh, I thought it was the Bat Signal…
-Aleks
---
The Weasleys were horrified when Death Eaters caused havoc at the 'Shaggy from Scooby Doo Look-a-Like Competition' they were attending…
-Lucy S.
---
Hermione: Harry! You almost died!
Harry: It could be worse! If I had been played by Haley Joel Osment like Stephen Spielberg wanted, I would have died three movies ago!
*All shudder*
-Angel
---
Hermione: Don't do it, Harry!
Ron: Harry, don't you know that what you're about to do is dangerous?!
Harry: I don't care, Ron! The ice cream guy gave me vanilla! I ordered chocolate!
-Raegan
---
Blue Sweater on Clothesline: I auditioned for the part of Harry's shirt, and that red hussy got the part instead!
Red Shirt on Harry: Nyah nyah nyah!
Socks on Line: At least you're in the shot – we're behind this dang tent!
-Bandmum
---
Ginny: *mutters* If Hermione doesn't get her mitts of Harry within the next three seconds, I'm going to have to break out my voodoo doll…
-MVR
---
Harry Potter and the Anti-Haircut League
-Portulaca
---
Harry: Everything's going to be alright. We just need to figure out what Jack Bauer, Tony Almeida, and Michelle Dessler would do, and in 24 hours everything will okay!
-Jessica
---