CC #139: Week of June 19, 2005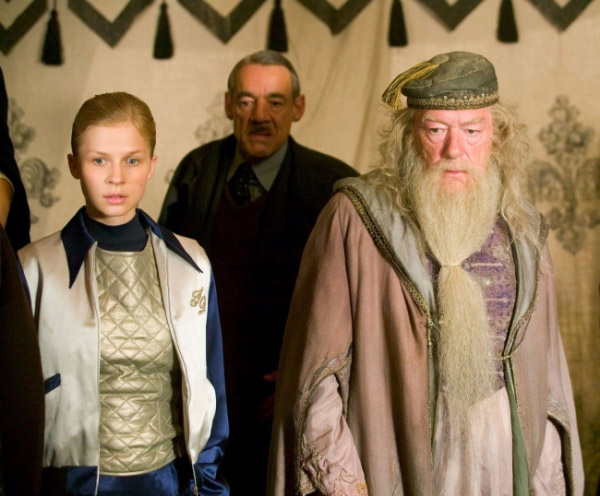 ---
⬇️⬇️ Scroll down in the below area to read all captions from this week! ⬇️⬇️
---
Fleur: How many is that now?
Dumbledore: Eight, I think.
Crouch: No, no, it's nine. Nine total layouts.
Fleur: I think someone at MuggleNet has too much time on their hands…
-Todd-o
---
Over Zealous HP Fans: Fleur's not supposed to be wearing a track suit! That's not what's in the book!
LOTR Fans: What are you, new?
-Megan J.
---
Mike Newell: 'No, no, no! Who got the costumes mixed up?! Fleur, you are not supposed to look like a horseback rider, Dumbledore, you are not supposed to look like a hobo, and Mr. Crouch, you are not supposed to look like Walter Matthau!'
-Zachery
---
Clemence: Sacre bleu! What iz sat?
Roger: I don't know, but I'm not eating any of it!
Michael: Can't these English caterers serve something besides Bangers & Mash at the food service table? This is ridiculous, honestly!
-Aidan
---
Fleur: 'And juzt what is zis unmade bed I am standing next to?!'
-Purple Iris
---
Harry: 'So a headmaster, a veela and a bad caption walk in to a bar…'
-RuthJulia
---
'I'll take funny captions for 800, Alex.'
-Kelly H.
---
Dumbledore: 'If you think my outfit's intense, wait till you see the CGI sequence coming up!'
-Tony
---
Guy in background: *Whispers to Fleur* You know, you look like a boy with your hair pulled back!
Fleur: Yeah? Well you look like a familiar German dictator!
-Azkabanana
---
Dumbledore: Who are you?
Blonde Boy: We're the Dursleys.
Mustachioed Man: We thought that if we slimmed down, maybe we could fit into the fourth movie.
-H.M.D
---
–Inspired by Coathup's caption last week–
Dumbledore: What's wrong with Mr. Finnigan?
Fleur: He laughed himself into a coma last week, looking at Ron's robe. Then he woke up and saw your beard-tie……
-Orlzez
---
Dumbledore: Since when did we have Liberace play here? I thought we hired the Hex Girls?
Barty Crouch: We didn't… that's Ron Weasley.
-Meghan H.
---
*Flashing Lights*
Click on Albus and win a FREE iPod!
*Flashing Lights*
-Myra S.
---
Blonde Hair Through Time:
Actually blonde in your teens,
Gray in your 40's,
White in your 100's!
-Nikki P.
---
Daily Prophet: 'Last week's frills are this week's tassels! Dumbledore is so fashionable!'
-Peggy S.
---
Fleur: Don't look…now…but…
Dumbledore: *Looks round* Wow. That unidentified furry mammal sure gets around alot…
-Stephanini
---
In order to appeal to the historical community, HP producers have decided to place pictures of historical figures into the background of various movie scenes.
-Samantha
---
The Simon Cowell Look-a-like Contest…
Simon Cowell: 'This is ridiculous! My grandmother's backside can do a better impression of me!'
-Amy
---
All three:
'Trick or curse, which is worse?
Choose wrong and you win a hearse.
If you don't, please understand
That we'll ship you to Azkaban!'
-RockinStang
---
–Continuation of Kekelina's caption last week–
*All thinking* 'Ron shouldn't have taken those fashion tips from Nearly Headless Nick…'
-Sora
---
Mr. Crouch: *hem, hem* 'Excuse me. Do either of you have any Gray Poupon?'
-Gooch
---