CC #144: Week of July 31, 2005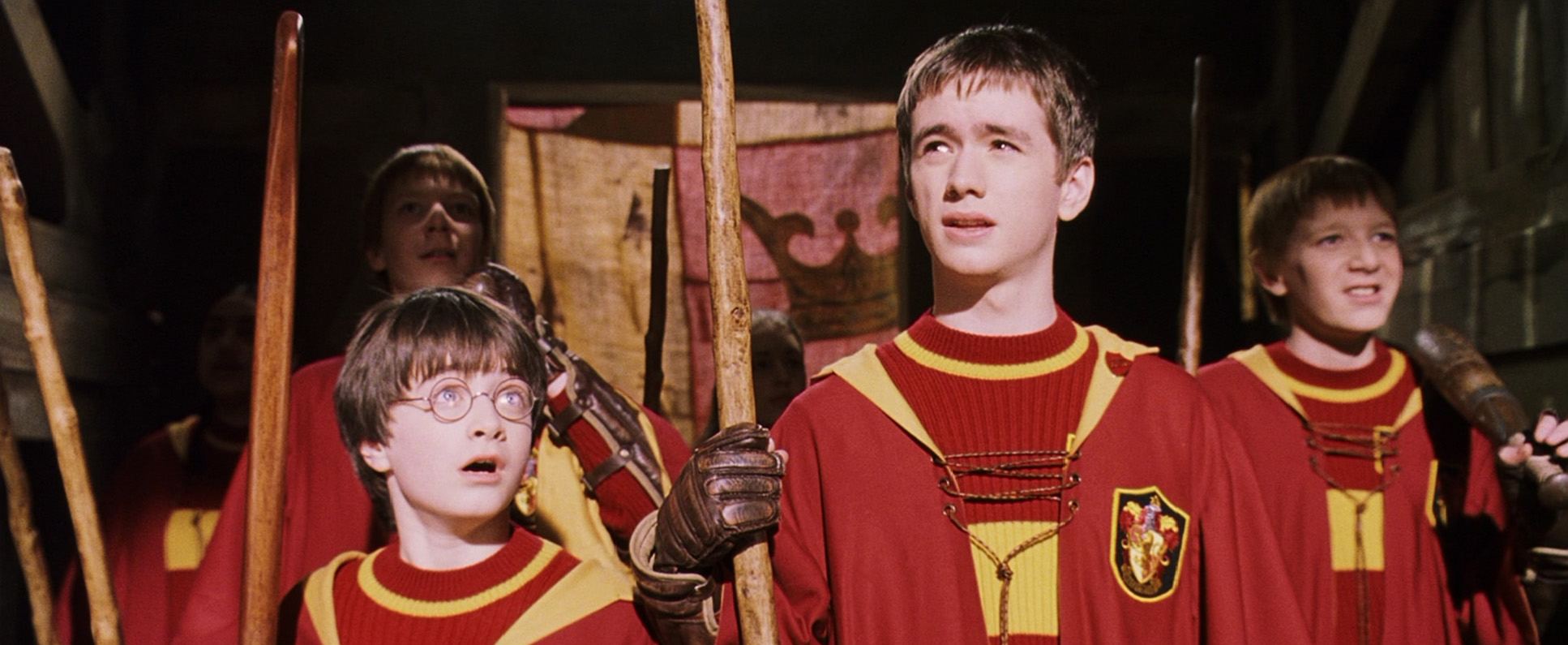 ---
⬇️⬇️ Scroll down in the below area to read all captions from this week! ⬇️⬇️
---
'Well, my name is Biggerstaff… what did you expect?!'
-H.D.
---
Wood: Now, Harry, being a Seeker is an important job…-
Harry: -Um, Oliver, there's a…-
Wood: -Don't interrupt me, Harry. See, Quidditch is not just a game-
Harry: -Yeah, great, but there's a Bludg-
Oliver: *Sighs* Oh, Harry, one day it'll hit you that-
*Rogue Bludger zooms in and hits Oliver Wood*
Harry: …It… hit you, first…
-Jennifer
---
Harry: It's a bird!
Oliver: It's a plane!
Both: It's… Lavendar Brown?
Lavendar: *Flying on broomstick* Won-Won, where'd you go?!
-LB
---
Harry: I bet you it'll be a week.
Oliver: I bet you it'll be tomorrow.
George: What are you betting on, the game?
Oliver: Nope.
George: What then?
Harry: How long it takes for the Catherine/Eric shippers to form…
-Callie
---
Wood: …And that's the birds and the bees, Harry…
Harry: But – it's all so messy!
-Kelly H.
---
Harry: Are you sure Mackenzie can fly that high, Oliver?!
Wood: …I wouldn't hold out for a happy ending with Ginny, Harry, that's all I'm gonna say!
-Ashgirl
---
Harry: Oliver, what was your first game like?
Wood: *Thinking* I'm too sexy for my shirt, too sexy for my shirt…
Harry: …Oliver?
-Katy
---
Wood: Yes, Potter, that's right. This is Ravenclaw's old broom. It's been acting a bit strange though. *Whispers* Some say a seventh of You-Know-Who's soul is hidden in it. Don't know if that's true or not, but-
Fred: Stop telling him those stupid stories, Oliver!
George: Yeah, no one ever believes them!
-The Russian
---
Harry: 'What do you mean I've ''grown a head taller"?'
-Gaffer
---
Harry: Er… Oliver? How comes there's no known descendants of Rowena Ravenclaw?
Oliver: Because no man will go after a woman with 'claw' in her name, Harry…
-A.A.
---
–Continuation from Eric's caption last week–
Now that Snape's bobblehead collection was found, Gryffindor House decided to draw twigs to see who would keep it.
Wood: 'Looks like I win, Harry!'
-Chirag
---
Oliver: Quidditch isn't that bad.
Harry: *Looks up, trying to ignore Oliver*
Oliver: I don't remember my first Quidditch match.
Harry: *Sighs*
Oliver: I got hit by a Bludger.
Harry: *Gasps*
Oliver: I fell of my broom.
Harry: *Is petrified*
Oliver: I woke up a week later in the hospital wing with a broken arm.
Harry: *Faints*
-Adriana
---
Oliver: You see Harry, my full name is Oliver Michael Wood… *writes name in air*. In other words, *swishes around with wand; letters rearrange* I am Liver Wool!
Harry: Umm… What about the leftover 'c', 'h', and 'e'?
Oliver: Well – uh – still working on that…
-Gabrielle
---
Harry: Help, Oliver, I need tips!
Oliver: Okay…hmm, let's see…I'VE GOT IT!
Madam Hooch: No more talking; mount your brooms!
Harry: *whimper*
-Austin
---
Harry: Whoa, what are all those?
Oliver: Looks like you inspired a lot of third years to start inflating their relatives – look, there's Neville's grandmother!
-Gab
---
Harry: Oliver, have you ever seen more blatant innuendo in your life?
Wood: Nope, don't think so…
-Diddle
---
Harry: wow, look! My lantern has grown!
Wood: My eyes! I… can't… see!
-Hayley
---
Oliver: 'Ah, Harry… most of your life's most brutal injuries will occur here… *Breathes deeply* Smashing, isn't it?'
-Nina
---
Harry: *Thinking* Er, honestly, who names their kid Oliver? I mean, it's just 'olive' with an 'r'… it's not like I can put it on my salad and have a nice lunch with it or anything…
-Angel
---
Crowd: Surprise, Harry!
Harry: I'm blind!
Oliver: Well, what can you expect when there are 25 candles for you and 40 for JKR?
–Happy belated birthday Jo!!–
-Jade T.
---
Harry: Oh my gosh! My scar is talking to me!
Scar: That's right Harry, you're a scarsletoungue!
-Brianne
---
The Caption Contest suddenly receives 1400 'Biggerstaff' jokes.
-C.R.
---
Chris Columbus: 'Cut! People, when I said pick a point in the sky to look at and look awed, I meant pick the SAME point!'
-Dayna
---
Harry: Whoa, look at the size of that –
Oliver: -Johnson, would you come over here for a moment? I want to discuss our game plan…
-Valya
---
Oliver: 'All right, troop, let's go and finish off what we started… Those toilets aren't going to clean themselves!'
-Cherry
---
'This is a Prediction Stick, Harry. Hold it out horizontally, and it will point to the sky if there are going to be more than 2500 Caption Contest entries this week…'
-Luke B.
---
Dan: Just WHAT is Chris doing with that crane?
Sean: Well, you know how they're re-shooting all the films to get the 'anvil-sized hints' in?
Dan: Mmmm?
Sean: Chris took it literally.
-Jessie
---
Harry: Whoa! Who put an Engorgement Charm on the Snitch?!
Oliver: That… would be the sun, Harry…
Harry: Oh…
-H.P.O.
---
Harry: Wow…
Oliver: You can say that again, Harry – it impresses even me!
Harry: All of those girls think you're hot?!
Oliver: Of course! Why else would they call it 'Woodditch'!
Harry: …
-G25W
---
Harry: *Gasp*
Wood: Yep, this year's spoilers are even bigger than last! Just remember, it's tackle, dive, conceal; tackle, dive, conceal; tackle, dive, conceal–
Harry: …
-Danielle
---
–Inspired by Orion's caption last week–
Oliver: 'Good thing Hermione's wearing those tights, or we could never play Quidditch in the dark!
-T.B.
---