CC #209: Week of March 11, 2007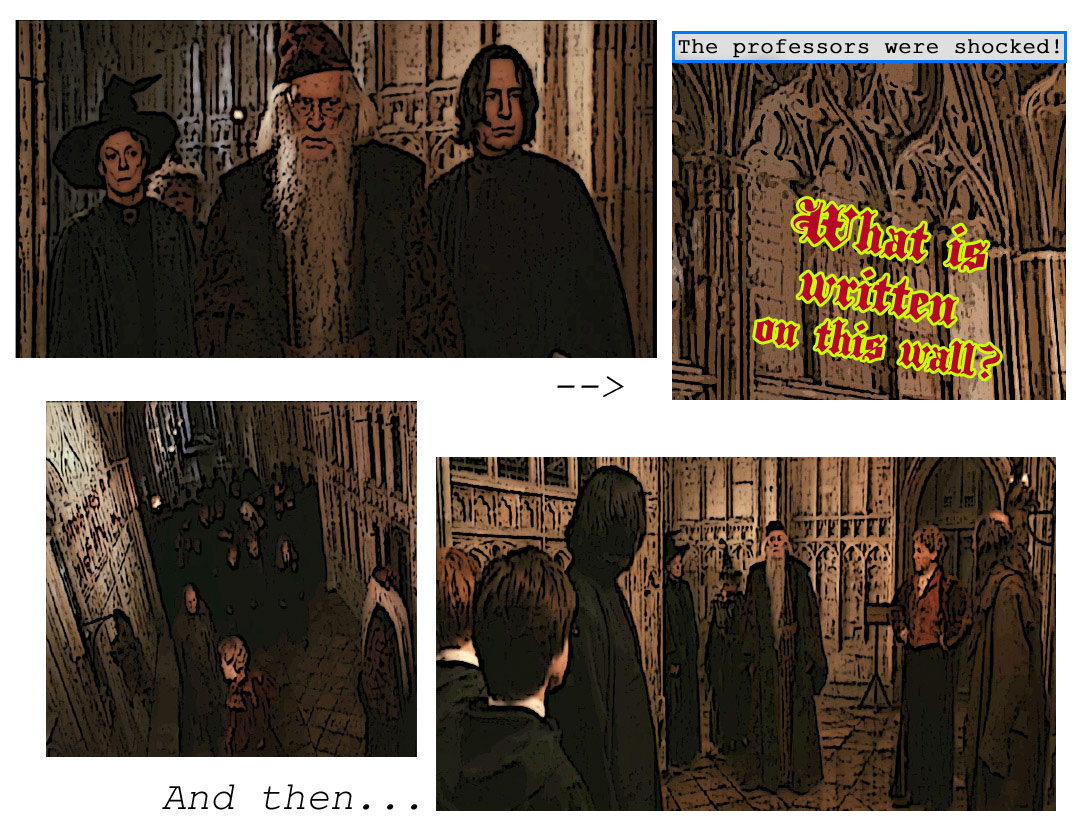 ---
⬇️⬇️ Scroll down in the below area to read all captions from this week! ⬇️⬇️
---
The Wall: CAUTION. WET FLOOR.
-Sadie
---
Wall: DUMBLEDORE WEARS PINK FLORAL UNDERWEAR.
Everyone: *Gasp*
Dumbledore: …It is not a shame to follow one's beliefs…
-Prilla
---
Wall: THE CHAMBER OF SECRETS HAS BEEN OP…HARRY PLEASE NOTICE ME!
Harry: *Shocked*
Dumbledore: I have concluded that the culprit must be a young girl who is under a spell and very fond of you, Harry.
Ron: *Wide-eyed* Ginny!
-Adriel
---
Lockhart: *Reading* 'Wanna know how to keep an idiot busy? See back of wall. I… think I'd like to know. I'll be back in a jiff, everyone!'
-Matt R.
---
Dumbledore: What's going on?
Harry: Voldemort wrote this on the wall, sir. *Gestures to wall*
Wall: Clean me.
Dumbledore: THE FIEND!
-Alyssa
---
Box One.
All: *Stunned silence*
Snape: See, Headmaster, it's just as I told you.
Box Two.
Wall: 'The following statement is true. The previous statement is false.'
Box Three.
Filch: *Rushing up to wall* ZomgMrsNorrisAreYouOk? *Hyperventilates* A taxidermist has stuffed my cat!
Random Hufflepuff: There's only one man who could do such a thing… Sirius Black!
Ron: Wrong book, kid, he's still in Azkaban.
Box Four.
Lockhart: Dun-dun-ne-NA! Never fear, Gilderoy the Avenger is here! Now, that writing is clearly a clue, maybe even in code. I'll just figure it out, and it'll point straight to the culprit!
Filch: *High-pitched voice* Thank you, Avenger!
Snape: *Thinking* It's a paradox, you idiot! There is no solution!
-Dancing Sock Monkeys
---
Wall: SNAPE LOVES MCGONNAGALL, BY HARRY
Albus: Harry, how could you? There's only one 'n' in 'McGonagall'…
-Paul
---
Ron: Quick, Hermione!
Hermione: *Bend and snap*
The Trio: *Runs away*
-Kimberly
---
Wall: WHAT IS WRITTEN ON THIS WALL?
Snape: 'What is written on this wall?'
Dumbledore: Uh, that would be 'What is written on this wall.'
Snape: Why are you repeating everything I say?
Dumbledore: No, no, Severus, I was just answering your question.
Snape: I didn't ask a question!
Dumbleedore: Yes, you did. You asked what was written on this wall.
Snape: No, no, no, I was reading the wall. 'What is written on this wall?' is written on this wall!
Dumbledore: Well, if you can't read, don't blame me…
Snape: Gaaah!
-Sam
---
First panel:
Dumbledore: The Students are not safe.
Meanwhile…
Harry: *Spray-painting on the wall, 'THEY WANT ANGSTY TEEN? I'LL GIVE THEM ANGSTY TEEN!'*
And then…
Gilderoy: *Acting all suave* Ignore the spray-paint, check out my new smile! *Does the same smile he always does*
Snape: *Staring at Gilderoy* No wonder Potter is rebelling…
-Samio
---
(P1) Dumbledore: What the -?
(P2) Wall: FOR A GOOD TIME, CALL MADAME ROSMERTA +01 000 333 545
(P3) Lockhart: It's a good thing I stopped by to nip this in the bud. I'd be a much MUCH better time than Rosmerta. Hag…
(P4) Dumbledore: I must insist that everyone remain calm and that any Lockhart shippers among us forget what you've just heard. It's not ever going to happen.
Lockhart: Hmph!
Snape: Git…
Harry and Ron: Ergh…
Sprout, McGonagall and Filch: *Sigh*
-Eldee
---
Snape and McGonagall: What is this nonsense?!
Wall: ENVY DIS
Filch: Who would be stupid and senile enough to do this?
Everyone: *Turns to face Dumbledore*
-Not Snape
---
Dumbledore: Look, writing on the wall!
Snape: So?
McGonagall: Look! It says 'Her skeleton will lie in the chamber forever, but it's okay! She had Subway for lunch!'
Snape: …?
-c-c-c-c CASEY!
---
Wall: ENEMIES OF THE HEIR BEWARE, GREASY GITS RESIDE HERE!
-Izzah
---
Dumbledore: Look what the wall says!
Wall: THE CHAMBER OF SECRETS HAS BEEN OPENED. ENEMIES OF THE HAIR BEWARE!
McGonagall: 'The Hair,' Dumbledore? What does it mean?
Dumbledore: I don't know. I think he was a guest character on an episode of teh Muggle sitcom '30 Rock.'
McGonagall: Oh, will we ever find out what it means?
Snape: Who knows. That could take weeks!
Ginny: *Thinking* And THAT's what Tom Riddle gets for trusting his master plan to the spelling skills of an eleven-year-old!
-Sam
---
Dumbledore: This better be good to disturb me from my da…dreaming, it was the most splendid dream…
Minerva: Is that why your clothes are all disshoveled?
Dumbledore: Um… yeah.
Wall: DUMBLEDORE DANCES NAKED IN THE GREAT HALL ON WEDNESDAY NIGHTS
*Looks of shock everywhere*
Minerva: Isn't today Wednesday?
Dumbledore: Nothing to see here! Everyone go back to their common rooms and offices!
-Helen
---
McGonagall: What does it mean, Albus?
Wall: KILROY WAS HERE!
Dumbledore: All students return to your houses, we have an American in the castle…
-Ayzil
---
Wall: Liiiiikkke OMG!!1 this wAll is soO uUglyy.. lol haha..
Dumbledore: Okay. Who made the wall into a messageboard?
Gilderoy: lol
-Anonymous
---
Dumbledore: Minerva, look what's written on the wall.
McGonagall: Oh, my God! That's disgusting! And… very creative…
Snape: I kind of like it, Professor. It was undoubtedly drawn by a confused, angsty teenager expressing his… um, NEW impulses in a, uh, ARTISTIC way.
McGonagall: That's not art! That's – that's – that's inappropriate for school! Think of all the first years who'll see this!
Snape: You're right, the purpotrator must be punished… and I'm sure it's…. POTTER!!!!
Harry: What, but you just said it was probably drawn by a teenager! I'm only twelve!
Snape: You have an answer for everything, don't you?
-Sam
---
Wall: GILDEROY LOCKHART IS THE MOST CUNNING, BRILLIANT, AND BEAUTIFUL WIZARD TO EVER WALK THE HALLS OF HOGWARTS.
Lockhart: *Whistles uncomfortably with his hands*
-A.J. Lucas
---
Wall: WE MUST PUT SOMETHING HERE ABOUT A GIRL BEING IN DANGER FOR THE SAKE OF HARRY POTTER SO HE WILL NOT BE LOVELESS FOR THE REST OF HIS LIFE.
-Savannah
---
Lockhart: What does that say? 'Four years from now, Snape will kill Dumbledore?'
J.K. Rowling: Thanks, you idiot!
-Brandon
---
Everyone: *Reads as the writing on the wall scrolls slowly across*
Wall: | NEW NEWS! The Caption Contest dates are changing! Not to say anyone's minds were read, but the Caption Contest will now be updated on Tuesday of each week Eastern Standard Time! This means that from Tuesday to Sunday of each week, entries will be accepted and judged. Then, on Tuesday, a new image will be put up. We shall see through time how this schedule works for people, as the Management strives to bring captions on-time. It's really just a method of managing a week, and we figure it's time for some change in that department. Thus, all captions are now accepted to Sunday of each week, Eastern Standard Time and will be posted on Tuesday. Thank you! | Comic Books. Who reads them? Who likes them? Hopefully, alot of this week's entrants! Actually, you don't have to like comic books to participate in this week's Caption Contest, in fact, it's not really important at all. However, this was the style which this week's Maniacal March image was done in, based on an original idea from CC-Goer Yasmin! What was a simple prompt and idea for the Writing on the Wall scene quickly became a task to see how best to fill-in-the-blanks. The result, as you'll find out in a week's time, may be quite humorous indeed. Thanks VERY much, Yasmin! And, the creators of Adobe Photoshop CS and it's 'Poster Edges' effect. And the makers of CoS. And everyone else too! |
Dumbledore: …Well there's six minutes of my life I'm never getting back.
-Alex G.
---
McGonaegall: Look what the wall says!
Wall: SNAPE ROCKS.
Snape: Well, considering that the purpotrator is obviously a Slyth– I mean, the purpotrator is obviously flattering a VERY competent teacher, I think we should leave this up as an inspiration to all the students. Maybe we should even add a few more 'Snape Rocks' over there and there just to keep everything symmetrical.
Dumbledore: You did this, didn't you?
Snape: What? How could you suggest such a thing, Professor!
Dumbledore: Your Occlumency skills slipped in the middle of your egofest.
Snape: ….Darn!
-Sam
---
A MESSAGE from R.A.B: HEADS UP, this wall is NOT a HORCRUX.
-Lauren B.
---
Wall: LAV-LAV LOVES WON-WON.
Harry: *To Ron* Look on the bright side. It could have said your full name and everyone would have known it was you.
Lockhart: 'Won-Won?' Ronald Weasley, did you do this?
Ron: *To Harry* Yea, so NOBODY will ever know, right?
-StarGirl
---
Wall: GILDEROY LOVES MINERVA
McGonagall: Oh…
Lockhart: Nonsense! Everyone knows I only love myself!
-The Flying Squirrel
---
Dumbledore: 'I trust that from now on, the professors will declare their love for each like the student – in notes…'
-Catie Y.
---
[otw_shortcode_button href="http://www.mugglenet.com/fans-fun/crazy-caption-contest/" size="medium" icon_position="left" shape="square"]Return to Caption Contest Home[/otw_shortcode_button]