Sorting "Mulan" Characters into Hogwarts Houses
Mulan, the newest Disney live-action remake, recently dropped on Disney+. This new film brings back some familiar characters from the original and introduces new ones. Today, I Sort the characters from the 2020 version into their Hogwarts Houses.
Hua Mulan – Gryffindor
This adaptation places great emphasis on three pillars of virtue: the "loyal, brave, and true" characteristics of a warrior. Mulan epitomizes these values. She is incredibly loyal to both her country and family. Her move to join the army to save her father despite the trouble she could be in if she were caught makes her incredibly brave. Despite her initial dishonesty, she finds herself and becomes true to all those around her. Her actions and values make her a true Gryffindor.
Hua Zhou – Gryffindor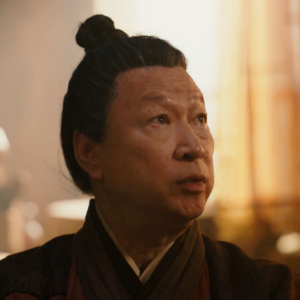 Mulan's father is an incredibly honorable man who is willing to do what is right for China. He accepts the conscription even when he is injured, knowing that joining the fight would mean that he would probably not return to his family.
Hua Li – Hufflepuff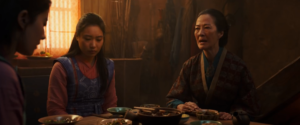 Hua Li places great value on family and doing what is expected. Although she initially believes that a great match for both her daughters is the best thing, after she sees what Mulan has done, she comes to respect her daughter's position and strength.
Chen Honghui – Hufflepuff
This character is a member of Mulan's unit. In this film, he acts as Mulan's love interest and is based on Li Shang from the original. Introduced as a fellow soldier, he grows to see Mulan's male persona as a friend. When Mulan's real identity is revealed, he stands by her side and supports her. His loyalty to her and the others in his unit puts him in Hufflepuff.
Commander Tung – Ravenclaw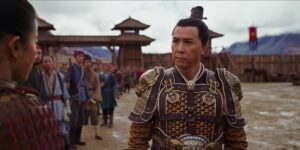 This is another new character who, like Chen Honghui, is based on Li Shang. Commander Tung is the leader of Mulan's unit who acts as her mentor. His bravery makes him a Gryffindor, but he possesses a lot of knowledge accrued over his life and time in the army. He imparts this wisdom to Mulan and the rest of the soldiers. His expertise makes him a Ravenclaw instead of a Gryffindor.
Xian Lang – Slytherin
Xian Lang is a character who did not feature in the 1998 version. She is a powerful witch who has shapeshifting abilities and is an ally of Bori Khan. She is a darker foil of Mulan who, like Mulan, does not fit into typical gender norms of the time. Xian Lang is a complex character who uses her abilities to attack the Imperial Army. Her cunning and determination to get what she wants make her a Slytherin.
Bori Khan – Slytherin
While perhaps not as fierce as Shan Yu from the original film, Bori Khan is still cunning and determined to do what it takes to avenge his father and destroy the Emperor. In this interpretation, he uses Xian Lang to do his bidding and take down the garrisons full of imperial soldiers.
The Emperor – Ravenclaw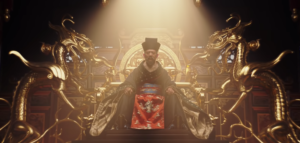 The Emperor is a wise and benevolent ruler who mobilizes his troops in an attempt to stop the invading Rouran army. Although harsh, his plan ultimately succeeds. In addition, he notices Mulan's potential and offers her a place in China's army.
Have you seen this new movie? What do you think of my Sorting? Let us know in the comments!
Want more posts like this one? MuggleNet is 99% volunteer-run, and we need your help. With your monthly pledge of $1, you can interact with creators, suggest ideas for future posts, and enter exclusive swag giveaways!