CC #442: Week of March 7, 2021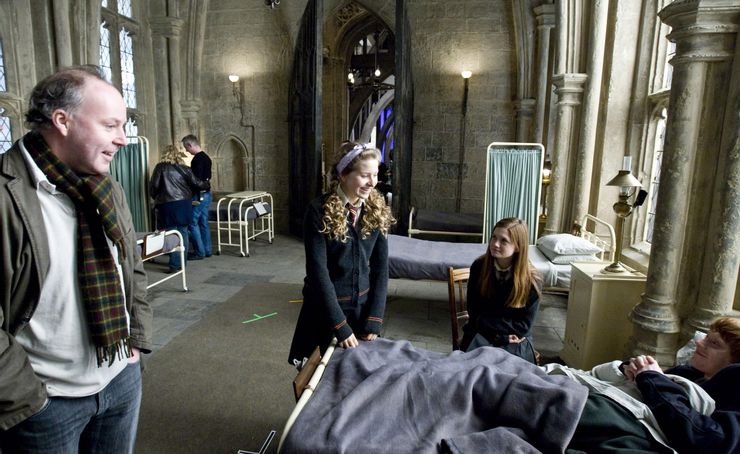 ---
⬇️⬇️ Scroll down in the below area to read all captions from this week! ⬇️⬇️
---
Director: "Rupert, we've shot the scene. You can go home now."
Rupert: "Oh, I know; the bed is just so cozy!"
—HumbleHufflepuff
---
Lavender: "For the next step in our relationship, I brought my dad here to meet you."
Mr. Brown: "We have Brown scarves, sort of like your Weasley jumpers."
—Sam
---
The two "talent wranglers" try to figure out who's missing based on the floor markers.
—Friend of Fawkes
---
Lavender: "Hi, Ron! I like that you're hurt. Now I can take care of you!"
—Affectu S.
---
Ron: "Wait. Lavender, who's that man?"
Lavender: "Oh, that's the priest that married us while you were unconscious."
Ron: "WHAT?!"
Lavender: "I wanted to surprise you."
—Sam
---
"It's okay, Rupert. We've all been vaccinated."
—Toby
---
Lavender: "So while you were unconscious, Ginny and I went to see the Chudley Cannons play the Tutshill Tornados. Guess what? The Cannons won!"
Ron: "WHAT?! THE CANNONS BEAT THE TORNADOS, AND I MISSED IT?!"
Lavender: "Hey, don't forget that you could have seen it with ME!"
Ron: "Oh, yeah. And that."
—Sam
---
David: "So. You kiss him, he feels better, he whisks you away in his ice cream truck, and you sail off into the sunset at 5 mph."
—Josh
---
Later on, David Yates was replaced with Dumbledore in post-production.
—Sam
---
Jessie Cave: "The makeup team did a great job, Rupert. You really do look pale and sickly."
Rupert Grint: "…I haven't been to makeup yet."
—Kimberly
---
It must be 100 degrees on the set, yet David Yates insists on wearing a woolen cravat, much to the amusement of the young actors, who think he sweats like a Berkshire boar.
—Friend of Fawkes
---
Lavender: "And what are YOU doing here?!"
Ginny: "I happen to be his sister!"
Lavender: "Well, does he really need one? He has five brothers, after all."
Ginny: "You really have a problem with competition, don't you?"
—Sam
---
When your brother's in the hospital but you're too busy staring at his girlfriend to care.
—MinnieMcG
---
David: "And so Madam Pomfrey comes in and looks at your chart and says, 'Ron is so much better in the books.'"
—Josh
---
David Yates: "Since you've been in the hospital, Rupert, we've decided to give more of your lines to Hermione. We hope you don't mind."
—Sam
---
Return to Caption Contest Home
Want more posts like this one? MuggleNet is 99% volunteer-run, and we need your help. With your monthly pledge of $1, you can interact with creators, suggest ideas for future posts, and enter exclusive swag giveaways!