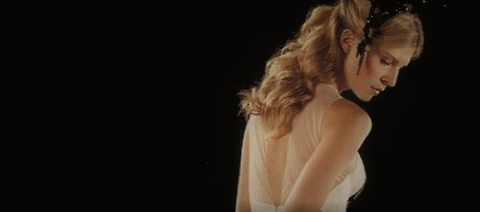 Couples have a multitude of choices to make during prenuptials, one of which involves a very important element – what are you going to wear? In the links below, you'll find the perfect touches to complete the wedding ensemble of your entire bridal party, with everything from bridal gowns to men's ties.
Bride
Fleur Delacour's wedding dress is a wonderful example to base your own
Potter
-themed gown on - for as the only wedding gown to be featured in the
Potter
films, it features a beautiful design that implements the magical world of
Harry Potter
. Jany Temime, a costume designer for six of the eight films, describes the selection as follows:
Fleur is French, so the idea was to have a wedding with a little French tone - not a Weasley wedding, which would've been in tragically bad taste. I wanted to design for her a real witch-princess dress. I thought of the phoenix - a bird, maybe not of love, but at least of rebirth - because love is eternal, so it's the same sort of idea... I wanted something very dreamy like.
Temime's concept - of a "real witch-princess dress" with a "dreamy like" feel - perfectly describes how a Potter wedding dress should be. Incorporating some of these beautiful concepts as well as achieving a bride's vision of her gown ultimately will provide for the perfect gown. Being that the bride is more or less the centerpiece of the day, the gown is essential to capture the theme as well. London designer Alexander McQueen showcased this similar cocktail version on his fall 2008 line. However, a dress in the wizarding world had to have some extra elegance, especially for Ms. Delacour. Using a runway-inspired gown indicates that wizards do have style.
Fleur's dress is made in organza and decorated with a pair of phoenixes that face one another on the bodice and form the silhouette of a heart. I chose the phoenix because like love, it is eternal.
Your search for "the dress" and accessories begins here:
David's Bridal Vera Wang Collection has many dresses that could be used as a starting point on your search since they are elegant, whimsical, and magical.
Here is an example of true creativity. This example includes a homemade phoenix wedding gown, along with several accessories, even including a description and original drawings. Get inspired by checking out the photo gallery linked above.
Fleur's gown has not only won the hearts of fans but also become a fashion icon. Ms. Delacour's dress made the list for history's most memorable, iconic dresses. Take a look at it, along with many other inspiring pieces of fashion.
Joe S. submitted these touching custom Deathly Hallows-themed heels made by his wife, La Tiffaney, for their wedding on September 9, 2017.
Bridesmaids
Ginny Weasley's bridesmaid dress would be a perfect addition to a
Potter
-themed wedding - especially for those who decide to continue with the Bill and Fleur theme. It complements the design of Fleur's gown in its elegance and simplicity. However, in the book, the bridesmaids - Ginny and Gabrielle Delacour - wore a golden dress. One can imagine any kind of gold dress in your
Potter
-inspired event would show faithfulness to the book wedding of Bill and Fleur.
Incorporating your color scheme into your bridesmaid dresses is essential. These lovely ladies by your side in beautiful colors will not only enhance your wedding party visually but also incorporate the beautiful colors we all love in the series. If you want to really be dedicated to your theme, one may consider hiring a costume designer.
A great example is Andrea Wakely from Twin Roses Designs. She has quite the portfolio and is willing to make new, custom orders! Not only are there House robes but also witch and wizard dress robes. If your colors are in the purple family, a whimsical dress like this is a great option. The way it gathers and ruffles down the side provides a fantasy feel, paired with elegance.
Selecting your bridesmaids' dresses is a great bonding experience. With a Potter-inspired wedding, hopefully your wedding party will be fans as well - so they will be able to help you juggle between all the options out there. If only it were as easy as waving a wand, like at the Burrow in preparation for the Delacour--Weasley ceremony.
Menswear
These classic Hogwarts ties featured in the films are an easy way to add a touch of
Potter
to the men's wedding ensemble. If you're looking for something a bit more subtle, the ties shown below match nicely with a Bill and Fleur-esque wedding.
Potter
-themed cufflinks can also add a nice subtle
Potter
touch to a suit or tuxedo 
(Image courtesy of Abby Grace Photography).
This brown suit paired with lavender and a bright boutonniere allows tribute to the purple color scheme while also keeping a whimsical but masculine façade.