"The Weapon We Have Is Love"
Inspired by the messages of love and justice that drive the Harry Potter series, Fandom Forward, formerly known as the Harry Potter Alliance, was founded with the aim of utilizing fan passion to inspire and affect social change. Since its birth, Fandom Forward has inspired hundreds of thousands of Harry Potter fans to become heroes of the Muggle world.
To date, Fandom Forward has donated over 88,000 books around the world, sent five cargo planes to Haiti, and made significant contributions to the anti-genocide, LGBTQ equality, environmental, and media reform movements. They achieved their goal in making sure that all chocolate sold by Warner Bros. for merchandising purposes doesn't use child slavery.
They are the Muggle world's real-life Dumbledore's Army!
About
Whether you wish to participate remotely or get involved on the ground at your local Fandom Forward Chapter, there are plenty of opportunities for you to contribute to Fandom Forward's work.
Mission Statement
Fandom Forward is a 501c3 nonprofit that has been taking an outside-of-the-box approach since 2005 to civic engagement by using parallels from the Harry Potter books to educate and mobilize young people across the world toward issues of literacy, equality, and human rights. The mission of Fandom Forward is to empower our members to act like the heroes that they love by acting for a better world. By bringing together fans of blockbuster books, TV shows, movies, and YouTube celebrities, the power of popular culture has been harnessed and is being used to help make the world a better place. The goal of Fandom Forward is to make civic engagement exciting by channeling the entertainment-saturated facets of our culture toward mobilization for deep and lasting social change.
The Fandom Forward strategy includes:
Utilizing elements of many favorite fictional universes as metaphors for making sense of complex, contemporary issues.
Inspiring all members to take action in their local communities and all across the planet, using the power of their creativity, intelligence, and compassion to change the world.
Creating a worldwide network of enthusiastic fan activists who are connected via the internet and social media as well as local, community-based chapters.
Harnessing the media cycle to bring attention and action to issues of equality, human rights, and literacy.
Bringing a diverse range of inspiration and imagination to the front lines of social change by forging partnerships between multiple fan communities.
Want to keep up with the latest magical news? Subscribe to the Wizard Activist News Dispatch (WAND), and receive these quarterly newsletters by owl post (or Muggle post).

Current Projects
Accio Books!
I am honored and humbled that Harry's name has been given to such an extraordinary campaign, which really does exemplify the values for which Dumbledore's Army fought in the books."

– J.K. Rowling
Accio Books! is Fandom Forward's annual book drive. The Accio Books campaign by Fandom Forward has donated nearly 350,000 books to underprivileged or underserved readers and communities in need with its annual book drive.
The success of each year's drive is summarized from the Fandom Forward website.

Accio Books! 2020
In 2020, Fandom Forward hosted Accio Books! in partnership with Reading Is Fundamental, the largest children's literacy nonprofit, and Anne Beers Elementary School (ABES) in Washington, D.C. in the United States. Anne Beers Elementary School offers its over 450 students from preschool to fifth grade a rigorous curriculum with a focus on STEM and is committed to providing exceptional educational opportunities. Even in the tumultuous year that was 2020, wizard activists opened their hearts and bookshelves to donate more than 1,735 books to ABES as well as schools, libraries, shelters, and children's hospitals across the United States!
Accio Books! 2019
In 2019, Fandom Forward partnered with Reading is Fundamental to send books to three partner sites: San Ardo Union Elementary School in San Ardo, CA, Bernie's Book in Chicago, and The Book Fairies in New York City. They sent nearly 8,000 books to partner sites, and a total of 31,081 books to 71 literacy programs, including schools, community centers, libraries, and children's hospitals!
This year, Hufflepuffs once again took home the cup with an impressive 89,661 points! Guess kindness and hard work pay off!
Accio Books! 2018
The 2018 Accio Books campaign was a huge success! This year they partnered with The Boys and Girls Club of Puerto Rico, helping them rebuild their libraries after Hurricane Maria. They collected a total of 29,619 books donated to over 70 literacy programs, including classrooms, after school programs, libraries, prisons, non-profits, and more! In May, Fandom Forward partnered once again with the American Library Association for National Library Legislative Day, writing letters and making calls to the U.S. Congress in support of library funding and participating in trainings with ALA advocacy experts!
This year, the badgers pulled into the lead with the House Cup! Congratulations to Hufflepuff for seizing the cup at 42,478 house points!
Accio Books! 2017
The 2017 Accio Books campaign was a huge success! This year they partnered with Words Alive, an organization that supports book clubs, literacy programs, and book ownership programs for children, teens, and families throughout southern California. In the spirit of rebellion, their own Apparating Library Book Club introduced the Resist Readathon, reading four books guaranteed to fuel hope and resistance. Overall, they collected a total of 44,438 magical books! 6,000 of those books traveled to Words Alive and were given away in a fun, start-of-summer Apparating Library!
Advocacy once again shined during Accio Books, kicking off with social media actions on Drop Everything and Read Day to support literacy activists who were fighting to save libraries from extreme budget cuts in Saskatchewan, Canada. Wizard Activists from around the world shared their support via #SaveSKLibraries, and the pressure worked - all funding was restored! Once again with the American Library Association for National Library Legislative day they sent owls to Congress, reminding them to protect library funding and digital privacy in the U.S. All together, wizard activists completed a whopping 980 advocacy actions for libraries!!
Ravenclaw, once again, took the House Cup at 65,637 points. Will anyone ever beat those blue and bronze corvids?
Accio Books! 2015
This year's Accio Books! drive was larger than ever. Once again breaking the record, 64,909 books were donated by the amazing members and chapters of Fandom Forward They also brought their A-game to the Tri-Library Tournament, donating over 17,000 books to Operation Breakthrough in the USA and Borderline Books in the UK and the Netherlands.
Fans also spread the power of story to the halls of the US Congress by advocating for libraries on National Library Legislative Day. Another campaign, Tales of Chapters, was also launched this year. It encouraged chapter members to share popular stories that influenced their worldview as young people.
Ravenclaw won the House Cup with 230,950 points! Can another House dethrone the Ravenclaws, ending their 3-year streak?
In 2014, all previous Accio Books! records were broken with 53,009 books donated. Of that, 43,614 books were brought in by various Fandom Forward chapters. On September 13, 2014, the first-ever Apparating Library book giveaway was held at the Brightmoor Community Center in Detroit, Michigan, where thousands of books were given away to children and families in need. The event bolstered the Apparating Library's growing reputation, and it has now become known as the most magical library in history.
Ravenclaws once again dominated the competition, raising the stakes for the other Houses. Which House will reign supreme next year?
Accio Books! 2013 LeakyCon Edition
In 2013, at the Portland LeakyCon, Fandom Forward elevated the Accio Books! game... attendees from all over gave up precious packing space and carted 727 books to LeakyCon to donate to Books for Kids, an awesome Portland-based literacy program.
Read Indeed is a non-profit literacy organization with a very special mission: to achieve the vision of seventh grader Maria Keller, who wants to collect and distribute one million books to needy kids by the time she's 18. This year, Fandom Forward partnered with the International Quidditch Association and NaNoWriMo and dedicated its annual Accio Books! drive to Maria's fantastic cause. Once again, many chapters and members rose to the task and helped to donate 30,217 books to communities in need!
Ravenclaws finally put an end to Hufflepuff's domination of the Accio Books! House Cup, donating over 11,000 books — over a third of the total number! Also, Edmonton PotterWatch of Edmonton, Alberta, ran away with the Chapters Cup after collecting a mind-blowing 6,703 books! How is that even possible?! Oh right, they have love in their hearts and a desire to change the world! Therefore, anything is possible! WOOHOO!
Accio Books! 2011
The Bedford-Stuyvesant New Beginnings Charter School (BSNBCS) opened in September of 2010 without a library. For Fandom Forward's 2011 Accio Books! campaign, members and chapters came together to fix this by sending in over 11,000 books (which its local NYDA chapter helped to sort). In August 2011, the group helped open the "Imagine Better" Library at the New Beginnings Charter School.
The winner of the 2011 House Cup competition was Hufflepuff, which makes them the reigning Accio Books[!] champion for two straight years! Go Badgers!
Accio Books! 2010
In 2010, Fandom Forward members and chapters donated 41,415 books, half of which went to a partner of the organization, the Delta Center for Culture and Learning. The Delta Center distributed those books to communities in need across the Mississippi Delta.
The House Cup winners? Hufflepuff!
Accio Books! 2009
In 2009, Fandom Forward launched its first ever Accio Books! drive. The goal for the first annual book drive? Collect and donate 500 books. The response? Members and chapters donated 13,481 to local communities across the world and Fandom Forward partner ASYV (Agohozo Shalom Youth Village) in Rwanda.
Ravenclaw took the House Cup, thanks to special guest Head of House Evanna Lynch.
⬆ Back to top

Dumbledore's Army Fights Back
"We're his army. Dumbledore's Army. We're all in this together." - Neville Longbottom
Dumbledore's Army is fighting back against hatred and standing up for immigrants. Join us by taking actions based on all four Hogwarts houses! Summon your inner Gryffindor, Ravenclaw, Hufflepuff, and Slytherin to join us for each action throughout August, September, and October.
Making local connections, strengthening the bonds between community members, and taking the lead from immigrant organizers is the only way communities can keep each other safe. It's the only way we'll win. Whether you donate your time by volunteering, or put those spare galleons and sickles to use by donating, you can join
the movement of wizard activists around the world by helping to support immigrants in your very own neighborhood.
Making these connections takes commitment, and they want to recognize that. When you take action to help immigrants in your local community, use the forthcoming #DAFightsBack reporting form! As a thank you, they'll send you an official #DAFightsBack pin (one for each person who participates with you).
JOIN DUMBLEDORE'S ARMY
Don't have a magic galleon? Sign up to receive alerts from the DA via our electronic owls!
Want to join us? Join our virtual D.A. on your own or find an IRL chapter near you!
Want to strengthen your activist skills? Enroll in our (totally free) Wizard Activist School!
Want to help build #NevilleFightsBack? Apply to be a Fandom Forward volunteer!
Why #DAFIGHTSBACK?
In 2016, the world shifted in a big way. Bigotry and fear have long been a part of the global story, but it felt like the world hit a tipping point. Death Eaters seized the opportunity to rise to power. People were scared, they were angry, and they wanted to fight back.
Fandom Forward launched a new campaign, #NevilleFightsBack in the spirit of Neville Longbottom. In the wake of 2016, Neville was the perfect hero to help thousands of nervous, angry fans become heroes.
Over two years, wizard activists have contacted lawmakers, wrote letters, signed petitions, and made phone calls - but we felt like something was missing. Those actions are important - and they can also feel a bit lonely. We realized what Neville really needed to make a difference: friendship, love, and community. He needed Dumbledore's Army.
#DAFightsBack is the answer to the need for joyful connection and resistance in dark days. Fandom Forward is focusing on actions that connect and bond activists in new ways and help to respond to each challenge with energy, imagination, and - most importantly - love. Join us.
MORE RESOURCES
Defense Against the Dark Arts: Politics for Beginners
[English] [Português]
Tips for Making Calls & Writing Letters (via Accio Books & the American Library Association's National Library Legislative Day)
Have other resources you'd like to see here? Contact Fandom Forward here.
Former Projects
A World #WithoutHermione
Hogwarts doesn't work without witches. Harry's story falls flat without heroines like Hermione, Luna, and Ginny. Yet all over the world, girls and women are being kept out of classrooms and losing the chance to lead. During A World Without Hermione, HPA set out to make sure more girls had access to education and opportunities to change the world.
They partnered with She's the First, an organization which fights for gender equity by supporting girls around the world who will be the first in their families to go to college. HPA kicked the campaign off with an unusual Hogwarts letter notifying witches, wizards and wixen around the world that they had been waitlisted at Hogwarts and kept out of the classroom like millions of girls around the world. They also hosted a magical press conference at Union Square in New York City to address the outrage and help wizard activists find ways to help.
The biggest opportunity to help was to fundraise for scholarships for STF Scholars! They raised $43,045 and were able to donate enough for She's the First to support eight girls in attending school, working with a mentor, and graduating. Meet the scholars and learn more about them in the Medium articles!
Because Without Hermione took place in the fall, the action got to take place around Halloween! Wizard activists collected and shared HPA's Chocolate Frog cards celebrating real life heroines, and HPA chapters even displayed a special, spooky artifact from the Department of Mysteries: the headstone of Harry James Potter, who died in his first year at Hogwarts in an alternate, Hermione-less timeline.
⬆ Back to top

Fan Works Are Fair Use
The HPA has recently joined the community of supporters for the "Fan Works Are Fair Use" Campaign. As of now, the US Congress is in the process of reviewing the Copyright Law and modernizing the US Copyright Office, which means revisions could be made to the laws that make fan-created works possible. Fan Works Are Fair Use is a group of fan creators dedicated to protecting a person's right to fair use. This campaign is in the process of rallying members of every fandom to join the cause. Campaign leaders have the job of educating members about the beauty of fan-created works and working to exterminate the negative stigmas about fan creations. People are using the hashtag #fanworkstaughtme on social media to highlight the importance of fan works and what it brings to the community.
Why does this matter in terms of the fandom?
Fanworks come naturally in every fandom out there. Whether it be fan fiction, fan art, parodies, or anything else, these beautiful creations are cherished by all. Currently, fan-created works are pretty safe under the US Copyright laws, but if the US Congress decides to make revisions, fandoms could be in MAJOR trouble.
Have you been obsessively checking for updates on that killer fan fic? Do you enjoy jamming out to your wrock playlist? Do you believe in the power of fan-created works? Want to join the movement? Click here.
Fandom Forward
Fandom Forward helps you bring fan activism to your favorite fandoms with free toolkits and activities to use in your chapters, with your friends, in your classrooms, or at your libraries. For more information, visit Fandom Forward.
Friends of the Apparating Library
In recent years, the HPA has gone beyond the book drive and partnered with the American Library Association to advocate for public library funding, net neutrality, and information access. In order to support this ambitious endeavor, the HPA created a new magical donor society, the Friends of the Apparating Library. Visit Friends of the Apparating Library for more information.
Granger 2020
Hermione Granger has just announced her exciting presidential campaign. The campaign will be run by Harry Potter Alliance and is meant to mobilize fans during this upcoming election season. The HPA, which often launches incredible campaigns, outlined the vision for Granger 2020 on her website.
Her campaign highlights the interwoven causes of injustice in America, calls for candidate accountability to these injustices, and trains and mobilizes magical people across the nation for canvassing, voting, and running for their own local and national offices.
Katie Bowers, Director of the HPA and Team Granger's campaign manager, explained the team's mission: "This is a fake presidential campaign working for real[-]world change. Elections, at their heart, are public conversations about the stories we believe about ourselves, our country, and our future. We want the story of our shared future to be one of imagination, vision, and love triumphing over hate and fear. Who better than fans to tell that story and work to make it real? At Team Granger, we believe that nothing is impossible."
You can join the campaign at granger2020.org. Follow the HPA on all social media platforms to stay up-to-date this election season.
Helping Haiti Heal
Following the devastating earthquake that struck Haiti in January, the HPA partnered with Nerdfighters and other fandoms (including Heroes, Lost, True Blood, The Wire and Firefly) to create Helping Haiti Heal, a home-grown effort to contribute to aid and relief. The HPA raised over $123,000 for Partners in Health in just two weeks.
With the money raised, PIH was able to send five airplanes full of medical supplies to Haiti. Four of these airplanes were named after Harry Potter characters, while the fifth was named DFTBA after Nerdfighters' Don't Forget to Be Awesome slogan.
HPA10

The Harry Potter Alliance is kicking off its tenth year of fighting worldsuck with its Tenth Anniversary Fundraiser. In order to keep this great website going, the HPA needs YOU to spread the word! The HPA is requesting that you join the Society for the Promotion of Equality Winning (SPEW) by signing up for its regular assignment updates via email on how to help reach this year's campaign goal. You can also score the points that you have earned here. The SPEW member who earns the most points will also win a $100 gift card to the HPA merch store. It's never too late to join the campaign!
First Task: September 28, 2015
1) Tell your #HPA10 story
The best way to campaign is to share what is in your heart. Is there something that you just absolutely love about the HPA? Whatever you love, share it with the people [...] you love! Tell them why they should donate to HPA10! Be sure to use your unique referral link on Facebook, Twitter, Tumblr, and everywhere else you wish.
2) Change your avatars
A great way to campaign is to change your avatar to the HPA10 anniversary campaign photo and let others know why you changed it!
Second Task: September 30, 2015
1) Continue changing your avatars and using your referral code! Use #HPA10 as a signal boost.
Third Task: October 5, 2015
1) Create a YouTube video sharing the HPA10 campaign and the mission of the HPA. Be sure to include your unique referral code and #HPA10!
Fourth Task: October 6, 2015
1) Send your personal referral link to at least ten of your contacts.
Fifth Task: October 8, 2015
1) Tell us why Harry Potter is your hero! Be sure to continue using #HPA10.
Neville Fights Back
In 2016, the Harry Potter Alliance joined the fight against the FCC and the decision to end net neutrality with the Neville Fights Back campaign.
Not in Harry's Name
After several years of effort, Warner Bros. has committed to making all Harry Potter-branded chocolate 100% fair trade or UTZ certified. The major shift to the use of ethical cocoa sourcing was made by the end of 2015. Over the previous four years, over 4,000 signatures were gathered by a variety of dedicated HPA chapters, members, and volunteers. This is considered a major victory for the fandom, unlike any other.
Odds in Our Favor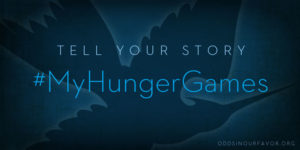 In 2014, thousands of fans joined the "Odds in Our Favor" campaign by sharing their real-life stories of economic inequality by using #MyHungerGames. Over 12,000 participated, giving fans a real-life perspective on Mockingjay, Part 1.
In 2015, the organization brought back this campaign, and it's better than ever. Share your FULL story using #MyHungerGames, your struggle with inequality, and how you're fighting back. Whether you are passionate about mental health, racism, prison reform, or something else, the HPA has many actions to help you dive in, make a difference, and join the revolution.
Visit OddsinOurFavor.org to take action.
Ready to join the revolution and bring more people to the cause? Join District 13 and help recruit more rebels!
Owls of Hope
Owls of Hope is a direct response to the United States Department of State's cap on refugee admissions. The cap has just been set at 30,000 people, which is a record low for the country. Refugees face an increasing amount of anti-immigration policies and sentiments all around the world. With Owls of Hope, the HPA aims to fight back against the hatred they are met with and show refugees that many people welcome them.
Fans within the US can send owls to refugees in Dallas, Texas. The letters will be distributed by two other non-profit organizations: Northwest Community Center and Nations Refugee Outreach. Letters from outside the US will go to Any Refugee, a program that reaches out to refugee children.
Owls of Hope is inspired by the letters Harry received accepting him to Hogwarts. They brought him joy and hope for his new life in the magical world. The letters are meaningful to fans as well since they mark the beginning of Harry's journey and help to connect with him. The HPA wants to share those same feelings with refugees.
Fans can write anything welcoming and supportive to refugees – they can even talk about Harry Potter.
You can also learn more about the Dumbledore's Army Fights Back campaign here.
Positive Fandom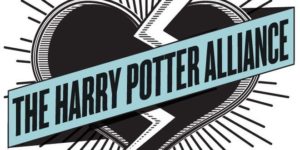 In the Harry Potter Alliance's first decade, we've been lucky enough to see all of this up close. From long-forgotten forums to hallowed convention halls, the spaces we share have been home to immeasurable creativity, enthusiasm, and love.

But – as with all things – our community has faced its share of obstacles.

We believe that – as our namesake once put it – we have something worth fighting for. We want our community and all others like it to be safe, constructive, positive spaces, and we think our vision is possible. Getting there will take hard work, commitment, and constant introspection, but we're up to the task and know you are, too.
The Positive Fandom Guidelines were created in the hope that fans will support and follow these guidelines every day.
Positive Fandom Guidelines:
1. I will be kind.
2. I will remember there are many ways to be a fan.
Fandom is home to endless perspectives on and interpretations of a common material. When I disagree with a particular interpretation, I will do so respectfully and with the intention to discuss, not to win. Unironic enthusiasm means different things to different people; I will not tease or judge another fan for being too passionate about their fandom. If someone is different from me, I will celebrate their place in our community.
3. I will make our community a welcoming space.
I will do my best to make sure everyone feels invited and included, both online and in person. I will remember what it was like when I was a new fan and will do my best to help new fans find their way. Safe spaces require constant vigilance. I will respect other people's boundaries. I will practice and encourage conscious, positive behavior and speak out against malice, negativity, and abuse. I will prioritize the comfort of victims and the community over that of abusers.
4. I will imagine people complexly.
I will remember that everyone I meet is a human being as susceptible to misunderstandings and errors as I am. I will remember that I do not always have the full story or know what a person is thinking and that others do not know the same about me. I will remember that this is true even for the most visible members of a community and that idolization and demonization are both forms of dehumanization. I will be conscious of my influence – whether it comes from age, experience, or following – and how it impacts my interactions with others. I will remember that groups are made up of unique individuals.
5. I will respect and celebrate diversity.
Because I know that diversity makes our community stronger, I will be conscious of my own privilege and how my words and actions impact others. I will respect others' unique lived experiences and work to amplify their voices instead of speaking over them. I will remember my experiences are not universal and many different perspectives can be valid at once.
6. I will learn.
There is always room to grow, so I will be a lifelong learner and be open to new information, ideas, and experiences. As I am learning, I will remember that none of us [is] perfect – it's okay to make mistakes. When I do make a mistake, I will remember that apologies are healthy, not something to be ashamed of. It is important that my apologies be sincere and mark personal growth.
7. I will teach.
To work toward a world where everyone can grow, I will share my knowledge and insight when I am able. When I see others make mistakes, I will remember that teaching with kindness is the best way to help them learn.
8. I will give others the opportunity to grow.
We are all learning and unlearning at different paces, and not everybody has access to the same resources at the same time. Before writing others off, I will remember that it took time and forgiveness to get to where I am today and I am not at the end of my journey. I will acknowledge that people are always growing, and views they have expressed in the past might not represent their current views.
9. I will practice self-care.
I will remember that caring for myself is as important as caring for others. I understand that it is acceptable to remove myself from situations that make me feel uncomfortable, unhealthy, or unsafe, and I will respect when others do the same. I will remember that it is okay to reach out for help when needed.
10. I will remember to be awesome.
If you would like to sign the Positive Fandom Pledge and help take one more step toward a positive fandom, then click here.
Protego
In the Harry Potter series, Protego is a powerful shield spell, used throughout the magical world to make a space safer. In our world, Protego was a powerful campaign dedicated to helping transgender people become empowered, educating cisgender people on how to be effective allies, and providing resources for everyone to create safe spaces for transgender people at the individual, community, and policy level.
It saw wizard activists complete 1,225 actions to support the trans community, from letter writing campaigns to education events to lobbying their schools and libraries for gender neutral bathrooms! They also partnered with the National Center for Transgender Equality to support legislative advocacy campaigns in six U.S. states and Canada - including collecting and sending 1,000 signed postcards to the Governor of North Carolina calling for the reversal of H.B. 2, a state law preventing trans people from using public restrooms that align with their gender identity.
HPA supported these actions with a library of new resources for trans activists and allies to use at the local and national level, in their schools and dorms, and in the wake of the Pulse nightclub shooting in Orlando, FL. HPA also launched their #Protego Medium series highlighting trans authors and their stories and ideas about how to make the world safer.
To end the campaign, they launched Restroom Revelio, a worldwide scavenger hunt to create a Marauders' Map of gender neutral bathrooms. Over one hundred wizard activists downloaded and updated the app Refuge Restroom, cataloging safe, clean restrooms of requirement in their communities!
Overall, the success of Protego went above and beyond expectation. Wizard activists spoke up to get gender neutral bathrooms and language established in their favorite public spaces. They attended marches and protests and signed and circulated petitions, and held their leaders - from school boards to state houses - accountable for casting protection spells, too. Overall, their support and enthusiasm for creating loving, inclusive, magical spaces blew us away! Resources are still available at the Protego Action Center, and they're so excited to see wizard activists keep building on everything that's already been accomplished!
US Quidditch Cup 9
During 2016, the HPA brought its book drive to US Quidditch Cup 9.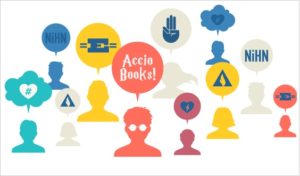 As reported on MuggleNet in April 2016, the HPA had a booth set up in the vendor village at the US Quidditch Cup, which took place April 16–17 in Columbia, South Carolina. The booth was open from 8 a.m. to 8:30 p.m. on Saturday and 9 a.m. to 7:30 p.m. on Sunday. Attendees were encouraged to bring their favorite novels, textbooks, or picture books to donate, as well as new school supplies.
All donations at this book drive were given to Good Shepherd School in Masaka, Uganda. Masaka is home to one of the HPA chapters, one of over 200 in nearly two dozen countries. Thanks to the generous donations from Accio Books! and Books for Africa, a new library was constructed at Good Shepherd School.
Wizard Rock the Vote
Our ongoing GOTV campaign got a big upgrade in 2018: Tonks and the Aurors took it on the road and brought a tour bus full of helpful voting resources with her. Events took place in key battleground states like Ohio, North Carolina, Pennsylvania, and Michigan, and attendees had access to state-specific voter registration guides so they can be fully prepared to participate in the 2018 midterm elections. Tonks was joined by wizard rock musician and HPA staff alum Tianna and the Cliffhangers.
The official tour may be over, but the resources live on! Grab a voter guide and continue to Wizard Rock the Vote.
For more events with Tonks, please visit Tonks and the Aurors' Wizard Rock the Vote website.