Main
US Quadball Cups
US Quidditch Cup 12: April 13–14, 2019
Round Rock, Texas
US Quidditch Cup 12 was held on April 13–14, 2019, at the Round Rock Multipurpose Complex in Round Rock, Texas.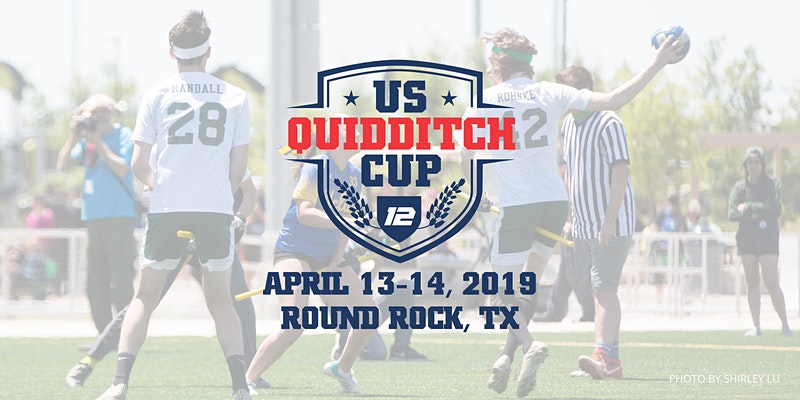 Regional Championships
USQ hosted seven regional championships that crowned regional champions and were part of the qualification process for teams attending US Quidditch Cup 12.
Great Lakes Regional Championship
October 27–28, 2018
Bloomington, Indiana
Karst Farm Park
Northeast Regional Championship
October 27–28, 2018
Rochester, New York
Total Sports Experience
Mid-Atlantic Regional Championship
November 3–4, 2018
Elkridge, Maryland
Troy Park
Midwest Regional Championship
November 3–4, 2018
Marion, Iowa
Tuma Soccer Complex
West Regional Championship
February 9–10, 2019
Roseville, California
Maidu Regional Park
South Regional Championship
February 16–17, 2019
Auburndale, Florida
Lake Myrtle Sports Park, Florida
Southwest Regional Championship
February 23–24, 2019
Arlington, Texas
Harold Patterson Sports Complex
Qualifying Teams
Great Lakes
Ball State Cardinals
Bowling Green State University
Central Michigan Quidditch Club
Grand Valley Quidditch
Miami University (OH) Quidditch
Michigan Quidditch Team
Michigan State Quidditch
Ohio University Quidditch Club
Mid-Atlantic
Appalachian State Quidditch
District of Columbia Quidditch Club
Duke University Quidditch
James Madison University Quidditch
Lock Haven University Quidditch
Maryland Quidditch
Penn State Quidditch
Philadelphia Freedom Quidditch Club
Quidditch Club at Virginia Tech
Richmond Quidditch
Rutgers University Quidditch
Southern Storm
Virginia Quidditch Club
The Warriors
Midwest
Boom Train
Creighton Quidditch
Illini Ridgebacks Quidditch
Illinois State University Firebirds
Iowa Quidditch Club
Kansas Quidditch
Minnesota Quidditch
Mizzou Quidditch
SIUE Quidditch Club
Southern Illinois University
Twin Cities Quidditch Club
Northeast
Atlantic Dragons
Bosnyan Bearsharks
Boston University Quidditch
Brandeis Quidditch
Harvard Horntails
Macaulay Honors College Marauders
Middlebury College Quidditch
New York University Quidditch
Quidditch Club Boston
RIT Dark Marks
Rochester Hailstorm
The Rogues
RPI Quidditch
Syracuse Snare Quidditch Club
Tufts University Tufflepuffs
University of Rochester Thestrals
Northwest
South
Carnage Quidditch
Florida Gulf Coast Quidditch
Florida State Quidditch
Gamecock Quidditch
Nearly Headless Knights
Terminus Quidditch Atlanta
University of Florida Club Quidditch
University of South Florida Quidditch
Southwest
Austin Quidditch
Baylor University
Bobcat Quidditch
Houston Cosmos Quidditch Club
Lone Star Quidditch Club
The Silver Phoenix
Texas A&M Quidditch
Texas Cavalry
Texas Hill Country Heat
Texas Quidditch
Texas State University-San Marcos
Texas Tech Quidditch Club
UTSA Club Quidditch
West
Anteater Quidditch
Arizona State University
Bay Area Breakers
Cal Quidditch
The Fighting Farmers of America
The Long Beach Funky Quaffles
Los Angeles Gambits
The Lost Boys
Silicon Valley Vipers
University of California, Los Angeles
University of Utah Quidditch
Utah State Quidditch Club
Results
Texas Quidditch, whose seeker caught the snitch, was crowned champion of US Quidditch Cup 12 in the collegiate division, beating Cal Quidditch 150*–40 in a 40-minute match. In the community division, it was a tense fight between Texas Cavalry and Texas Hill Country Heat, with the former catching the snitch and narrowly emerging victorious with a score of 120*–100.