US Quidditch Cup 9: April 16–17, 2016
Columbia, South Carolina
Here you can find results and information about the most exciting quidditch event of the season, US Quidditch Cup 9. This tournament was held at the new Palmetto Health Fields at Saluda Shoals Park in Columbia, South Carolina.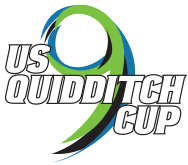 Regional Championships
USQ hosts eight regional championships that crown regional champions and are part of the qualification process for teams attending the annual US Quidditch Cup. All official teams in the region are able to attend their regional championship. The event dates and locations are available chronologically below.
Northeast Regional Championship
Great Lakes Regional Championship
Mid-Atlantic Regional Championship
Midwest Regional Championship
Northwest Regional Championship
South Regional Championship
Southwest Regional Championship
West Regional Championship
Teams
Great Lakes
Ball State Cardinals
Bowling Green State University
Central Michigan Quidditch Club
Lake Effet Maelstrom
Miami University
Michigan Quidditch
Michigan State Quidditch
Ohio State University Quidditch Club
Ohio University Quidditch Club
Mid-Atlantic
Appalachian Apparators Quidditch
District of Columbia Quidditch Club
George Mason Club Quidditch
Lock Haven University Quidditch
Maryland Quidditch
Penn State University Nittany Lions
Rutgers University Quidditch
The University of North Carolina at Chapel Hill Quidditch
University of Richmond Quidditch
Virginia Quidditch Club
Midwest
Illinois State University Firebirds
Kansas Quidditch
Mezzo Quidditch
Minnesota Quidditch
Northeast
Boston University Quidditch
Emerson College Quidditch
New York Quidditch Club
Quidditch Club Boston
RIT Dark Marks
Rochester United
RPI Remembralls
Syracuse University Quidditch Club
Tufts University Tufflepuffs
The Warriors
Northwest
Boise State Abraxans
Rain City Raptors
University of British Columbia
South
inTENNsity
Tennessee Tech Quidditch
The Southern Storm
University of Miami
Southwest
Gulf Coast Gumbeaux
Lone Star Quidditch Club
Oklahoma State University
SHSU Quidditch
Texas A&M Quidditch
Texas Cavalry
Texas Quidditch
Texas State University - San Marcos
Texas Tech Quidditch
West
Arizona State University
Cal Quidditch
Crimson Elite
The Fighting Farmers of America
Los Angeles Gambits
The Lost Boys
Northern Arizona University Narwhals
Silicon Valley Skrewts
Silicon Valley Vipers
University of California Los Angeles
Utah State Quidditch Club
Results
After three years of Texas Quidditch holding on to the title, a new champion was crowned. Quidditch Club Boston defeated Rochester United in a close final match in overtime after Rochester United caught the snitch to tie the game. The final score was 130*–140.