US Quidditch Cup VII: April 5–6, 2014
North Myrtle Beach, South Carolina
Quidditch is an intense, co-ed contact sport played by over 300 teams around the world. In April 2014, 80 quidditch teams descended upon North Myrtle Beach, South Carolina, to crown the sport's world champion – the winner of the seventh annual IQA World Cup.
With 14 players, four balls, and the elusive human Snitch, the World Cup games unfolded over two days of top-tier athleticism, incredible competition, and a community like no other. After all, there are lots of championships, but there's only one IQA World Cup.
It was planned for European teams to participate, but they all withdrew before the tournament.
Qualifying Teams
Eastern Canada
Carleton University Quidditch
Gee-Gee's Quidditch
McGill University Quidditch
NYDC Capitalists
Ottawa Maple Rush
Toledo Firebolts Quidditch
Valhalla
US Midwest Region
Ball State Cardinals
Bowling Green State University
Crimson Warhawks
Eastern Michigan Flying Squirrels
Grand Valley Grindylows
Indiana University South Bend Titans
Kansas Quidditch
Michigan Quidditch Team
Michigan State University Spartan Quidditch
Minnesota Quidditch
Ohio State Quidditch
TC Frost
University of Miami
University of Missouri
US Northeast Region
Boston University Quidditch
Emerson College Quidditch
Harvard Horntails
Hofstra University Flying Dutchmen
Macaulay Honors College Marauders
New York Badassalisks
New York University Nundu
QC Boston: The Massacre
RIT Dark Marks
RPI Remembralls
Steel City Quiditch Club
Syracuse University Quidditch Club
Tufts University Tufflepuffs
University of Massachusetts Amherst
University of Rochester Thestrals
US South Region
Florida's Finest
Tennessee Tech Quidditch
University of Florida Quidditch
University of Miami
University of South Carolina
University of South Florida Quidditch
US Southwest Region
Austin Quidditch
Baylor University
Eastern Florida State College Titans
Lone Star Quidditch Club
Louisiana State University
Miami University Lionhawks
Oklahoma Baptist University
Oklahoma State University
Rollins College
SHSU Quidditch
The Silver Phoenix
Texas A&M Quidditch
Texas Quidditch
Texas State University - San Marcos
Texas Tech University
University of Arkansas Razorback Quidditch
US Mid-Atlantic Region
Appalachian Quidditch
Maryland Quidditch
Penn State University Nittany Lions
QC Pittsburgh
Quidditch at the University of Virginia
University of North Carolina at Chapel Hill Quidditch
University of Richmond Spiders
Villanova Community Quidditch
US West Region
Arizona State University - Sun Devil Quidditch
Cal Quidditch
Crimson Fliers
The Long Beach Funky Quaffles
The Lost Boys
Northern Arizona University Narwhals
San Jose State University Owls
Santa Barbara Blacktips
Silicon Valley Skrewts
Stanford Quidditch
University of California, Los Angeles
Wizards of Westwood
Oceania Region
University of Sydney Unspeakables
Results
Pools
QWC Coverage April 5-6 from North Myrtle Beach, South Carolina
The IQA gameplay department and World Cup staff are excited to present the pools for World Cup VII, below.
Denotes Snitch Snatch
Pool 1
Pool 1
W-L
Pts For
Pts Agst
Adj Goal Diff
Snatch %
Rank
Texas State University - San Marcos
3-1
510
230
210
60
1
Crimson Fliers
3-1
360
270
90
75
2
University of Miami
2-2
290
220
70
25
3
Macaulay Honors College Marauders
2-2
250
290
-40
60
4
Eastern Michigan Flying Squirrels
0-4
110
510
-330
25
5
Pool 1 Game Results
EMU
Marauders
Miami U
Fliers
TSU-SM
200* – 10
70 – 100*
120* – 60
120* – 60
Fliers
110* – 40
130* – 60
60* – 50
Miami U
120 – 30*
60* – 10
Marauders
80* – 30
Pool 2
Pool 2
W-L
Pts For
Pts Agst
Adj Goal Diff
Snatch %
Rank
Villanova Community Quidditch
4-0
550
250
300
75
1
Carleton University Quidditch
3-1
320
260
60
75
2
New York University Nundu
2-2
260
320
-60
50
3
Miami University Lionhawks
1-3
310
350
-40
50
4
Oklahoma Baptist University
0-4
200
460
-260
0
5
Pool 2 Game Results
OK Baptist
Lionhawks
NYU
Carleton
Villanova
110* – 30
180* – 110
160* – 60
100* – 50
Carelton
160* – 90
60* – 40
50* – 30
NYU
90* – 50
80* – 60
Lionhawks
100* – 30
Pool 3
Pool 3
W-L
Pts For
Pts Agst
Adj Goal Diff
Snatch %
Rank
Texas A&M Quidditch
4-0
560
140
370
100
1
Kansas Quidditch
3-1
500
200
230
75
2
University of Richmond Spiders
2-2
310
330
-10
50
3
Eastern Florida State College Titans
1-3
240
620
-280
25
4
Valhalla
0-4
200
520
-310
0
5
Pool 3 Game Results
Valhalla
EFSC
UR
Kansas
A&M
160* – 50
190* – 30
160* – 30
50* – 30
Kansas
150* – 20
230* – 50
90* – 80
UR
100* – 30
100* – 50
EFSC
110* – 100
Pool 4
Pool 4
W-L
Pts For
Pts Agst
Adj Goal Diff
Snatch %
Rank
The Lost Boys
4-0
730
100
480
50
1
Ohio State Quidditch
3-1
480
320
130
75
2
University of Rochester Thestrals
2-2
290
350
-60
100
3
The Silver Phoenix
1-3
230
480
-190
25
4
Rollins College
0-4
150
630
-360
0
5
Pool 4 Game Results
Rollins
Silver Phoenix
Thestrals
OSU
Lost Boys
220* – 10
190* – 10
150 – 30*
170 – 50*
OSU
150* – 30
160* – 10
120 – 110*
Thestrals
60* – 30
90* – 50
Silver Phoenix
160* – 80
Pool 5
Pool 5
W-L
Pts For
Pts Agst
Adj Goal Diff
Snatch %
Rank
Michigan Quidditch Team
4-0
560
180
310
100
1
Austin Quidditch
2-2
400
270
100
50
2
Santa Barbara Blacktips
2-2
420
330
90
50
3
NYDC Capitalists
2-2
480
460
-20
50
4
New York Badassilisks
0-4
20
640
-480
0
5
Pool 5 Game Results
Badassilisks
NYDC
Blacktips
Austin
MI
190* – 0
180* – 100
100* – 30
90* – 50
Austin
150* – 0
80 – 110*
120* – 70
Blacktips
130* – 10
190* – 100
NYDC
170* – 10
Pool 6
Pool 6
W-L
Pts For
Pts Agst
Adj Goal Diff
Snatch %
Rank
Emerson College Quidditch
4-0
670
260
360
100
1
Ball State Cardinals
3-1
450
360
90
60
2
Northern Arizona University Narwhals
2-2
450
370
80
20
3
QC Pittsburgh
1-3
450
620
-170
25
4
SHSU Quidditch
0-4
210
620
-360
25
5
Pool 6 Game Results
SHSU
Pittsburgh
Narwhals
Cardinals
Emerson
200* – 50
230* – 90
100* – 90
140* – 30
Cardinals
100* – 30
170* – 70
150* – 120
Narwhals
100 – 50*
140* – 70
Pittsburgh
220*80
Pool 7
Pool 7
W-L
Pts For
Pts Agst
Adj Goal Diff
Snatch %
Rank
Silicon Valley Skrewts
3-1
510
220
290
50
1
McGill University Quidditch
3-1
380
250
130
75
2
Minnesota Quidditch
3-1
290
270
20
25
3
RPI Remembralls
1-3
210
320
-110
50
4
University of Sydney Unspeakables
0-4
130
460
-330
50
5
Pool 7 Game Results
Unspeakables
Remembrall
MN
McGill
Skrewts
150* – 30
140* – 30
70 – 90*
150* – 70
McGill
150 – 30*
80* – 40
80* – 30
MN
90 – 50*
80 – 70*
Remembralls
70* – 20
Pool 8
Pool 8
W-L
Pts For
Pts Agst
Adj Goal Diff
Snatch %
Rank
Florida's Finest
4-0
420
140
260
100
1
Quidditch Club of Central Michigan
3-1
460
190
270
50
2
University of North Carolina at Chapel Hill Quidditch
2-2
300
300
0
25
3
Texas Tech Quidditch
1-3
230
430
-200
20
4
Wizards of Westwood
0-4
150
500
-330
40
5
Pool 8 Game Results
Wizards
TX Tech
UNC
CMQC
FL Finest
140* – 0
110* – 20
90* – 50
80* – 70
CMQC
150* – 40
130* – 40
110* – 30
UNC
110* – 30
110 – 70*
TX Tech
100 – 80*
Pool 9
Pool 9
W-L
Pts For
Pts Agst
Adj Goal Diff
Snatch %
Rank
Tufts University Tufflepuffs
4-0
320
140
180
75
1
Gee-Gees Quidditch
3-1
330
220
110
100
2
Louisiana State University
2-2
390
230
150
25
3
University of Missouri
1-3
180
270
-90
0
4
San Jose State University Spartans
0-4
110
470
-350
50
5
Pool 9 Game Results
Spartans
UM
LSU
Gee-Gees
Tufts
100* – 10
50* – 20
80* – 60
90 – 50*
Gee-Gees
120* – 10
90* – 60
70* – 60
LSU
180 – 50*
90* – 30
UM
70 – 40*
Pool 10
Pool 10
W-L
Pts For
Pts Agst
Adj Goal Diff
Snatch %
Rank
University of Arkansas Razorback Quidditch
4-0
490
220
260
80
1
Michigan State University Spartan Quidditch
3-1
570
210
310
40
2
The Long Beach Funky Quaffles
2-2
320
420
-70
40
3
Steel City Quidditch Club
1-3
280
460
-180
20
4
Syracuse University Quidditch Club
0-4
170
520
-320
25
5
Pool 10 Game Results
Syracuse
SCQC
Long Beach
MSU
UARQ
140* – 10
150* – 60
100 – 70*
100* – 80
MSU
180 – 40*
130* – 40
180* – 30
Long Beach
100* – 60
120 – 80*
SCQC
100* – 60
Pool 11
Pool 11
W-L
Pts For
Pts Agst
Adj Goal Diff
Snatch %
Rank
Baylor University
4-0
490
130
310
75
1
University of California Los Angeles
3-1
530
210
220
75
2
Grand Valley Grindylows
2-2
340
480
-90
50
3
Ottawa Maple Rush
1-3
310
240
0
50
4
University of Massachusetts Amherst
0-4
160
770
-440
0
5
Pool 11 Game Results
Mass
Ottawa
Grindylows
UCLA
Baylor
140* – 40
70 – 50*
180* – 10
100* – 30
UCLA
250* – 30
80* – 30
170* – 50
Grindylows
190* – 90
90* – 40
Ottawa
190* – 0
Pool 12
Pool 12
W-L
Pts For
Pts Agst
Adj Goal Diff
Snatch %
Rank
Boston University Quidditch
4-0
710
260
400
75
1
Penn State University Nittany Lions
3-1
470
400
70
80
2
Oklahoma State University
2-2
470
370
90
60
3
TC FROST
1-3
250
610
-310
25
4
University of South Florida Quidditch
0-4
210
470
-250
0
5
Pool 12 Game Results
USF
Frost
OSU
PSU
Boston
150* – 20
210* – 50
100 – 50*
250* – 140
PSU
90* – 50
130* – 30
110* – 70
Frost
140* – 80
210* – 80
Lionhawks
90* – 60
Pool 13
Pool 13
W-L
Pts For
Pts Agst
Adj Goal Diff
Snatch %
Rank
Maryland Quidditch
3-1
390
190
200
75
1
Tennessee Tech Quidditch
3-1
470
340
110
40
2
Arizona State University - Sun Devil Quidditch
2-2
310
300
10
40
3
Harvard Horntails
2-2
370
280
90
50
4
Toledo Firebolts Quidditch
0-4
80
510
-410
25
5
Pool 13 Game Results
Toledo
Harvard
ASU
TN Tech
Maryland
100* – 10
90 – 110*
90* – 20
110* – 50
TN Tech
170 – 30*
130* – 90
120 – 110*
ASU
120 – 40*
60* – 50
Harvard
120* – 0
Pool 14
Pool 14
W-L
Pts For
Pts Agst
Adj Goal Diff
Snatch %
Rank
Texas Quidditch
3-0
550
80
360
67
1
Stanford Quidditch
2-1
280
290
10
100
2
QC Boston: The Massacre
1-2
240
260
-10
33
3
Indiana University South Bend Titans
0-3
40
480
-360
0
4
Pool 14 Game Results
Titans
Massacre
Stanford
UT
160* – 10
190* – 10
200 – 60*
Stanford
150* – 30
70* – 60
Massacre
170* – 0
Lionhawks
Pool 15
Pool 15
W-L
Pts For
Pts Agst
Adj Goal Diff
Snatch %
Rank
Lone Star Quidditch Club
4-0
640
80
390
75
1
RIT Dark Marks
3-1
380
150
200
75
2
Appalachian Quidditch
2-2
370
330
0
75
3
Crimson Warhawks
1-3
260
390
-110
25
4
University of South Carolina
0-4
30
730
-480
0
5
Pool 15 Game Results
USC
Warhawks
Appalachian
RIT
Lone Star
250* – 10
170* – 0
150* – 30
70 – 40*
RIT
150* – 0
100* – 40
90 – 40*
Appalachian
180* – 20
120* – 70
Warhawks
150* – 0
Pool 16
Pool 16
W-L
Pts For
Pts Agst
Adj Goal Diff
Snatch %
Rank
Bowling Green State University
4-0
610
280
300
100
1
University of Florida Quidditch
3-1
530
240
290
60
2
Quidditch at the University of Virginia
2-2
220
280
-60
25
3
Hofstra University Flying Dutchmen
1-3
250
440
-190
25
4
Cal Quidditch
0-4
180
550
-340
25
5
Pool 16 Game Results
Cal
Hofstra
VA
FL
BGSU
180* – 30
180* – 80
80* – 30
170* – 140
FL
150* – 30
150* – 30
90* – 10
VA
100 – 90*
80* – 20
Hofstra
120* – 30
Bracket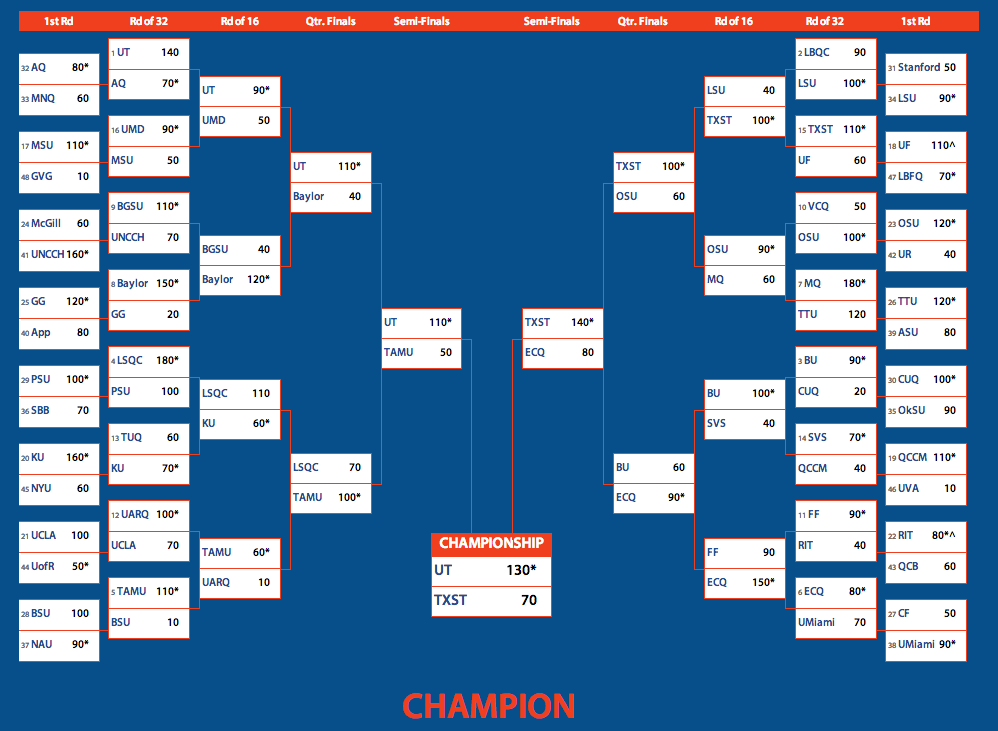 Texas Quidditch won the World Cup for the second year in a row, beating out Texas State in the finals 130*–70. Watch the full final match in the video below: