Quidditch Main Page  US Quidditch Cups
US Quidditch Cup 8: April 11–12, 2015
Rock Hill, South Carolina
Look no further for information regarding Quidditch World Cup 8. Here you will find the best news about the 80 teams that participated in the tournament that took place in Rock Hill, South Carolina.
Qualified Teams
Mid-Atlantic
Appalachian Apparators Quidditch
Capital Madness
George Mason University
Lock Haven University Quidditch
Maryland Quidditch
Penn State University Nittany Lions
The University of North Carolina at Chapel Hill Quidditch
University of Richmond Spiders
Villanova Community Quidditch
Virginia Quidditch Club
Wizenmagot Quidditch of VCU
Midwest
Ball State Cardinals
Blue Mountain Quidditch Club
Bowling Green State University
Central Michigan Quidditch
Crimson Warhawks
Falcon Warriors Quidditch Club
Illinois State University Firebirds
Indiana University Midnight Snipes Quidditch
Minnesota Quidditch
Ohio State Quidditch
Ohio University Flying Bobcats
Purdue Intercollegiate Quidditch Association
TC Frost
University of Missouri
Northeast
Boston University Quidditch
Emerson College Quidditch
Harvard Horntails
Hofstra University Flying Dutchmen
Macaulay Honors College Marauders
New York University Nundu
QC Boston: The Massacre
RIT Dark Marks
RPI Remembralls
Tufts University Tufflepuffs
University of Rochester Thestrals
The Warriors
Northwest
University of British Columbia Quidditch
Western Washington Wyverns
South
College of Charleston Quidditch
Florida's Finest
RCQC
The Southern Storm
Tennessee Tech Quidditch
University of Florida Quidditch
University of Miami
University of South Carolina
University of South Florida Quidditch
Southwest
Austin Quidditch
Baylor University
Clone Star Quidditch Club
Lone Star Quidditch Club
Loyola University New Orleans
Oklahoma Baptist University
Oklahoma State University
Osos De Muerte
SHSU Quidditch
The Silver Phoenix
Texas A&M Quidditch
Texas State University - San Marcos
Texas Tech Quidditch
Tribe Quidditch
University of Arkansas Quidditch Club
The University of Texas at Austin
University of Texas at San Antonio Club Quidditch
West
Arizona Quidditch Club
Arizona State University
Crimson Elite
The Long Beach Funky Quaffles
Los Angeles Gambits
The Lost Boys
NAU Narwhals
Santa Barbara Blacktips
Silicon Valley Skrewts
University of California, Los Angeles
Wizards of Westwood
Swiss System
Instead of using the pool play system that the Quidditch World Cup has used in the past, USQ World Cup 8 switched to the Swiss system, which is preferable for large tournaments such as this one. The 80 teams were split up and seeded into two flights of 40 based on their standings in USQ. To view the rankings of the two flights for USQ World Cup 8, click here.
To ensure that two teams favored to win do not play against each other in the initial round, the teams were grouped into sections of four and the top four played against their corresponding bottom four (e.g., seeds 1, 2, 3, and 4 played against one of the random seeds 37, 38, 39, and 40.)
Every round afterward is completed in the same way. Teams continue playing against those with identical records, or as similar as can be if there is an odd number.
To learn more about this new system, or to learn the rankings and matchup of the two flights, watch the video below:
Results
Swiss System
SOS = Strength of Schedule
Flight 1

Team

Wins

Losses

Point Diff.

Snitch %

SOS

Rank

TXST
5
0
280
40
3
1
LBQC
4
1
250
40
1
2
MQ
4
1
330
80
3
3
UNC
4
1
220
80
3
4
QCB
4
1
320
66.66666667
9
5
LSQC
4
1
300
60
9
6
MSU
4
1
60
60
15
7
SBB
4
1
230
60
28
8
LAG
3
2
300
60
1
9
NYU
3
2
200
50
6
10
WAR
3
2
130
60
15
11
MIZ
3
2
130
60
15
12
UR
3
2
90
50
15
13
BSU
3
2
30
60
15
14
TNTQ
3
2
-70
50
15
15
PSU
3
2
260
80
22
16
KU
3
2
140
40
22
17
NAU
3
2
130
40
22
18
CSQC
3
2
-130
16.66666667
22
19
BRR
3
2
10
60
33
20
ODM
3
2
-110
60
33
21
RIT
2
3
-50
75
6
22
GMU
2
3
-250
20
6
23
MAD
2
3
-160
20
9
24
LOY
2
3
-220
50
9
25
SPHX
2
3
-210
40
22
26
UM
2
3
50
80
28
27
MU
2
3
-110
42.85714286
28
28
BU
2
3
-170
40
33
29
TCQ
2
3
-40
50
39
30
OKSU
2
3
150
33.33333333
40
31
CMU
1
4
-100
20
9
32
FW
1
4
-390
80
9
33
UF
1
4
-270
20
15
34
OBU
1
4
-270
20
22
35
WOW
1
4
-150
66.66666667
28
36
MAC
1
4
-180
16.66666667
33
37
RCQC
1
4
-280
20
33
38
WWUW
1
4
-100
20
38
39
OU
0
5
-350
60
28
40
Flight 2

Team

Wins

Losses

Point Diff.

Snitch %

SOS

Rank

UT
5
0
490
60
2
1
UMD
5
0
320
100
4
2
AZQC
4
1
20
80
1
3
ROCH
4
1
90
80
4
4
BMQC
4
1
110
66.66666667
8
5
TUQ
4
1
180
60
9
6
UARQ
4
1
170
33.33333333
15
7
BAY
3
2
260
40
2
8
CE
3
2
80
80
4
9
ECQ
3
2
-30
57.14285714
4
10
UVA
3
2
120
80
9
11
MNQ
3
2
110
50
9
12
BGSU
3
2
190
60
15
13
OSU
3
2
150
60
15
14
AQ
3
2
-90
50
18
15
SHSU
3
2
150
60
26
16
TAMU
3
2
130
60
26
17
RPI
3
2
120
60
26
18
FF
3
2
120
60
26
18
COFC
3
2
-20
75
37
20
AAQ
3
2
230
60
40
21
SVS
2
3
-10
20
9
22
UCLA
2
3
-10
0
9
23
UBC
2
3
-80
50
9
24
ASU
2
3
-70
33.33333333
18
25
HARV
2
3
-70
20
18
26
TTU
2
3
-100
25
18
27
ISU
2
3
-110
40
18
28
UTSA
2
3
-120
20
18
29
VCU
2
3
-80
40
26
30
LHU
2
3
-50
60
33
31
HUQ
2
3
-70
20
39
32
VCQ
1
4
-180
40
18
33
USF
1
4
-310
16.66666667
18
34
SS
1
4
-140
50
26
35
WOO
1
4
-230
40
33
36
CW
1
4
-270
60
33
37
IU
1
4
-280
40
37
38
SC
0
5
-500
40
26
39
LBFQ
0
5
-220
20
33
40
Bracket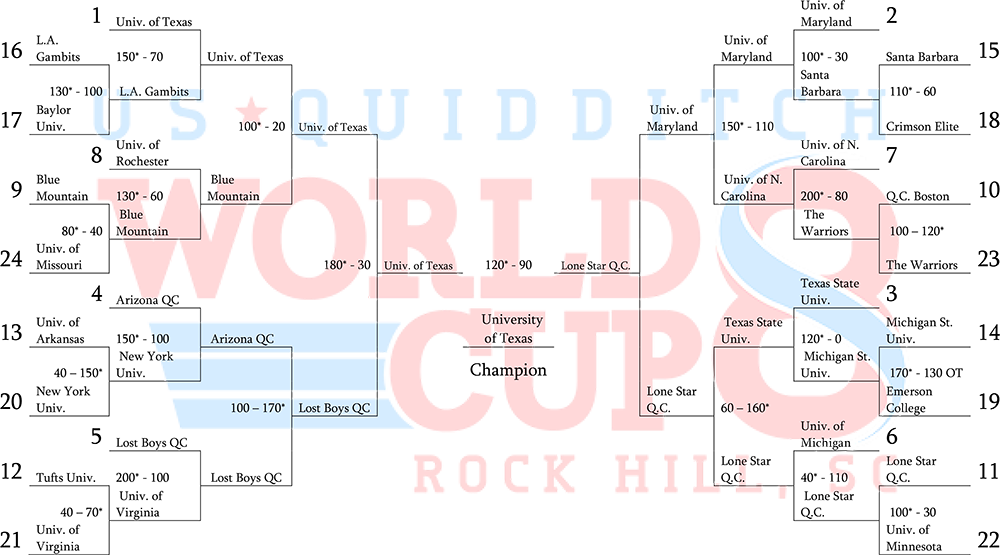 The University of Texas at Austin once again won the World Cup, for the third year straight. They beat out Lone Star Quidditch Club in the finals. Texas Seeker Evan Carr caught the Snitch, winning the match - and title - for his team 120*–90. If you missed the match, you can catch the final below: