CC #065: Week of January 11, 2004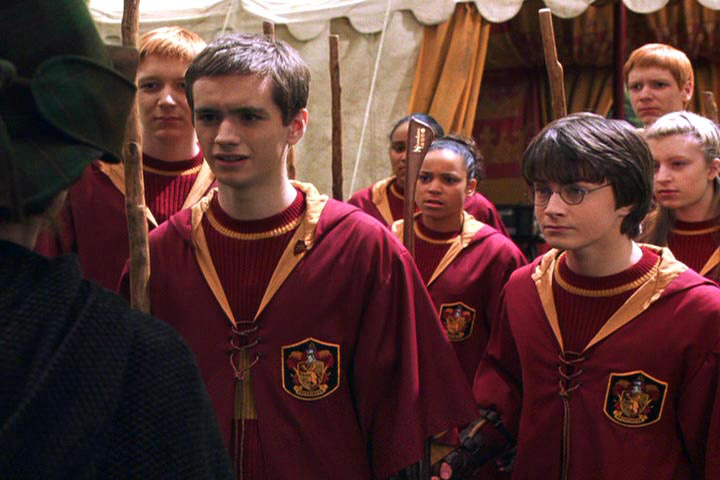 ---
⬇️⬇️ Scroll down in the below area to read all captions from this week! ⬇️⬇️
---
McGonagall: Because Madam Hooch was sick this week, we had to find a replacement. It's –
Lockhart: Hello, everyone! What a lovely day for rousing a game of Quidditch, eh? Now, can someone tell me what the little golden flying ping-pong ball does again?
-Delleve
---
McGonagall: The game is cancelled! More students got Petrified! I do have good news, though…Oliver: Yeah? What's that?
McGonagall: I just saved tons of money on my car insurance by switching to Geico!
-Shayna
---
Oliver: 'What do you mean J.K. Rowling puts us in dangerous, nail-biting situations as a plot device to enable Harry to appear a better person for saving us? That makes no sense!'
-Armeniel
---
Wood: 'Listen, professor, she's not my girlfriend! Go tell her to clear off! *Turns to the team* Pff, some American singer who's got a thing for British guys… Britney something… Skis, Spikes…'
-Lauren
---
Oliver: 'Hello, Professor McGonagall… oh my – what a zit! I mean – what is it?'
-SpaZ
---
Wood: Cancel Quidditch? You can't cancel Q…I do believe in fairies! I do believe in fairies! C'mon, Lions! Let's chant!
The Team: We do believe in fairies! We do believe in fairies!
Jason Isaacs: I swear… one more bloody time…
-Abby
---
Angelina: Are Wood and Potter holding hands?
Both: *Quickly let go of each other's hands* No!
-Kim
---
Wood: But I want to play! *Throws himself on the ground kicking and screaming*
-Megan
---
Oliver: I finally get into the Caption Picture and they decide to focus on shorter captions! What are they going to do next, cancel the game?
McGonagall: Well…
-Deziree
---
'No, we're not here to sweep the field!'
-Andy
---
'So what if I still sleep with a teddy bear?'
*People in background crack up*
-Kaitlyn K.
---
Wood: 'Whit d'ye mean me accent isn't awthentic?
-Wes
---
Wood: 'What do you mean "sexy jocks are out and blonde jerks are in"?'
-Mielkeway
---
McGonagall: 'I have something to tell all of you – you've been caught on my new hidden camera show called The Jamie Kennedy Experiment!'
-Chris
---
McGonagall: The match has been cancelled.
Wood: But… why is the rum gone?
-T-Mac
---
Oliver: Oh my gosh… look at all those wrinkles… what's holding this woman together?
-Audrey
---
McGonagall: You know, Wood, it is better to keep your mouth shut and appear stupid, than to open it and remove all doubt…
Everyone: Right…
-L.L.
---
McGonagall: …and in the interest of making Quidditch even more exciting, the first person to make an outburst or remark about the limit of 'One-liners' will be kicked off the Quidditch team and will not be allowed in the next movie.
Wood: What kind of sick game is this?
McGonagall: Say 'Goodbye', Oliver!
Wood: ….
-Dan
---
Oliver: Professor, that new lipstick makes you look 70 years old!
McGonagall: Oh, really? *Blushes* The guarantee is 90…
-Lily
---
Fred: I mean seriously… even we don't produce smells like that…
-C.P.
---
Wood: Hey, Harry, I didn't give you permission for that boy to play on the team! Is he a friend of yours?
Harry: Huh? That's a girl!
Girl: Yes, Oliver, I'm a girl, a girl! And might I point out that we've been conducting a meaningful relationship for the past three years? Girl!
-Amy and Sam
---
Wood: Harry, could you tell your Gramma to stop asking for my phone number…?
-Jordan
---
Wood: 'You're right, Professor… something really doesn't smell quite right… Have you cleaned out your litter box lately?'
-John B.
---
Oliver: What? Waldo's arch enemy, Oddlaw, opened the Chamber of Secrets and is using the Imperius Curse to force Wizard Whitebeard into petrifying students? We must find Waldo – he'll know what to do!
-Amy
---
Wood: *Transfixed* Muh-muh-muh…
Potter: Mole!
-Elentari
---
Wood: How comes in the first movie we came out Head and Seeker first, then Beaters, then Chasers, and now we're coming out from somewhere all jumbled up? This is what breeds failure, people!
-Briana
---
McGonagall: Harry, just look what your psychopathic Godfather is doing now!
Sirius: *In the background, with his voice magnified* I love you, baa-bay, and if it's quite alright I need you, baa-bay, to warm a lonely night! I love you, baa-by, trust in me when I say…
Harry: Ugh… who's he singing that to?
McGonagall: … It appears he's had a previously unclaimed affection for… me…
*Gasp*
-Eric [Staff]
---