CC #089: Week of June 27, 2004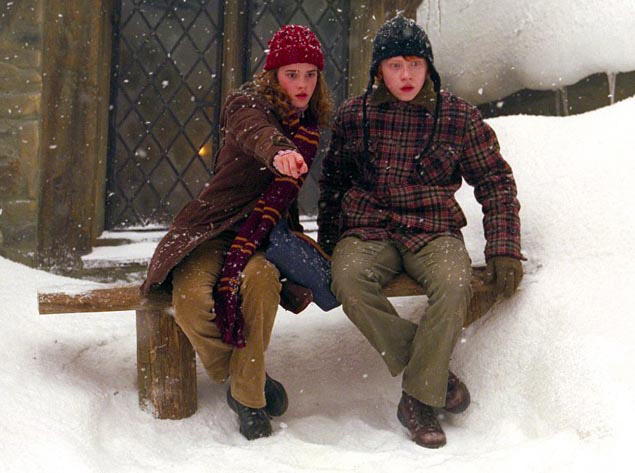 ---
⬇️⬇️ Scroll down in the below area to read all captions from this week! ⬇️⬇️
---
Ron: It's a bit chilly… perhaps you'd be warmer if I put my arm around –
Hermione: -Look, Ron! It's Harry's footprints storming away! He looks upset… let's follow him!
Ron: Darn you, Harry, and your teenage angst! Darn you!
-Beet
---
Hermione: So it was you who stole the cookie from the cookie jar!
Harry: *Under the Invisibility Cloak* …
Ron: ?
-Link
---
Hermione: Look, Ronald! Is Pansy Parkinson wearing the same shade of lipstick that we are?!
Ronald: *Stares at Pansy* The cheek!
Hermione: Yes, I know! The same blush as well!
-Kirsten
---
Hermione: Look at those huge footprints, Ron!
Ron: *Queasy* Maybe it's… Bigfoot!
-Julie
---
'Look, Ron! A snowflake shaped like Harry's face!'
-Shell
---
'The fool looks at the finger which points to the snow, Ron…'
-Parsly
---
While on This week's CC main page:
[Above Caption] Hermione: How to keep a fool occupied – look down!
[Below Caption] Dumbledore: How to keep a fool occupied – look up!
-Freezer
---
Hermione: Look, Ron! Harry's writing us a message in the snow!
Ron: *Reading* Kiss…already,…you…two…
Hermione: *Blushes*
-Taylor
---
Hermione: Ron, look at the footprints!
Ron: It must be him!
Hermione: Of course it is!
Ron: Hollow Man!
Hermione: …
-Christine
---
One hat, two hat, red hat, blue hat!
-Spatialwarp
---
Hermione: *Bursts into song* What's this? What's this?! There's color everywhere! What's this? There's white things in the air! What's this? I can't believe my eyes! I must be dreaming! Wake up Hermione, this isn't fair! What's this?!
-Jannine
---
Hermione: Ron, do you see my finger?
Ron: Yeah…?
Hermione: Do you see the nail on my finger?
Ron: Yeah?
Hermione: Do you see the polish on my nail?
Ron: Yeah?!
Hermione: Well that has nothing to do with what I am about to tell you.
Ron: Ugh…
-Rachelle
---
Hermione: Look, Ron! That girl in the front row is dressed up to look like you!
Ron: Freaky…
-Brie
---
Hermione: See, Ron, when I poke Harry, he sounds like the Pillsbury Dough Boy! *Pokes Invisible Harry*
Invisible Harry: *Giggles*
-Kimmy
---
Hermione: Ron, look!
Ron: What is it?!
Hermione: The door, on JKR's site – it's open! And there's a book with Latin writing in it!
Ron: What's it say?
Hermione: This… is a hoax… the title is… not really… Pillar of Storge… but Ron will… fall in love… with Hermione.
Ron: Who am I to mess with fate?!
-Nauta
---
Ron: So that's how you do an Irish jig!
Hermione: Thanks, Seamus!
-Nupoor
---
Hermione: Look!
Ron: What's it say?!
Hermione: *Reading outloud* The Chamber Pots have been opened… Enemies of the smell, beware…, and it's written in yellow!
-Tyler
---
Here, we see Hermione actually reaching out to touch the tension between herself and Ron.
-Jay
---
Hermione: Look at me, I can multitask!
Ron: I really wouldn't call pointing one way and looking in a completely different direction 'multitasking'…
Hermione: Party pooper!
-Coty
---
Hermione: Look, Hansel, it's the trail of bread crumbs leading home!
Ron: Jolly good work, Hermione –
Dumbledore: -Cut!
Ron: What?!
Dumbledore: You said her real name!
Ron: Aw…
Dumbledore: We're never going to get the Hogwarts version of Hansel and Gretel finished!
Hermione: I'm working with chimps…
-Molly G.
---
Hermione: Look, Ron!
Ron: Harry! That's not funny! No more snow-spiders!
-L.G.
---
Ron: The floo powder went wrong! We're in the wrong movie, Hermione!
Hermione: But 'Hogsmeade Village' sounds nothing like 'Santa's Workshop'!
-Gabi
---
Hermione: Look, the fashion police!
Ron: Run!
-Sazula
---
—Discretion Advised—
Hermione: Hey, Ron! Look at those two footprints that just appeared!
Ron: Yeah, they're shaped like a big pair of –
~Cut to Interior of The Three Broomsticks~
Madam Rosmerta: Melons? Who here ordered melons?
-Amy and Sam
---
Wizarding World Public Service Announcement:
Hermione and Ron want YOU to join Dumbledore's Army!
-George
---
After the pink and purple bunnies started to appear, Ron and Hermione began to suspect that butterbeer wasn't 'non-alcoholic' at all…
-Loonsdale
---
Hermione: Hey, look, it's Harry!
Ron: What's hairy?
-Ofelja
---
Hermione: And right over there we can place the Chupah!
Ron: Hermione, don't you think we may be moving a bit fast?
-Steve
---
Aunt Hermione wants YOU to join S.P.E.W.!
And Uncle Ron wants HER to join HIM!
-Kaitlin
---
Hermione: Oh, look, Ron, it's Madam Rosmerta.
Ron: Think unsexy thoughts… think unsexy thoughts…
-Aleana
---
Hermione Granger, she's a hero. Gonna bring evil wizards down to zero! Earth, fire, wind, water, heart, GO MAGIC!
-Danielle E.
---
Hermione: Look, Ron! Over there!
Ron: Wicked – but, what is it?
Hermione: Honestly! Anyone could tell it's a plot device!
Ron: A what?
Hermione: *Pointing wand at Ron, annoyed* Accio Clue!
-Rachael C.
---
Hermione: Hey, look! It's Luna Lovegood and her flaming army of heliopaths!
Ron: *GASP*
-Kelley R.
---
Hermione: Hey, you! You there! I've got a question for you!
Ron: Hermione, you can't just do this to people who happen to be passing by…
Hermione: No, Ron! I'm not waiting until the end of Book Six to find out… *To third party* Are you the Half Blood Prince?
-Ali
---
Hermione: Oh no!
Ron: What?
Black Dog: *Stumbles into the clearing*
Ron: Snuffles! Do you think he's injured?
Hermione: Let's check! *Runs over to him* Oh, no…
Ron: *Sniffs* Urgh, he's not injured, just –
Hermione: -Drunk…
Snuffles: *Burp, whimper, stumble, fall*
Ron: Not again…
-Eric (Staff)
---
Ron: Hermione, I've got something to tell you…
Hermione: *pauses* Really?
Ron: Yyeah… see uh… I think I'm in lo-
Hermione: Hey, look, there's Dumbledore! *Points* So, what were you saying?
Ron: Eergh… nevermind…
Audience: Awwwwwwww……
-Eric (Staff)
---
Emma: Look, Rupert!
Rupert: Oh my…
Emma: What kind of music do you think Alfonso has Dan listening to?
Rupert: I don't know…
Dan: *Rolling on the ground playing an imaginary guitar*
Rupert: …But I want some…
-Eric (Staff)
---
–Continuation to Previous–
Dan: *Sits up* Hey guys!
Emma and Rupert: Hey…
Alfonso: Ready to shoot the crying scene now, Dan?
Dan: Sure, I think – wait… *throws himself down and thrives a bit more*
Emma: …
Dan: *Stands up* Okay, ready. *Looks to Rupert* What?
Ron: nn…
-Eric (Staff)
---