CC #090: Week of July 4, 2004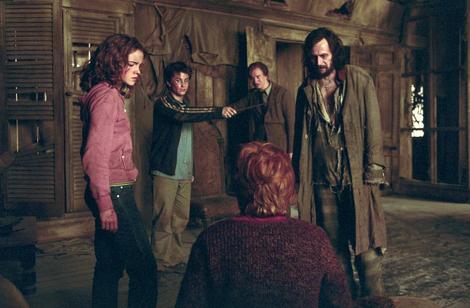 ---
⬇️⬇️ Scroll down in the below area to read all captions from this week! ⬇️⬇️
---
Ron: Hey, guys? Maybe if we all look in completely different directions, it will force Peter Pettigrew to appear?
Sirius: Well, it's worth a shot…
-Laurz
---
Ron: *Looking at caption image* Is that really what my hair looks like from the back?!
-Annette
---
Harry: 'Eenie, Meenie, Miney, Mo…'
-J.P.
---
Harry: 'Could someone get that light? It's ruining the atmosphere of this movie…'
-Athena
---
*The Missing Scene*
Harry: I get it now! So you are Padfoot, Professor Lupin is Moony, Peter Pettigrew is Wormtail, and my dad is Prongs! And you were all friends back at Hogwarts!
Lupin: Yes, Harry, you are correct. I remember the day we were going to play a trick on Snape, but your father stopped him before he came in contact with me in my werewolf form…
Harry: So that's why Snape is always angry at me – he thinks my father did that to save his own skin?
Alfonso: Cut! That was good, everybody, but – didn't seem very kinky so I'll just cut this out…
-Chris P.
---
Daniel teaches the rest of the cast how to do the Hokey Pokey.
-Aisyah
---
'Only the fool looks at the wand that is pointed to the convicted murderer, Ron…'
-Cher
---
Hermione: 'Oh no, I've dropped my contact! Nobody move!' *Gets on all fours and searches carefully*
-Tee
---
Harry: What are you staring at, Sirius?
Sirius: That… is not a rat…
Ron: No, it's a floorboard…
-Mike
---
Ron: Aw, rats, it was a trap…
Sirius: 'Rats' exactly!
-Aimee
---
Sirius: 'Not only can I turn into a dog to hide from everyone, but I can also cover my face with my clothes and blend right into the walls of the shack!'
-Teresa
---
Ron: Simon says… put your arms down by your sides.
*Everyone present puts their arms down*
Ron: Put-your-arms-up!
Harry: *Raises wand hand*
Ron: Harry, you lose! I didn't say Simon says!
Harry: *Mutters incoherently and walks off*
-Kristine
---
Ron: 'H-hello… my name is Ronald Weasley and I – and I – I'm afraid of spiders…
Everyone: *Claps supportively*
-Natalie
---
Everyone: *Chants* The Wonder Ball goes 'round and 'round, to catch it quickly you must be bound, if you're the one to hold it last, I fear for you the game is past, and you – are – out!
Ron: Hey, no fair! I'm the one who's been letting a squeaky old criminal sleep in my bed for the past twelve years – I deserve a do-over!
-Mary Kate
---
Lupin: Harry, be reasonable, you don't need to kill anyone… Oh no! My hand disappeared!
Sirius: MINE TOO!
Both: *Running around screaming* Aaaah!
-Kevin
---
Ron: *Squirms* Sirius, stop looking at me like that… *Blushes*
-Kelley R.
---
Big Red Chicken: 'Hey, you guys aren't Dora and Boots!'
-Cailyn
---
Sirius: So a werewolf, an escaped convict, and an Animagus rat walk into a bar…
Lupin: Please, don't.
Sirius: Well excuse ME for attempting to lighten the mood!
-Alina
---
Harry: Sirius!
Sirius: Harry!
Hermione: Professor Lupin!
Lupin: Ms. Granger!
Ron: Err, umm… Scabbers!
Scabbers: That's Peter, Ron…
Everyone: *Stares shocked*
Scabbers: Oops…
-Beet
---
Hermione: Werewolf!
Ron: Where wolf?
Hermione: *Pointing to Lupin* There wolf!
Harry: *Pointing at Sirius* There dog!
Sirius and Lupin: …
-Nemo
---
Sirius: Please, all I want is this free toaster, see? I have the coupon right here!
-Luthien
---
Harry: *Puts hand inside imaginary circle* Harry Potter geeks, UNITE!
Everyone else: UNITE!
-Vikki
---
Snape: *From outside corridor* 'Okay! I'm going to burst in and look incredibly smug and dangerous now! Are you all ready? Are you all watching?'
-Len
---
Werewolves, animagi, and rats, oh my!
-Gillian
---
Ron: Hey, Sirius, what's the difference between Hermione and an umbrella?!
Sirius: I don't know – what?
Ron: You can shut the umbrella up!
Hermione: *Glares*
-Karri
---