CC #091: Week of July 11, 2004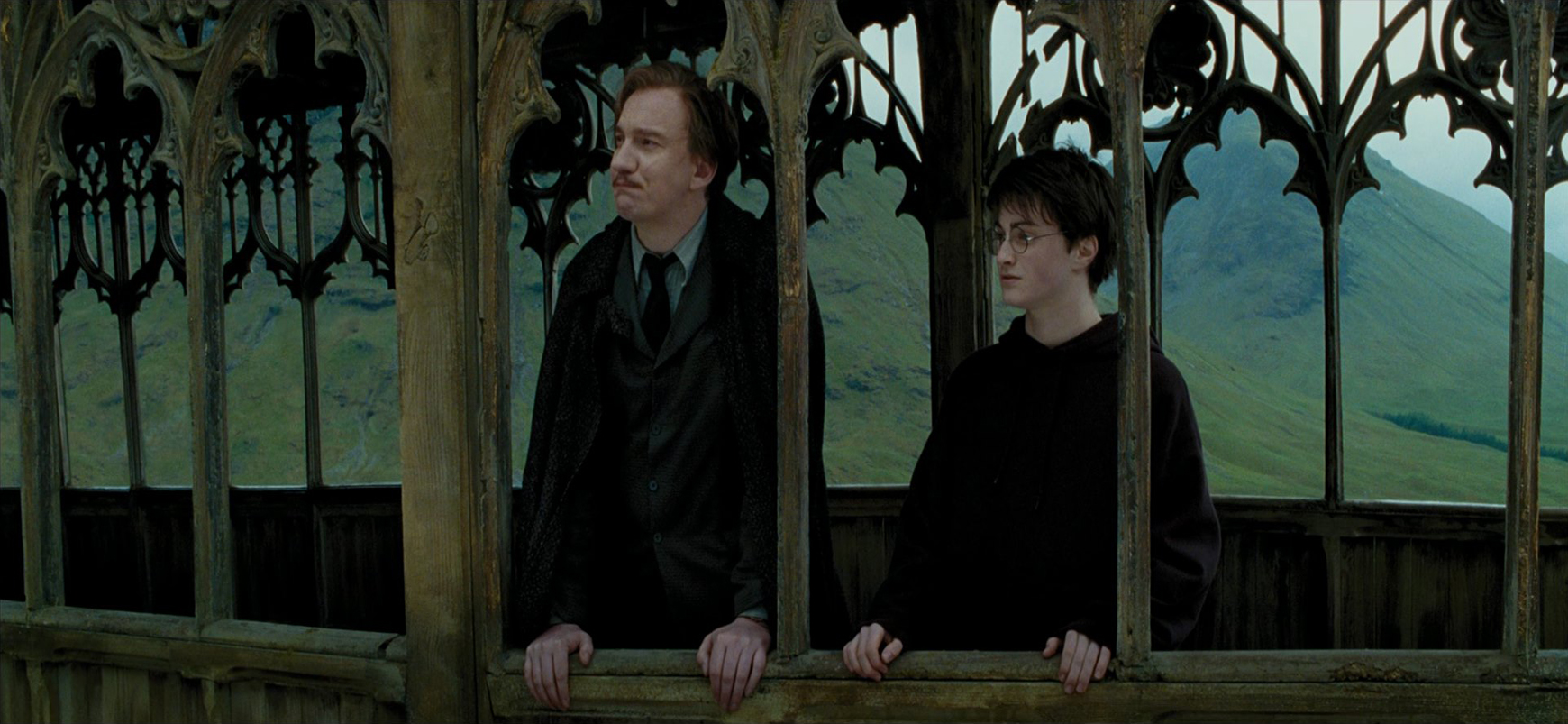 ---
⬇️⬇️ Scroll down in the below area to read all captions from this week! ⬇️⬇️
---
Lupin: It is true, Harry… I could dance around the subject for hours, but it's just too painful to hide. I loved her… I loved her!
Harry: How could you?! She was my mother – your best friend's wife!
Lupin: What? Lily? No, no, not Lily… it was her dog! She had the greenest eyes a poodle ever had… Boy did she really care for me…
-Case
---
Harry: *Thinking* I wonder if Lupin knows that that's what his hair looks like from behind?
-Mazdagirl
---
Lupin: You look just like your father; except for your eyes… you have J.K. Rowling's eyes…
Harry: …Right…
-Alanna
---
Lupin: How do they get deer to cross at the yellow sign, Harry?
Harry: I don't know…
Lupin: Can vegetarians eat animal crackers?
Harry: I don't know?
Lupin: Is a fly without wings called a 'walk'?
Harry: …I don't know.
Lupin: Hmm. On what side does a chicken have the most feathers?
Harry: I dunno…
Lupin: The outside! What kind of animal do you not play cards with?
Harry: I don't know!
Lupin: A cheetah!
-Juli
---
Lupin: You look just like your father, Harry, but you have your mother's eyes.
Alfonso: Cut!
David: What? Why?! We had that scene nailed!
Alfonso: Not you, guys, the cheese!
-Heba S.
---
Lupin: *Looks at Harry approvingly* 'I see you've read the latest issue of Witch Weekly, Harry. Black is the new black.'
-Morgan
---
Lupin: Your mother could see the inner beauty in people when even they themselves could not.
Harry: …But could she see why kids love Cinnamon Toast Crunch?!
-Dan
---
But Harry was mesmerized by the small, furry, unidentified animal exhaustedly napping on Lupin's upper lip, and consequently missed everything the professor said.
-Nel
---
Lupin: 'I wish they didn't make these walls so bloomin' high up – it's hurting my arms trying to see over the top…'
-Kat
---
Harry: See, there's this girl that I really like. Her name's Cho Chang and, well, since I can't ask my dad, I thought I'd get some advice from you?
Lupin: *Sighs* Trust me, Harry, when I tell you I'm not the kind of guy to take ladies out on moonlit dinners…
-Opie
---
Lupin: Look around you, Harry. Everything the light touches…
Harry: *Looks around*
Lupin: Does not belong to us…
-Aimee
---
Harry: Professor, what are you doing? Is there something I can do to…
Lupin: Shh, Harry! I'm pining for the fjords – and I can't help it if you're too young to understand the reference!
-Tee
---
Harry: Professor?
Lupin: Please, Harry, call me Adolf…
-James
---
Lupin: Harry, that's the title of Book Six!
Harry: Harry Potter and the Half Blood… Prints?
Lupin: Sounds like it's gonna take place in my fax machine…
-Cheese
---
Lupin: 'Veni, Vidi, Velcro' – I came, I saw, I stuck around…
Harry: …
-Libby J.
---
Lupin: …And this is just like the time we all…
Harry: Professor Lupin, as much as I love hearing these stories, I'm freezing out here!
Lupin: Ah, well. Let's just head back to my office and swap tales then, eh?
Harry: But I don't have a tail?
Lupin: …
-Mariah
---
Lupin: 'Now, see, if you would have told me you were going to wear black, I would have picked something else! *Exasperated sigh* Now I have to go change…'
-Cindy
---
Lupin: Beautiful, isn't it, Harry? The line of words that move above us…
Harry: …
-Norma
---
Harry: *In a worried voice* Professor Lupin, your hair is getting thin!
Lupin: SO? Who wants fat hair?!
-Karri
---
Harry: Professor, I think I'm going mad.
Lupin: How so, Harry?
Harry: I keep seeing spots before my eyes.
Lupin: Have you seen the nurse?
Harry: No, just spots…
-W.B.
---
Both: *Staring at Hermione and Ron arguing in the distance*
Ron: …Are you trying to make a monkey out of me?!
Hermione: Why should I take the credit?
-Blue
---
Harry: Professor? What's that in the sky? A bird, a plane, a refugee from the Macy's Thanksgiving Day Parade?
Lupin: Blast, it's the pesky dragon that made me partially immortal back when I was a sullen young prince in that movie with Dennis Quaid. I knew I should have gotten rid of him in 1996!
-Jill
---
Harry: Look, another kamikaze bluebird!
Whomping Willow: *WALLOPWAMPSQUASH*
-Henry
---
Lupin: …So every full moon, I –
Harry: -Can you hurry up? I'm missing my soap opera!
-Stephen P.
---
Lupin: 'Now – spitting gum long distances is an art, Harry…. Make your father proud.'
-Annie
---
Harry: Professor, I have this strange feeling that, as we speak, Lego toys are being made to replicate this moment…
Lupin: Ha, yeah, like that could ever happen!
-James
---
Harry: Professor Lupin?
Lupin: Yes, Harry?
Harry: I was wondering… why didn't you let me face the boggart?
Lupin: I'd've thought that would have been obvious, Harry…
Harry: …?
Lupin: Because that was the record-setting 50th occurrence in the book series where you have the distinct and utter chance to feel completely short-ended causing the angst that the readers and the audience respond to so excellently!
Harry: …
-Eric (Staff)
---
—Take 2—
Harry: Professor Lupin?
Lupin: Yes, Harry?
Harry: I was wondering… why didn't you let me face the boggart?
Lupin: You're weak.
Harry: …
Lupin: …
Harry: … *cries*
-Eric (Staff)
---
Bluebird: Chirp! Chirp! *Flies around joyfully*
Lupin and Harry: *Watch intently*
Bluebird: Chirp! Chirp! *Darts across the clouds*
Willow: *CRUNCH*
Lupin and Harry: *Hold up signs '10', '10.5'*
-Eric (Staff)
---