CC #092: Week of July 18, 2004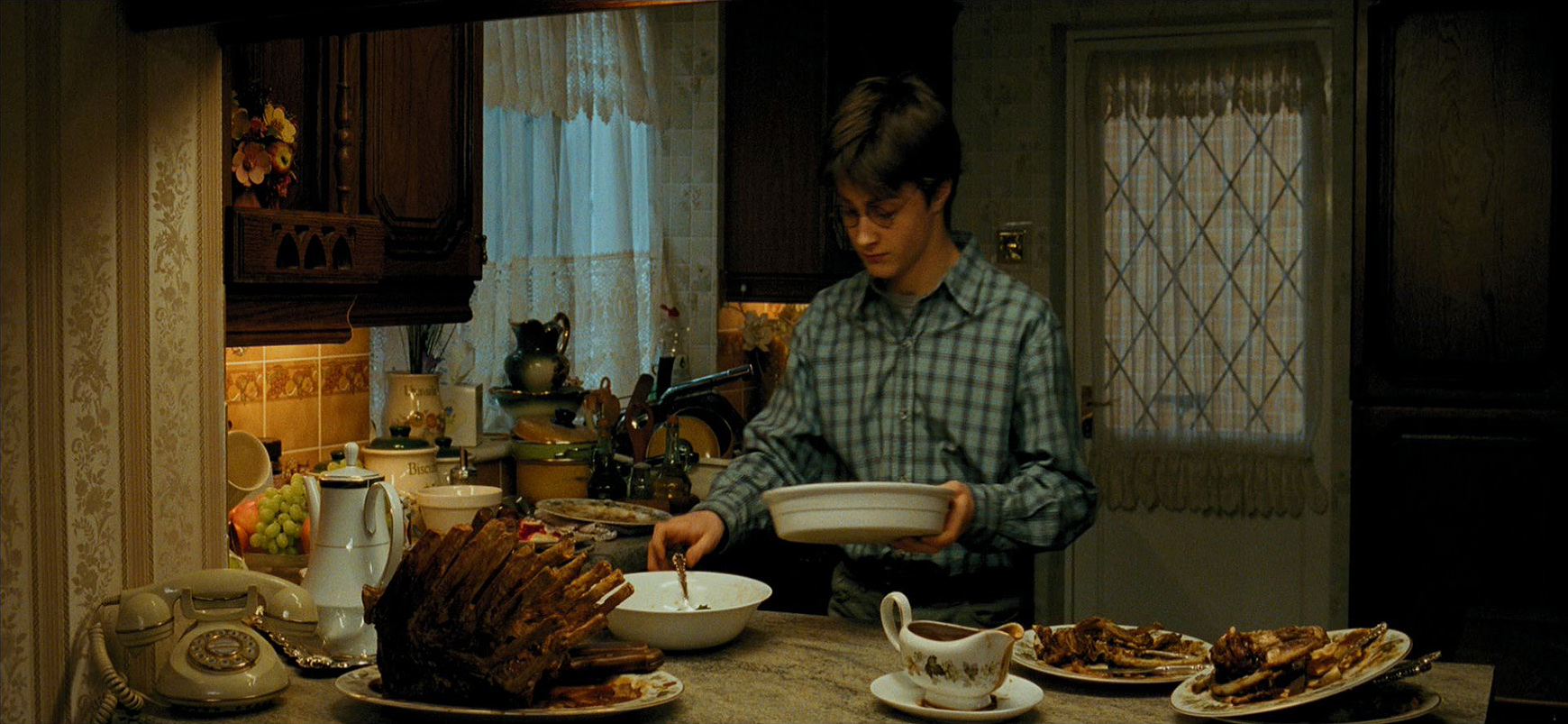 ---
⬇️⬇️ Scroll down in the below area to read all captions from this week! ⬇️⬇️
---
I didn't know we had Coco Puffs in the house… wait a minute… HEDWIG!
-Kevin
---
Boy, I wish cleaning could be like it was in Marry Poppins… Just snap your fingers… stupid kids… THEY got away with magic out of school…
-Nicloetje
---
Now… what did Delia Smith's book say? First, separate the whites and the yolks…
-Suzanne
---
Remember… 'There is no spoon'…
-Crystal
---
Harry: *Thinking* My Alpha-Bits are spelling to me?
Cereal: EAT ME ALREADY… IM GETTING… SOGGY!
-Maddie
---
Harry felt a jolt in his stomach when he looked into his cereal bowl and realized that the remaining Alpha-Bits spelt 'GRIM'…
-Helene T.
---
Vernon: Boy, don't eat all the food – there won't be enough left for the fourth movie!
Harry: What's it matter? You're not in it?
Vernon, Petunia, Dudley and Marge: *Gasp*
-Stephen P.
---
Announcer: 'And now back to Potter's Kitchen, where he's cooking up the luscious ''I-Will-Kill-Lord-Voldemort-If-Its-The-Last-Thing-I-Do" Stew!'
-Ivin
---
'It takes TWO bowls of Raisin Bran to equal the zinc in Total!'
-Nathan
---
Marge: Hmm, now where did Ripper get off to?
Harry: *Smiles* Anyone for seconds?
-Akasha
---
Harry: Oh my gosh! The garnish on the dinner is talking to me!
'Garnish': That's right, Harry, you're a parsleytongue!
-Lenny
---
Harry: *Gasp* It's an omen! My Alpha-Bits have spelled out a message, saying 'Ooooo'!
The Part of Harry's Brain That Speaks in Hermione's Voice: Those are Cheerios, stupid…
Harry: …Oh.
-Wendelin
---
Harry: Hehehe…. Just wait until Aunt Marge finds out what I left in her casserole… Ton Tongue Tuna! *Muahaha!*
-Jeff
---
I'm a little wizard, long and lean,
I hate the Dursleys; they're very mean.
If I get all cranky, I will break a cup,
And if they insult my parents, I'll blow Margie up.
-Rebecca
---
Double, double, toil and trouble, turn Aunt Marge into a bubble…
-Flower
---
The Harry Potter Guide to Making Your Own Pensieve…
-Bisto
---
Harry: 'But… I don't like green eggs and ham…'
-Sabe
---
Alphabet Soup: *In bowl* Tom Marvolo Riddle
Harry: Huh?
Alphabet Soup: *Arranges itself* I Am Lord Voldemort
Harry: …
-Mage
---
Harry: *Thinking* What Dudley doesn't know… can't hurt him.
-Amanda
---
'Let's see…. Eye of Newt, Toe of Frog… but where does the hedgehog come in?'
-Olivia
---
Harry: *Thinking* Wow… the cereal turns the milk chocolate… it's just like MAGIC!
-S+C
---