CC #099: Week of September 12, 2004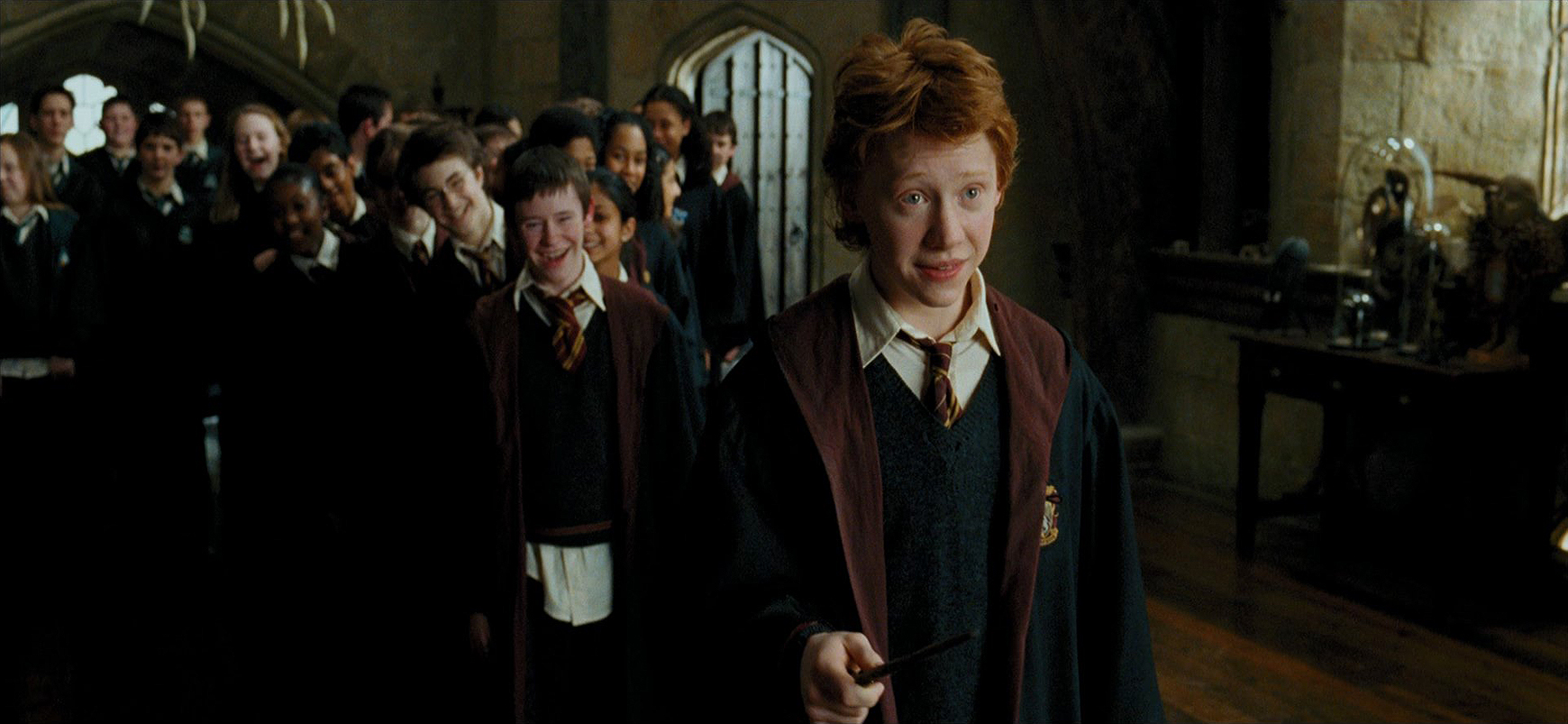 ---
⬇️⬇️ Scroll down in the below area to read all captions from this week! ⬇️⬇️
---
Lupin: Aaah! Mr. Weasley, you're supposed to put roller-skates on the boggart, not me!
Ron: Sorry, Professor, couldn't help myself!
-Krista
---
Dan and Emma got known as the two stars of this movie and all I got was this lousy fan club.
-RJ
---
'Really? I made the cheering squad! Are you serious?!'
-Kat
---
Ron: What?! My mother is having a tea party with Snape… at my house… with my tea set!
Class: *Laughs*
Ron: Man… I told her not to go into my room and use my things…
-Charliee
---
Ron: *Starts doing karate moves*
People in Back: What's he doing?
Boy in Front: He's defending his new McDonald's Chicken Strips!
-Rachel
---
Gee, you never can tell how many students there are in Gryffindor…
-Saria L.
---
'You mean I've been queuing this long and they ran out of toilet paper?!'
-Sophia and Cate
---
Lupin: Okay, who wants to tackle a monstrously huge spider?
Class: *Steps back*
Lupin: Good, Ron, good!
-Pliskin
---
Lupin: Okay, Ron, remember. If you don't do the spell correctly, it'll make you kiss Hermione.
Ron: You mean me? Kiss her?
Hermione: Good one, Professor! Now he knows I'm a girl and they'll be able to cut that out of the fourth movie as well!
-Larry
---
Ron: Umm, Professor Lupin? Do you really think I'm scared of pink bunnies?
The Class: *Laughs*
Professor Lupin: *Cowering in corner* Help! Pink bunnies!
-Zak
---
'Please, Sir… can I have some more?'
-Natalie
---
Ron: You think that will scare me?
Boggart: *Morphs*
Ron: Mummy! Help! Big… spider!
-Nojin
---
Ron: And you want me to defeat… that thing?!
Lupin: Well, admit it – my singing fish is way better than your dancing horsey!
-Lesley
---
Ron: Hermione?!
Hermione: What's happenin', stud?
-Shana
---
Seamus: We're following the leader!
Neville: The leader!
Hermione: The leader!
Harry: We're following the leader!
Entire Class: Wherever he may go!
Ron: *Thinking* Why do I get the feeling someone is following me?
-Jade
---
All the students laughed when Ron came face to face with his boggart – J.K. Rowling…
-Kekelina
---
Ron hoped it was all a dream, just a silly old dream, because he wasn't wearing any pants and Professor Snape in front of him was deducting 500 points from Gryffindor…
-Kat
---
Lupin: No, Ron, this isn't a Boggart. This is a Lo-gart, and it shows your greatest love.
Logart Hermione: Hi, Ron…
-Bernie
---
Ron: Okay – so I have to take Hermione to the Enchantment under the Sea Dance?
Marty: Wait, you're not George McFly!
-Railok
---
Boggart: *Changes into Mrs. Weasley* I told you to clean your room, Ronald! Don't you give me that tone! *Screaming*
Ron: Riddikulus!
Boggart: *Turns into Hermione* I told you to do your homework, Ronald! Don't tell me you didn't finish it!
Ron: Aaah! *Runs away*
-Jessica
---
Announcer: In this corner, we have Ronald Bilius Weasley!
Class: *Cheers*
Announcer: And in this corner, Big Hairy Giant Deadly Spider!
Ron: *Gulps*
-Ashlin
---
Even victim Seamus Finnigan had to laugh at the Weasley Twins' latest gag wand, the Amazing Backwards Super Atomic Wedgie Projector.
-Rob
---
The boys loved the new unit in Divination class: Strip Tarot readings!
-Cindy
---
Red Light / Green Light Preliminaries:
Ron: 'Red light! Green light! Red light! *Whips around* Haha! Got you, Seamus!
-Olivia M.
---
Ron: Okay, who put the 'Jinx Me' sign on my back?!
Harry & Seamus: *Snigger*
-Alyssa
---
Lupin: 'Now, Neville, I said ''your grandmother's clothes", not her underpants!'
-Bernie
---
Ron needed extra support from his friends, and enlisted the help of the entire Gryffindor house to ask Hermione:
Ron: 'Wannagoballwimme?'
-Nellie
---
Ron: I don't like spiders…
Seamus: Hey, just pretend it's a weird thing with eight legs!
-James
---
'Harry, come quick, we've got the Spice Channel to work!'
-Sara
---
Ron: Hey, is this enough people to break the 'most people in a caption contest picture' record? Is it a better attempt than three weeks ago? I figured if we put the camera back a little further…
-Joel
---
Ron: I wonder how many captions will be sent in about the back of my head…
-Estelle
---
After being kicked for the twelfth time that morning, Ron begins to suspect that the pat on the back Harry gave him had an ulterior motive…
-Cat
---
The DADA class was surprised to find that Ron's worst fear was having his pet rat turn out to be a murderous traitor. They found this far-fetched boggart quite hilarious, little did they know, this was foreshadowing at its greatest.
-Brandi
---
Seamus: Come on, Ron! Stop smiling and get to the back of the line so I can go!
Lupin: Yeah, 'cause when the swing music stops, I'm gonna reveal a major plot point!
-Paige
---
Lupin: The incantation is Riddikulus, Ron, not Liquorish!
Ron: *Sheepish grin* Yeah… sorry 'bout that…
-Karin
---
Ron's greatest fear played before his eyes: SPEW, a success!
-Heather
---
Ron: No, really, Professor! My homework was eaten by a… a raving werewolf. Hey – wait a minute – it kinda looked like…
Class: *Hee hee hee*
Lupin: *Clears throat* Now, Ron, you know I don't like excuses…
-Silmira
---
Everybody: *Laughing*
Harry: Ron, don't tell me that the thing you are seriously most afraid of in the world is –
Ron: -Yes! Professor Lupin's moustache!
-Ann J.
---
Ron: '…Bother?'
-Julia
---