CC #101: Week of September 26, 2004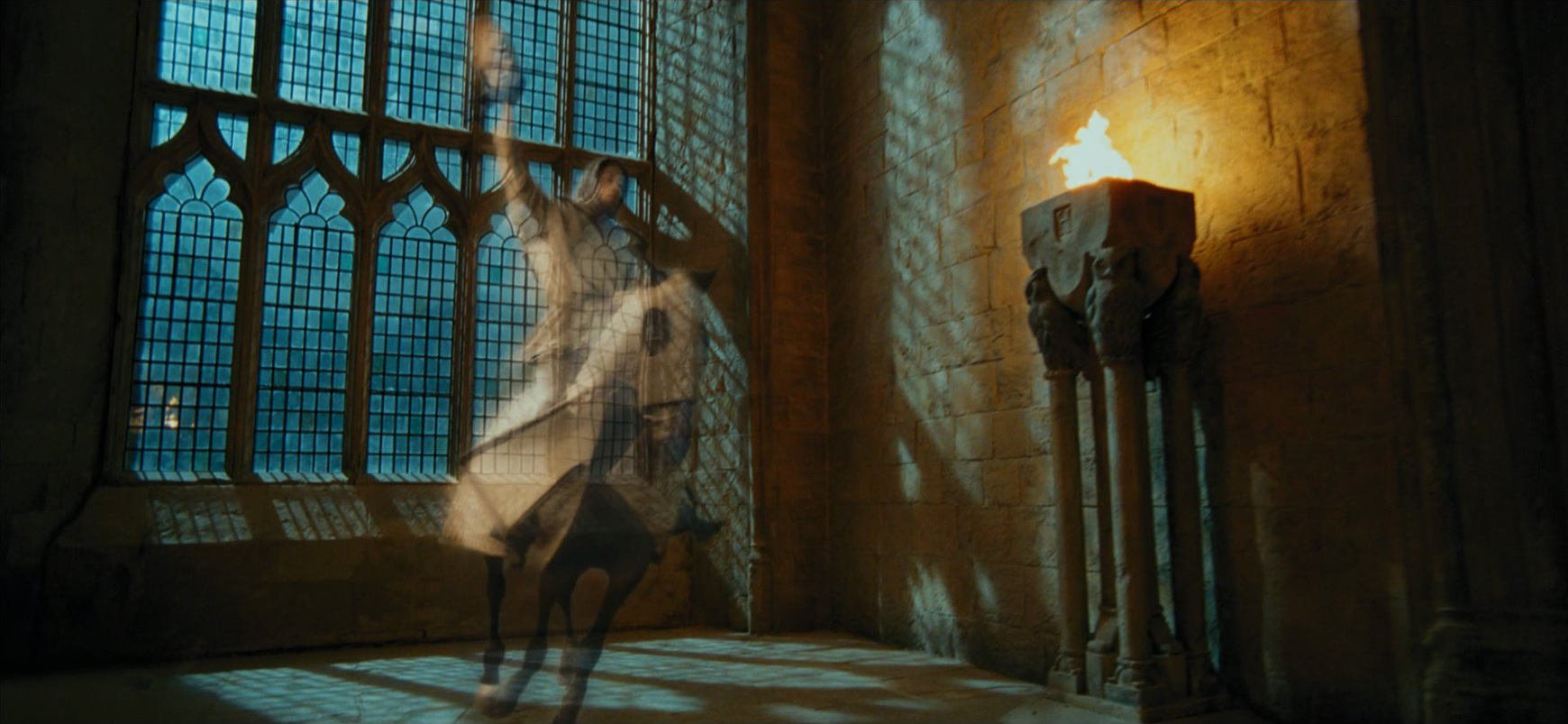 ---
⬇️⬇️ Scroll down in the below area to read all captions from this week! ⬇️⬇️
---
Rider: Don't head into the light!
Horse: Couldn't you have said something five-hundred years ago?! 'Brains of the pair'…
-Alanna
---
Harry: I didn't know Hogwarts ghosts could get drunk…
Ghost: Whoo! *to Ron* You're a pretty little girly…
Harry & Hermione: *Stifling giggles* We told you your hair was too long…
Ron: *Turning red*
-Gill M.
---
Ghost: Maybe if I reach high enough, I'll be able to reach those moving words…
-Melee
---
J.K. Rowling: 'No, no, No! It's the Green Flame Torch, not the Orange Flame Torch! And the title of Book Seven isn't even about ANY Flame Torch!'
-Lucy
---
Horse: I feel like Paris Hilton's dog… with all these clothes on… sheesh.
-Violet
---
The Quest for the Spice Channel
-Erin
---
Fraternity Initiation – Ghost Style
-Grizkey
---
'And this week on ESPN… Ghost Basketball! Yes – the Translucent Tigers are up the court – heading for the fire basket…. Slam Dunk!'
-Grace
---
'Look what the Atkins Diet did to me! I lost so much weight, I'm transparent!'
-Beth
---
'Well, weren't you wondering where King Arthur went?!'
-Ashlin
---
The students were not impressed by the rendition of 'The Midnight Ride of Paul Revere' that Dumbledore had arranged for them.
-Amy
---
From Warner Brothers Studios and the Producers of 'Space Jam' comes the hippest, hoppest Looney Tunes b-ball adventure ever — 'Ghost Jam'!
-RJ
---
Ghost: Who dares me to ride through this wall?!
7th Year: *To excited 1st year* He asks that same thing every night. It's really beginning to grate now.
-Ellie
---
Filch: *Grumbling* 'I don't remember ANYTHING in my job description about cleaning up ghostly horse manure!'
-Jess
---
The lighting ceremony for the Ghost Olympics
-Carrie Z.
---
Horse: 'For THIS I gave up the lead in "Son of Mr. Ed"?!'
-Angelbot
---
THE DEMENTORS ARE COMING! THE DEMENTORS ARE COMING!
-Adrienne
---
And so, the question on everyone's lips: Has somethign wicked this way come? 'Coz that dude with a sheet over his head ain't looking wicked!
-Laura
---
'C'mon, horsey, do the disco!'
-Hannah
---
Hogwarts. What happens here… stays here.
-Chel
---
The World's Fastest Police Chases: On Horses Part II
-Riss
---
'Look – it's Seathroughbiscuit!'
-KC
---
'Watch out! Magical special effect made to waste time coming through!'
-Lynda
---
Scene from the controversial film 'Bowling for Hogwarts'.
-Molly M.
---
Alfonso Cuaron: 'GENIUS! I'll put a three second scene with the Headless Hunt, and never explain it! I'm brilliant!'
-Julie K.
---
'Wait! I have a caption to give you!'
-Lauren
---
Adelphia High Definition TV… you may not know what's real anymore…
-Nicole
---