CC #103: Week of October 10, 2004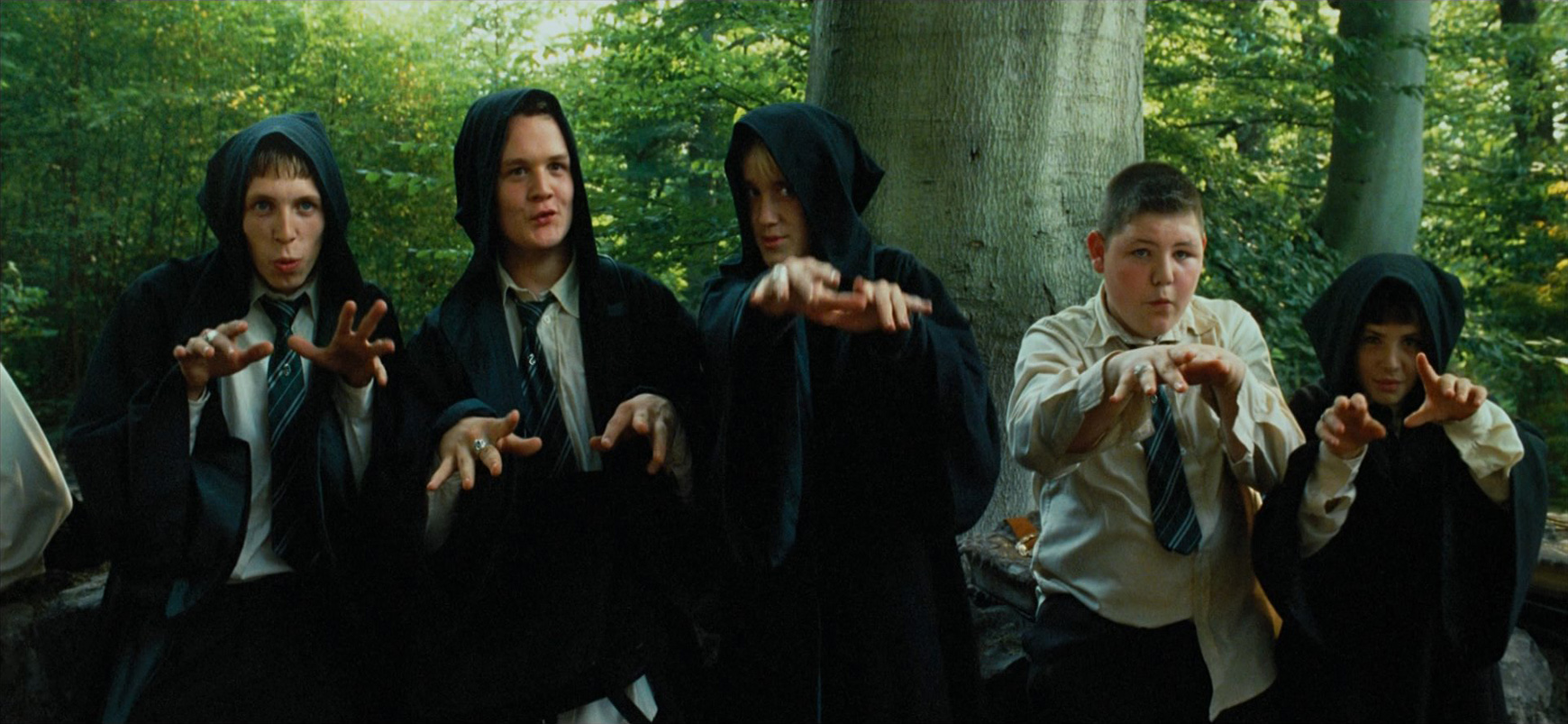 ---
⬇️⬇️ Scroll down in the below area to read all captions from this week! ⬇️⬇️
---
As opposed to other houses, Slytherin decided to enter Hogwarts' 'Air Guitar' contest with a trio of 'Air Keyboardists'.
-RJ
---
'Darling! Don't you know that ''Dementor" is all the rage this summer?!'
-Jessi
---
All Three: *Singing and dancing* 'The itsy bitsy spider went up the water spout. Down came the rain and washed the spider out!'
-CJ
---
'Tonight, Harry, you will be visited by three ghosts: The ghosts of imbeciles past, present, and future! Then, and only then, will you realize the true meaning of stupidity!'
-Andii
---
Gladrags Wizard Wear:
Hip, street and practical, for every occasion.
-Ha\ris
---
Death Eaters: Version 2.0
-Rebecca
---
School Uniforms: 23 Galleons
Hooded Cloaks: 15 Galleons
Being 'Spooky': 10 Sickles per hour
Knowing That You Were the Inspiration for the 'Toil and Trouble' Song on the Soundtrack: Priceless
There are some things money can't buy. For everything else, there's Gringotts.
-Katie
---
When Goyle, Nott, and Draco showed up at Mr. Malfoy's office in Wannabe Death Eater robes, he started to dread Take Your Kid to Work Day.
-ACJ
---
Draco: 'I'm so Slytheriny, even my background is green!'
-Olivia M.
---
Malfoy and his friends try to hypnotize the MuggleNet Staff to use them more often in caption pictures.
-Alyssa A.
---
The Grim Reaper was terribly disappointed when these three were the only new applicants for his position.
-Smeghead
---
*Doorbell Rings*
Boys: Trick or treat!
Voldemort: Avada Kedavra! *mutters* stupid trick-or-treaters interrupting my plot to kill Harry Potter…
-Christy
---
The Three Stooges gone goth.
-Jess
---
This week's winners for 'In-Laws That Make You Question Your Engagement'.
-Jodie
---
Slytherin on Left: *Sings* Hello…
Slytherin in Middle: *Sings* Hello…
Slytherin on Right: *Sings* Hello…
All Three Slytherins: *Sing* Catherine!
-Shoshanna
---
Announcer: 'And the winners for the 'Least Thought Put Into a Costume' category are Draco Malfoy, Gregory Goyle, and that random kid who all of a sudden just started showing up in every scene involving Slytherin!'
-Jessica
---
This is what happens when you get hit by that swinging pendulum.
-Danielle W.
---
Harry: Accio Draco's fingers! Accio Crabbe's fingers! Accio Goyle's fingers!
-Scarlett
---
'Just because Peter Jackson had the most votes on the poll doesn't mean that all of a sudden the two movies can be mixed together.'
-BBJ
---
Draco: 'Do we look… *looks around* …spooky?'
-Kelsey
---
The Slytherin Theatrical Company Presents:
Nunsense!
-Ali
---