CC #106: Week of October 31, 2004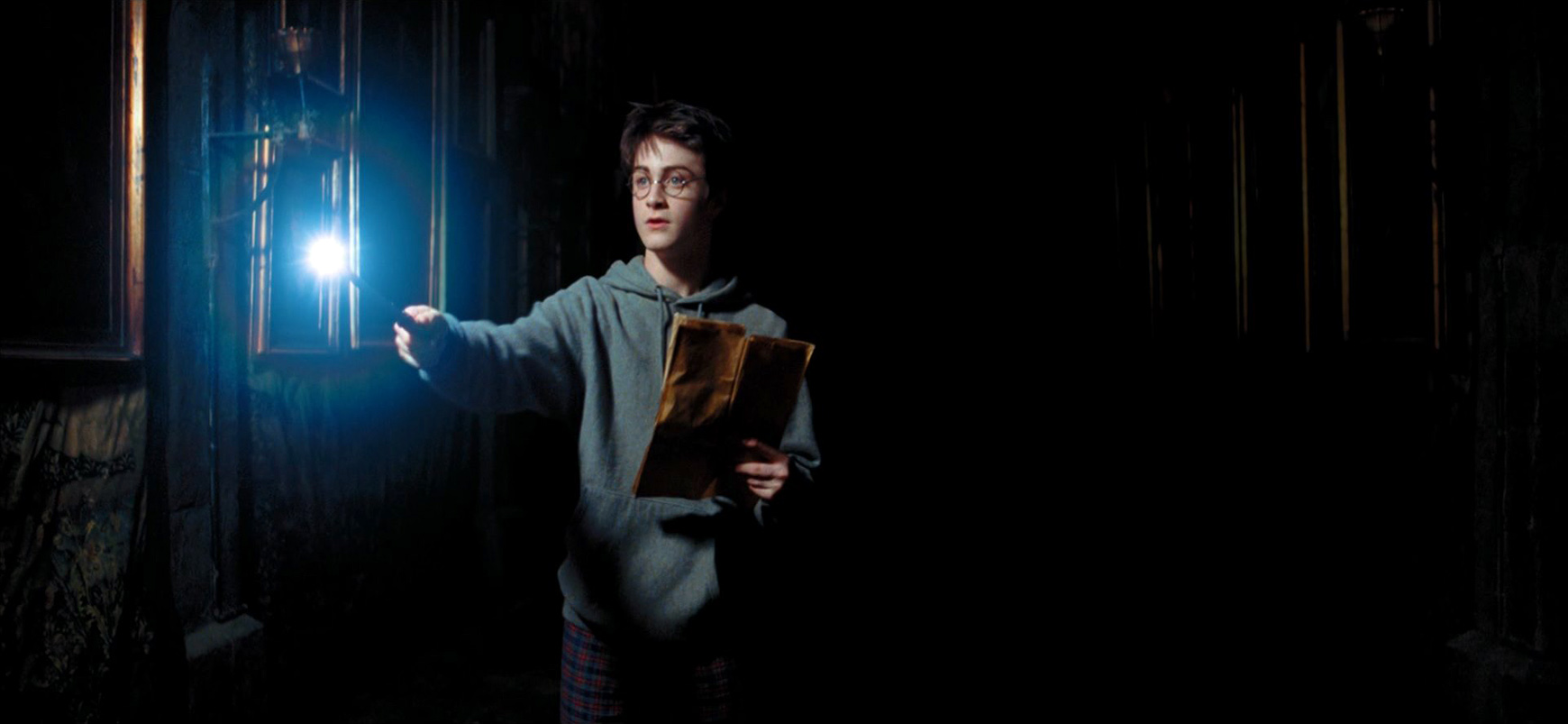 ---
⬇️⬇️ Scroll down in the below area to read all captions from this week! ⬇️⬇️
---
Harry: Now I know why Ron and Hermione's dots were so close together…
-Olivia M.
---
Harry: *Pokes the ball of light* Are you a good witch, or a bad witch?
Tinkerbelle: Faerie…
Harry: Oh, right. Well, are you a good faerie, or a bad faerie?
Tinkerbelle: Keep poking me, kid, and you'll find out…
-Silver
---
Harry: *Grumbles* 'If another moth flies into my wand, I'll scream!'
-Nicky
---
'Okay. With this bright light, nobody will see me. They will be too busy looking at it!'
-Kyrsten
---
Harry: *Singing to Snape* Yoouu… light up my liiiife…
-Q.M.
---
Harry's Blair Witch Project Moment
-Rachie
---
Harry: 'And tomorrow, looks like cloudy with a chance of rain. High 78, Low 56. Look for higher temperatures later in the week.'
-Amy
---
I AM HARRY JAMES POTTER
HE MARRY A SMART PIE JOT
JAM IS A MERRY PORT HATE
I MAY STOP METER JAR RAH
I HATE MY PORT JAR SMEAR
A MARE IS JET RAM TROPHY
Harry's attempts to duplicate Tom Riddle's writing spell always resulted in frustration.
-Sandi
---
Headlines: Harry Potter's Secret Affair with Tinkerbelle – Revealed!
-Ashlin
---
Harry: E.T. Phone Home…
Marauder's Map: Mr. Moony would like to announce that you're in the wrong movie…
-Teresa
---
Picture: Put out that light, boy!
Harry: Light? I love light! Seeing it? Are you kidding me?! It's so bright! What kind of lottery did my eyes just win?! And it's free! Don't even get me started! *Blinks* Whoa!
Old Navy Announcer: The effects of feel-good fashion…
-Amanda
---
Harry failed to make the Hogwarts Chorus, despite his added flair to 'This Little Light of Mine'.
-Alison
---
Harry: How long do I have to keep this stupid look on my face for?
Wand: Shut up! For once I'm in the spotlight!
-Dhakshi
---
Harry: How come my wand lights up like a torch and Hermione's just glows like a candle?
-Tsha
---
Harry: 'Let's see… who's on the map? There's Sirius Black, escaped murderer, Peter Pettigrew, supposedly dead guy, and later there's Barty Crouch, disappearing man. Oh, sure, Fred and George. Lots of fun, this map…'
-Austin
---
'Hmm. According to this Magical Creatures Field Guide, this species of fairy explodes into gigantic balls of fire when prodded with short, pointy sticks. I wonder if that's true?'
-Sensoipunt
---
'Oh no! It's the new Fanfic section of MuggleNet! Keep away, evil shippers! Keep away!'
-Sarah
---
'Darn it! Why couldn't this be a lightsaber instead?!'
-Kat
---
Harry: H.P. phone home…
Cuaron: Spielberg's vandalized the script again, hasn't he?
-Cody
---
Harry: Dang Fred and George's 'Moon-Finger Chews'…
-Madz
---
Map: Messrs. Moony, Wormtail, Padfoot, and Prongs proudly present: The Marauder's Easy Charm for the Lost Wizard.
Harry: Ah, good!
Map: To conjure up a guide who will take you back to a place you recognize, please do the following: Stretch out your wand hand, say our foolproof charm firmly and clearly, and within mere seconds your guide will appear. The charm is 'SnapeIsAnUglyGit'.
Harry: *Recites* SnapeIsAnUglyGit!
Snape: *Behind Harry* Ahem…
Map: Have a nice day!
-Linda
---
Snape: What are you doing out so late, Mr. Potter?
Harry: Practicing for a power blackout, sir…
Snape: But we don't use electricity.
Harry: Darn! That was my best excuse!
-Anthon
---
[otw_shortcode_button href="http://www.mugglenet.com/fans-fun/crazy-caption-contest/" size="medium" icon_position="left" shape="square"]Return to Caption Contest Home[/otw_shortcode_button]