CC #110: Week of November 28, 2004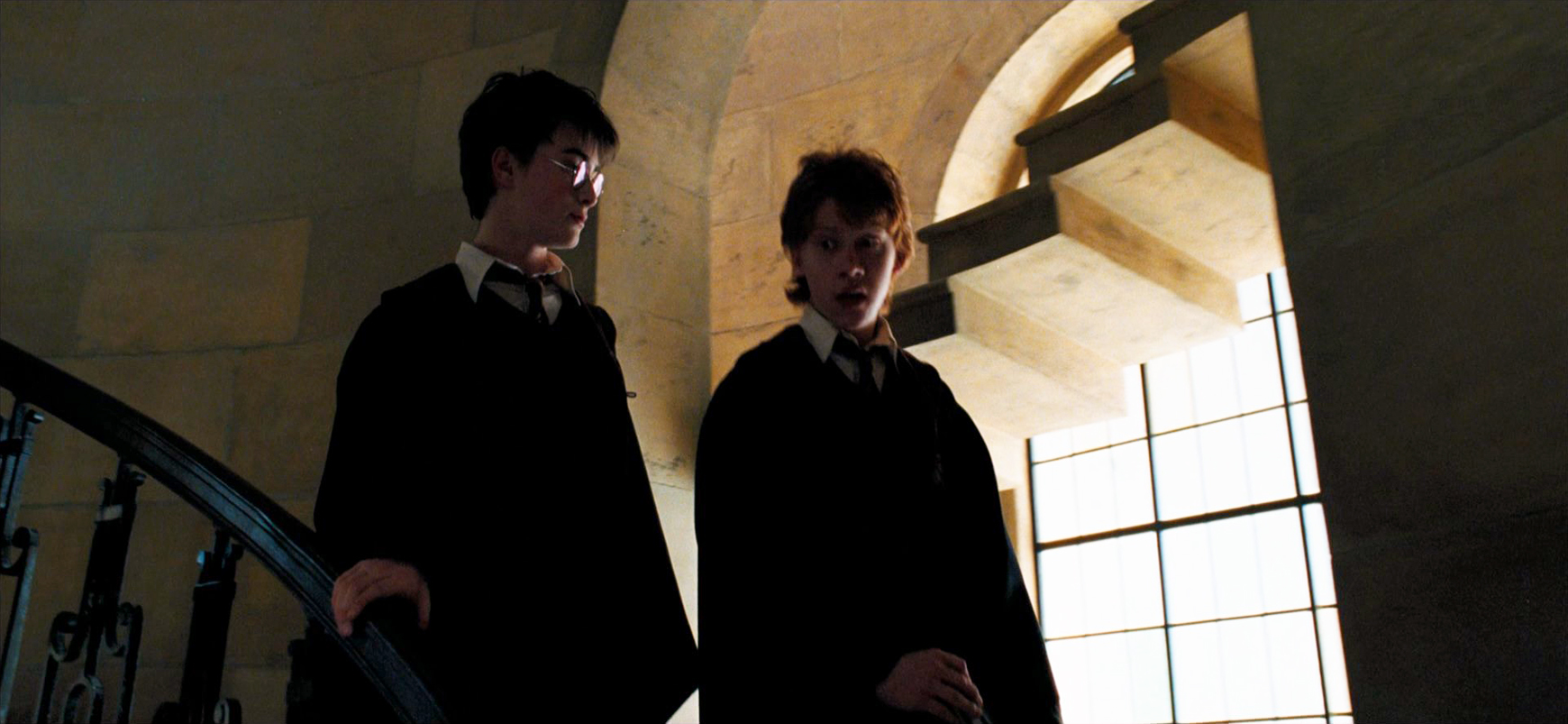 ---
⬇️⬇️ Scroll down in the below area to read all captions from this week! ⬇️⬇️
---
Harry: So, uh, Ron… Are you and Hermione… going out?
Ron: …No comment.
-Andee
---
Daniel: Err… Rupert? Aren't you supposed to be the tall one? And aren't I supposed to be the one who has the messy hair?!
Rupert: It wouldn't be the first time they've stuffed up. What happened to Hermione's bucked teeth?
-Jamie
---
Ron: Harry, why is it so dark in here?
Harry: Well, they did say the movies were going to get darker, darker, and darker…
-Jaclyn
---
Harry/Ron Shippers: Yay!
Everyone Else: This is getting really old…
-Lucy
---
Harry: 'Maybe if we stay still and stand in the shadows, the fan fiction writers won't see us…'
-M
---
Due to fund cuts, the PoA team had to borrow the stairs from Labyrinth.
-Julez B.
---
'So, Harry, do you think they're intentionally keeping us in the dark about the HBP release date?'
-F.T.
---
Ron: *Shouting to Alfonso* 'Yeah! This window scene is great! With the glare from Harry's glasses, you can't even tell that his eyes aren't green!'
-Monica
---
Ron: So, do you think the June release date is true?
Harry: It better be. She better pick up the pace real soon, or book seven is bound to be 'Harry Potter and the Escape from The Nursing Home'…
-Ella
---
Harry: Look, that's Trelawney's crystal ball. Lets give it back to her…
Ron: Hell no, I'm not going back up there!
Harry: Huh?
Ron: I might walk through fire and face both death and You-Know-Who for you, Harry… but going up a few stairs is just too much for me!
-Confice
---
Harry and Ron express their desire to be just like Professor Snape by spending the day lurking around in the shadows.
-Leatah and May S.
---
Ron: Wow. The way Hermione stormed out of that classroom, she was so… strong… and beautiful… and…
Harry: …
-Claire
---
Ron: Hey, Harry… is there a reason for why our faces look so dark?
Harry: Darn Management… 'DVD-Quality Caption Pictures', my broom!
-Bernie
---
Harry and Ron hoped the dramatic backlight would help them 'get chicks'.
-Cindy
---
Little did Ron realize it, but Harry had been trying to blind him with the glare from his glasses for a little over an hour now…
-Brian S.
---
When JKR wrote in her books that 'Harry lit up with enthusiasm', she hadn't meant for Alfonso to take her seriously.
-Sarah
---
'So this is foreshadowing!'
-Tracy
---
Harry and Ron practice a graceful descent for the first annual Mr. Hogwarts Competition.
-Tee
---
Harry: What if I tell the one with the troll, the mermaid, and the wizard?
Ron: Face it, Harry. You've got the angst thing down, but you don't possess half the wit necessary to win the Caption Contest…
-Anyana
---
*Coming down from the North Tower*
Ron: I can't believe Trelawney made you do that for bonus!
Harry: Yeah, me neither. The Robot's not as easy as it looks…
-Kerri
---
Ron: Harry? Is it just me or does your scar move around?
Harry: No, it's been doing that ever since Alfonso started directing.
Ron: Really? Strange.
-HollyisShort
---
Ron stops to reflect as the full impact of Harry's 'the birds and the bees' speech finally sets in. However, one question remained in his mind.
Ron: 'Is Hermione the bee? Or… am I?'
-Ann M.
---
Ron: But, if your destiny is Twinkies, then…?
Harry: 'Then…'?
Ron: Then where's the cream filling?
-Eric (Staff)
---
[otw_shortcode_button href="http://www.mugglenet.com/fans-fun/crazy-caption-contest/" size="medium" icon_position="left" shape="square"]Return to Caption Contest Home[/otw_shortcode_button]