CC #111: Week of December 5, 2004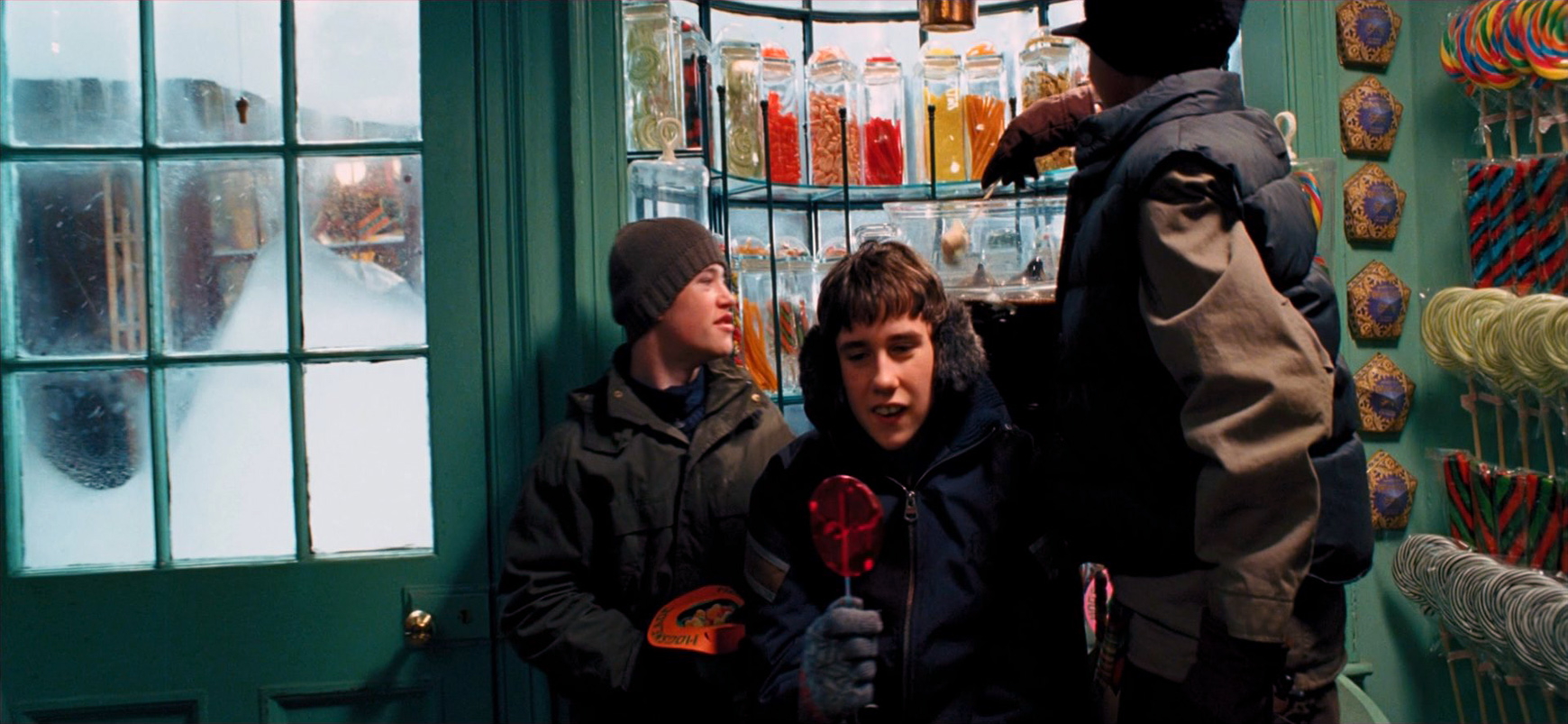 ---
⬇️⬇️ Scroll down in the below area to read all captions from this week! ⬇️⬇️
---
Neville: *Singing* 'It's the good ship lollipop. It's a nice trip to the candy shop!'
-Feebi
---
Neville: My precious!
-Mrs. Fallon
---
Neville and Lollipop Shippers: Yay!
-Libby
---
Neville: Finally, for the first time in my entire, deprived life, I am tasting the essence of a lollipop, and am hopefully about to experience a sugar rush!
Harry: I'll be taking that, thanks…
-Joel
---
Neville didn't realize he had chosen a 'Giant Sideburns' lollipop…
-Laura
---
No matter how hard he stared at the lolly, Neville could not turn it into Hermione.
-No1
---
Thanks to the promise made to him by The Management that the Caption Marquee wouldn't distract people anymore, Neville could finally enjoy his lollipop.
-Riley
---
Neville: We represent the Lollipop Guild!
Seamus: The Lollipop Guild!
Dean: The Lollipop Guild!
Alfonso: Cut! Those copies of Harry Potter and the Wizard of Oz were just a joke!
-Becky
---
Neville launches his singing career with a small gig at Honeydukes.
-Olivia M.
---
Neville: 'We're live here at Honeydukes where, quite frankly, it's a madhouse! It seems that someone alerted the public that with every purchase of Cockroach Cluster, another chapter of Book Six will be completed. While some see this as a Honeydukes marketing ploy, others have obviously taken it to heart, and the unpopular candy is now almost sold out. Management, back to you!'
-Katie
---
Neville: I don't care what Seamus says. If people can spend 3 minutes and 15 seconds staring at the Caption Marquee, then I can spend just as long staring at this lollipop!
-Quidditchmoke
---
Neville: 'What is it with the dancing? A few weeks ago it was ''The Robot" and now suddenly the guy next to me is doing ''The Egyptian"?!'
-Jay
---
Neville: *Sings to his lollipop* Oooh, you make me live. Ooo ooh, you're my best friend… Do you think I could be the next British Idol?
Seamus: Yeah, whatever.
-Angela
---
Seamus: 'Well, Harry's up at Hogwarts, Ron and Hermione are off walking in the snow… There's not another really famous actor in site… THIS SCENE IS ALL OURS, BOYS!'
-RJ
---
Seamus: So, you guys want to visit the Shrieking Shack after this?
Neville: Nah, I don't believe in restless spirits. It's all a bunch of nonsense to attract tourists. Okay, if there are any restless spirits listening to me now, I don't believe in you, so if you're going to do something creepy, you had better do it now!
Harry: *Steals Neville's lollipop*
Neville: …
-Malka
---
'Hey, cool! Remembrall on a stick!'
-Johnnita
---
Neville does his best Princess Leia impression.
'Help me, Lollipop Kenobi; you're my only hope…'
-Kasia
---
Neville/Lollipop Shippers: Yay!
Eric: If you guys don't shut up with that annoying shipping, I'll have to ban ALL 'shipping' captions!
*Silence*
Eric/Angst Shippers: Yay!
Eric: *Groan*
-Kathy B.
---
Neville practices for the upcoming Karaoke Night at Hogwarts.
-Ryan
---
Neville: 'The Management says that The Caption Marquee of Good Newsness will no longer take away from the Caption Contest. Pff, yeah, and some invisible person is gonna steal my lollipop…
-Cassie
---
Neville: This looks really good… but so did that nasty broomstick in First Year and those pixies in Second…
-Peachy
---
Seamus: You're right, Dean, Neville's earmuffs are furry like a bunny…
-Heather
---
Dean: Hey, guys, my teapot impression is way better than Professor Trelawney's!
Neville & Seamus: Erm…
-Danielle
---
Neville: All right… Bunnies. They're fuzzy. *In sudden panic* And they're ATTACKING MY HEAD! AAAAH!
-Jade
---
'Call my baby lollipop
Tell you why
Her kiss is sweeter than an apple pie
And when she does her shaky rockin' dance
Man, I haven't got a chance!'
[Refrain]-Eric (Staff)
---