CC #132: Week of May 1, 2005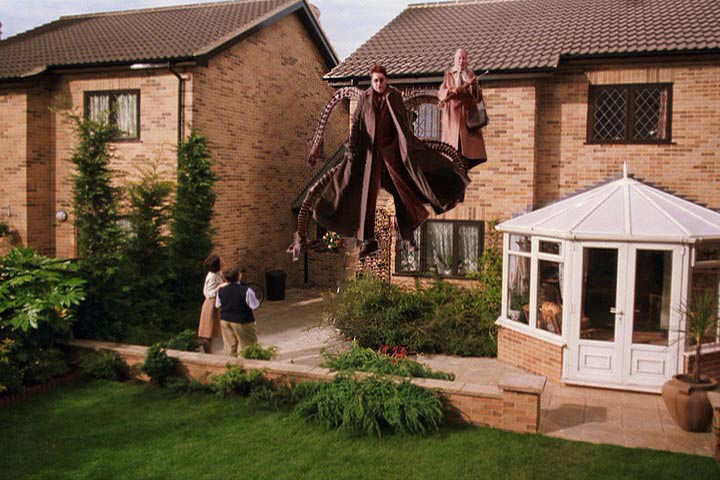 ---
⬇️⬇️ Scroll down in the below area to read all captions from this week! ⬇️⬇️
---
Aunt Petunia: 'Vernon, we really must trim that Octupus plant. It's taking over again.'
-Jeweled Jade
---
A Ministry of Magic Muggle Relations Film…
Arthur Weasley: *Voice Over* Many Muggles will go to any lengths to ignore magic, even when it's staring them in the face…
-Hannah
---
Harry: Can I ask you a serious question?
Doc Ock: Yeah, go ahead.
Harry: In a fight between me and Spi-
Doc Ock: He'd snatch your wand away from you with his webs in a heartbeat.
Harry: Darn…
-Angel
---
Doctor Octopus: I'll be back…
Dudley: Wait… isn't that from The Terminator?
Doctor Octopus: -And I could have been Governor of California too, if it wasn't for you meddling kids!
Dudley: …
-Arefin C.
---
Dudley: Auntie Em! Auntie Em!
Petunia: That's not Auntie Em, Dinky Dums, that's Peter Pettigrew's Aunt!
Dudley: Peter Pettigrew? Who's that?
Petunia: Oh… Hmm… I don't know. Maybe it was Peter Piper?
-Kevin
---
Dudley: Mum… Mummy! What's that?!
Petunia: Just close your eyes, Diddykins, and it'll go away. It's just another one trying out for the role of 'Giant Squid'.
-Catherine
---
'Hi, we spoke on the phone…I'm from Mary Poppins' Nanny Agency…'
-Acanthus
---
'Thank you very much, but we said ''Aunt Marge", not ''Aunt May"!'
-Charles
---
Petunia: 'Harry?! Have you been practicing the 'M' word again?!'
-Lauren
---
'HA! With this new machine, I'll be able to lick ALL of my elbows!'
-Nick
---
Petunia: 'Vernon! You know better than to go out in public in your Doc Ock PJs! Now come down from there and put down poor Mrs. Figg!'
-Jillian
---
Harry: Hmm…seems like Aragog's been getting frisky with the Muggles again
Aunt Petunia: Oh dear
-Idril
---
Dudley: 'Mum! Make it stop! They're screwing up the TV reception and it's almost time for The Great Humberto!'
-Susanna
---
Salesman: 'Now, the Supervac 3000 has great special features, including a super-jet booster pack, multiple hoses to allow for a more efficient clean, as well as enough power to lift dear old Aunt May right off her feet. And just for you I'll throw in a pair of super villain sports goggles, free of charge!'
-Kori
---
Dr Octavius begins using his powers for good, deflating Aunt Marge and returning her back to the Dursleys.
-Jake A Ralphing
---
'Are you the judges here to see our lawn?'
-Luke B.
---
Bird watching can be a somewhat peculiar affair – with a wizard in the neighborhood…
-Louise
---
The Dursleys quickly decided that Mad-Eye Moody wasn't so disturbing after all.
-Notabene
---
Uncle Vernon: 'Get your blasted tentacles off my house! We just finished remodeling it!'
-Allison
---
Dudley: Holy cow!
Doc Ock: I think the proper term would be 'Holy Octopus'.
-Meghan R.
---
Voldemort: Where does it say I can't?
Dudley: *holds up a purple book entitled 'Da Rules'* Right here!
Voldemort: *Picks up book and reads the passage about evil villains and phony implants* Well, I'm keeping them!!!
-Lauren X
---
Flying Mad Scientist Mystifies Muggles.
-Rina
---
Doc Ock: *Maniacal laugh* Soon my aunt farm will be complete. First Aunt May, now Aunt Petunia! Hey, fatso, which way to Kansas – Auntie Em is next!
-Bill
---
Uncle Vernon: 'This is what happens when you get a roofer from the yellow pages…'
-Sarah A.
---
Member of the Accidental Magical Reversal Squad: Harry Potter! You put Mrs. Figg down right now, and no more casting spells on yourself! You're already breaking the Statute of Secrecy!
Harry: Cat lover!
-Miro
---
Dudley: Sir, you missed a spot on that window over there.
Octavius: Right-O…
Petunia: Honestly, you would think with 8 arms he would be better at this!
-David
---
Harry: *Shouts from flying car* 'TOLD YOU I HAD FRIENDS IN HIGH PLACES!'
-Jenn
---
Left House:I think Doc Ock is trying to separate us…
Right House: I just want you to know…I love you.
Left House: Psh, forget that!
-Patrick H.
---
Harry Potter and the Order of the Octopus.
-Jane
---
Dr. Octopus: This is what happens when you refuse to buy my Girl Scout cookies! Don't let it happen to you!
Dudley: Did you say cookies? GIMMIE!
-Megan J.
---
Doc Ock became extremely offended when Mrs. Figg asked if she could use one of his many 'can-openers' to open some cat food.
-GoSpursGo
---
When the last of Marge's buttons popped off, it became clear that Harry wasn't the only one keeping a secret from the general public.
-Courtney
---
Few knew that when the giant squid accidentally swam through nuclear waste, the future of the entire world was at stake.
-Aileen
---
'Did somebody say "Gazebo Party"?'
-Ahsas
---