CC #148: Week of August 28, 2005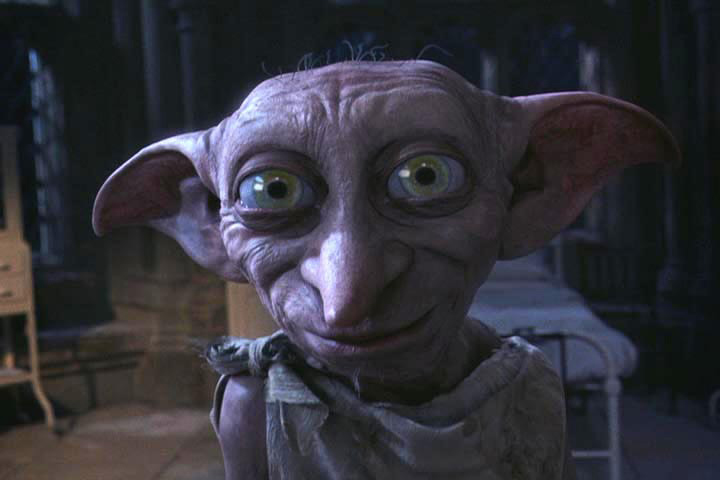 ---
⬇️⬇️ Scroll down in the below area to read all captions from this week! ⬇️⬇️
---
Dobby: 'Allo!
Harry: Did you say 'Hello'?
Dobby: No, I said 'allo. But that's close enough!
-Meg
---
Dobby: 'Malfoy is a kind man. *Nose extends* Ohh!'
-Stephen
---
Dobby: Look at me Harry Potter!
Harry: Why?
Dobby: *Does funky victory dance* I'm a real boy, I'm a real boy!
Harry: …
-Jessica L.
---
Book 7: Harry Potter and the Back-Alley Plastic Surgeon
-Marli
---
The REAL reason Dan & Rupert have ridiculously long hair…
Dobby: 'Harry Potter must not go back to the hairdresser's!'
-Kaeli K.
---
Dobby: Dobby will do whatever Harry Potter says! Dobby would follow Harry Potter to the end of the world if he asked!
Harry: Really? Well then could you please go get me that can of pop from the fridge?
Dobby: Pfft, what do I look like, a house elf?!
-Jinxmaster
---
Dobby: Hello!
Harry: What're you doing here, Dobby?
Dobby: Haven't you ever heard of a male nurse? Stop livin' in the past, man!
-Emily-Mae
---
One dark and stormy night, Harry Potter awoke with a start, only to find what he feared most mere inches from his face: Dumbo and Pinocchio's offspring.
-S.G.T.T
---
Warning: Staring into this house-elf's eyes to long will give you the uncontrollable urge to bang your head against the computer screen, and crush your fingers under the CPU.
-Necro
---
Dobby: 'Excuse me sir, but Dobby wonders if you are an imprint of a departed soul?'
-Vivienne
---
Dobby: Dobby is most ashamed of sending that bludger at you.
The Rock: The Rock would have laid the smack down on that bludger.
Bo Jackson: Bo don't know nothin' about bludgers.
Harry: Will you all PLEASE stop talking in the third person?!
-Bean Eater
---
Parent or Teacher: 'Now, kids, this is what you will look like if you drop out of school, do drugs, or are just born a house elf…'
-Slick
---
Harry: Why are you so happy? You nearly got me killed!
Dobby: Dobby is not really smiling, sir, It's just the botox.
-Cappa
---
Dating Service Record:
This is Dobby, the house-elf. He enjoys long walks on the beach, collecting socks, and saving Harry Potter from mortal danger.
Dobby: 'Do you like socks? I have eleven, now!'
-Brittany
---
Dobby: *Thinking he's in a staring contest* HA! Dobby has won! MuggleNet fan has blinked… again…and again… and again…
-Lundsay C.
---
'Mr. Wonka, do you remember me? I used to work for you!'
-Scythe
---
Ross Perot was never the same after he put all his savings into Enron stock.
-Steve
---
Dobby: *Singing* Dobby keeps Hogwarts, clean with the magic; Dobby's got the magic of… CLOROX!
Harry: You see, Hermione, house-elves are HAPPY. And they get paid extra for product-placement!
Hermione: …
-Adam O.
---
—Continuation of Sierra's caption last week—
Harry: *Wakes up in hospital wing, staring at Dobby* Where am I?
Dobby: Master must give Dumbledore lemon drops next time he goes to his aunt's house!
-Rama
---
—In response to the Eric's note on W.V.P.T.'s caption last week—
Caption goers: *Google 'WVPT' * Huh? What does PBS have to do with Moody?
Some other Caption goers: *Google 'Marty Feldman' * Ahh…I get it!
Some more Caption goers: *Google 'Rooster Cogburn' * Oh! That makes sense now!
Blonde Caption goers: *Google 'it' and get Dobby's face* Aaaah!
-Olivia M.
---
MuggleNet presents: How to get your own computer!
Step 1: Right click on above image
Step 2: Highlight 'Set as background'
Step 3: Tell your mother she can use the family computer now, keeping MuggleNet open to hide the new background initially.
Step 4: Listen to her scream.
Step 5: 'If I get you your own computer, will you promise never to make me look at that background again?'
-Sean
---
Dobby: 'Hello, boys and girls, I is Dobby and today on Dobby's Playhouse we will learn how to get a famous wizard to free you from your evil master!'
-Paige
---
—In continuation of Andrea's caption last week—
Side effects of the 'New Diet Caffeine Free Cherry Vanilla Lime Papaya Dr. Pepper with Splenda'…
-Sonay
---
Harry: *Dreaming* Oh, hi Ginny… Oh… err… *kissing Ginny in his dream*
Dobby: …Harry Potter?
Harry: *Waking up, startled* Yes, Gi – ARGGGGGHHHH!!!
-Helene
---
Funny Ways Voldemort Won't Die:
89) Put Dobby on top of him while he's sleeping, so that when he wakes up he's frightened to death.
-Rina
---
Dobby: *Thinking* How come every time I'm in a Caption Contest I'm standing on a bed?
-Modesty
---
Dobby: Please, sir, Dobby thought his bludger would be enough to make Harry Potter leave Hogwarts.
Harry: That was your bludger? You better hope the bones in my arm don't grow back or I might choke you!
Dobby: *Thinking* Perhaps Dobby should not tell Harry Potter about the Blast-Ended Skrewt waiting upstairs for him…
-Kellie
---
'Yes Harry Potter, Dobby IS the cross between a bat, a bulldog, Gollum, an elf, Pinocchio, E.T, a skinless cat, and El Chupacabra, thank you very much!'
-Nic
---
Harry Potter and the Over-Grown Tamagotchi
-Miss Syd
---
*INFOMERCIAL*
Dobby: 'Is your name Eric? Have you been randomly watching Disney Movies, such as Aladdin? And then making a huge effort to see a connection between it and a freeze frame from Harry Potter and the Goblet of Fire? Then we have the product for you!'
-Leah
---
Girl behind 'Dobby' mask: Emerson must not go back to Notre Dame!
Emerson: Oh, no, not AGAIN….
-Miss Ob1
---
'Harry Potter! Sanctuaryyy!'
-Arimalka
---
Harry: 'Nice Godfather, Dobby! …Now do Snape!'
-Deanna
---
At the Chamber of Secrets Dobby Auditions:
Chris Columbus: 'That is one nice headshot…He's in.'
-Liz
---
Harry: What you lookin' at, Willis?!
Dobby: Sir… the name is Dobby!
-Mimi
---
Do you ever get the feeling that somewhere, somehow, a well-intentioned house-elf is trying to kill you?
-Seriana
---