CC #152: Week of September 25, 2005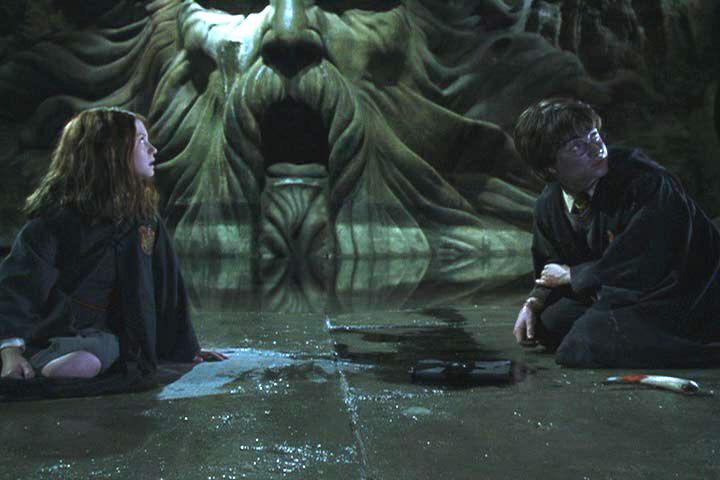 ---
⬇️⬇️ Scroll down in the below area to read all captions from this week! ⬇️⬇️
---
Harry: *Fakes an injured arm* Oh, Ginny, it hurts real bad!
Ginny: What can I do?!
Harry: Well… I've heard kisses have healing powers…
-Martha
---
Slytherin Statue/Harry: Hi! I'm Salazar Slytherin.
Ginny: Wow, Harry! You're such a brilliant ventriloquist!
-Sarah
---
…And as the water swirled about the boat and deposited him and Ginny on the floor of the Chamber of Secrets, Harry realized what an awful shipbuilder he was.
-Olivia M.
---
Harry: I think Snape is the Half-Blood Prince…
Ginny: If that's true, then Lockhart can fly.
Lockhart: *In background* Amazing! This is just like magic!
-Prachi
---
Ginny: It's Lord Moldy Shorts!
Harry: …Without the shorts…
-Urupi
---
Ginny: *Sees Harry land and sings* 'It's raining men! Hallelujah, it's raining men!'
-Allyssa
---
Harry: 'Look, Ginny, I know you come from an old wizarding family and all, but… on our next date, could we go without the giant snake chaperone?'
-Silwed
---
Ginny: Harry, you're going to have to kiss the dead basilisk before you could be with me!
Harry: Ginny, I can't be with you until the 6th book! You know that…
Ginny: You're in love with her, aren't you?!
Harry: With who?
Ginny: Jo!
Harry: After what that woman put me through?!
-N*Maiore
---
'Jumangi!'
-Laura
---
Fawkes: *Swoops in*
Riddle: Darn…
Ginny: We're saved!
Fawkes: *Catches fire*
Harry and Ginny: Darn…
-C.C.
---
Man: *In background* 'Uh, honey, I shrunk the wizards…'
-Ellie
---
Harry and Ginny are about to discover the horror of Slytherin's monster…
Harry: Aaah! It's a herd of meese! Run away!
Ginny: *Running* I thought the plural of moose was moose!
Harry: *Running* Is that really the issue here?!
-Malka
---
Harry: 'Hey, I finally fit in somewhere! I match the diary and the shadows in Slytherin's eyes!'
-Nowink
---
Harry: Ginny, is that what I think it is?
Ginny: No, it can't be….
Harry: But it is!
Ginny: It's an entire WALL with Dumbledore's face on it!
Harry: Imagine how much we can make for this on eBay!
-Kellie
---
Harry: Ginny? Doesn't Fawkes remind you of one of those Pokemon characters?
Ginny: Wow, yeah, he does!
-Glynnis
---
Tom Riddle's dairy, and Harry and Ginny together alone. Wow, the HBP spoilers just seem to write themselves these days…
-Dandman
---
This is what happens when Hogwarts' musical production of Cinderella is attacked by giant snakes….
-Mizzie
---
Riddle: Visage Pixilatum!
Harry: NO!!!
Ginny: We don't belong on Crimewatch!
-Mareo
---
Ginny: …*Gapes*
Harry: …*Gapes*
Salazar: …*Gapes*
Basilisk: *Off screen* …*Gapes*
Tom Riddle: *Off screen* …*Gapes*
Ron: *Off screen* …*Gapes*
Fawkes: *Off screen* …*Gapes*
Sorting Hat: *Off screen* …*Gapes*
Gilderoy Lockhart: *Off screen* …*is unclothed* WHAT!?
-Adriana
---
Harry and Ginny slowly look up at the giant electronic billboard that reads: 'GINNY, WILL YOU MARRY ME?'
-Helene
---
Ginny: Harry … I don't think this is the best of times, let alone places, to start a game of marbles…
Harry: Oh, come on Ginny! Just ONE game!
-Kerry
---
Ginny: *Raises eyebrows Isn't this a wrong time to ask me out, Harry?
-Izzah
---
The Muggle game 'Spin-the-Bottle' soon became the party game of choice for wizarding teens, though they opted for the slightly different version: 'Spin the Highly- Venomous-and-Deadly-Snake-Fang'.
-Courtney
---
Mrs. Weasley: GINNY WEASLEY! You're entirely too young to be playing 'Spin-The-Basilisk-Tooth' with a boy!
Ginny: Aw mom. And I was just about to get to kiss Slytherin's statue…!
-Gerg
---
Ginny: 'Harry, the plot point is getting soaked…'
-Bethany
---
—In continuation of Danni's caption last week—
Ginny: ?tes-vous l'impression d'une ?me partie?
Eric: …OR in French!
-Katy
---
Harry: Ginny, are you still wearing your shoes?
Ginny: No, they're gone! Why Harry?
Harry: Someone must have taken them- look, over there.
Ginny: What do you see?
Harry: Footprints, leading away. You know, imprints of a departed sole?
-Lorione
---
Ginny: I'm so sorry, Harry! I'm the one who wrote those horrible things on the walls. But I didn't want to, honestly! Tom Riddle made me do it. Just look at what he forced me to write on that wall behind you!
Harry: 'Listen to MuggleCast'?
-Elizabeth
---
—Continued from the May 4th-10th, 2003 caption—
Just when they thought for sure it was gone….
Ginny: Um, Harry?
Harry: Yes? …*looks back* Oh no…
*berkok!* *berkok!*
-Carrie
---
Harry Potter and the Giant Green Egg that Hatched
-JM
---
Harry: Hagrid? What are you doing down here? What is this giant statue?
Hagrid: I jus' wanted a snack. Tha's no statue 'Arry, it's me Pez dispenser.
-Flotch
---
Upon hearing that Mrs. Weasley found them both, Harry and Ginny had to come up with an excuse why the two of them were together in a wet creepy dungeon…
Harry: 'We're canon now… it's okay!'
-Kittea
---
Ginny: Wow! What an epic battle! You just killed that thing like nothing!
Tom: *runs in* Sorry I'm late! Let's match the power of Harry Potter against Lor- … …*sees dead basilisk* Mr. Slythers? NOOOOOO!
-Jinxmaster
---
*Awkward silence*
Harry: '…Soooo…. how 'bout them Yankees?'
-Hayley
---
After Tom Riddle was defeated, Salazar tried to lighten the mood a bit.
Slytherin: Sooo… How 'bout them Red Sox?
-Marli
---
Ginny: 'Well… the tooth fairy's gonna have a field day.'
-Amanda
---
Harry: *to Tom Riddle's memory* Hello. My name is Harry Potter. In a future you're not aware of, you killed my parents. Prepare to come as close to dying as a seventh part of a soul can come.
Ginny: Do we REALLY have time for this?
-Saintom
---
Ginny: You really know how to pamper a girl on dates, Harry…
Harry: what? You said you liked adventure and mystery!
-Megan J.
---
Harry Potter and the Extremely Dangerous Miniature Golf Course
-Fox
---