CC #153: Week of October 2, 2005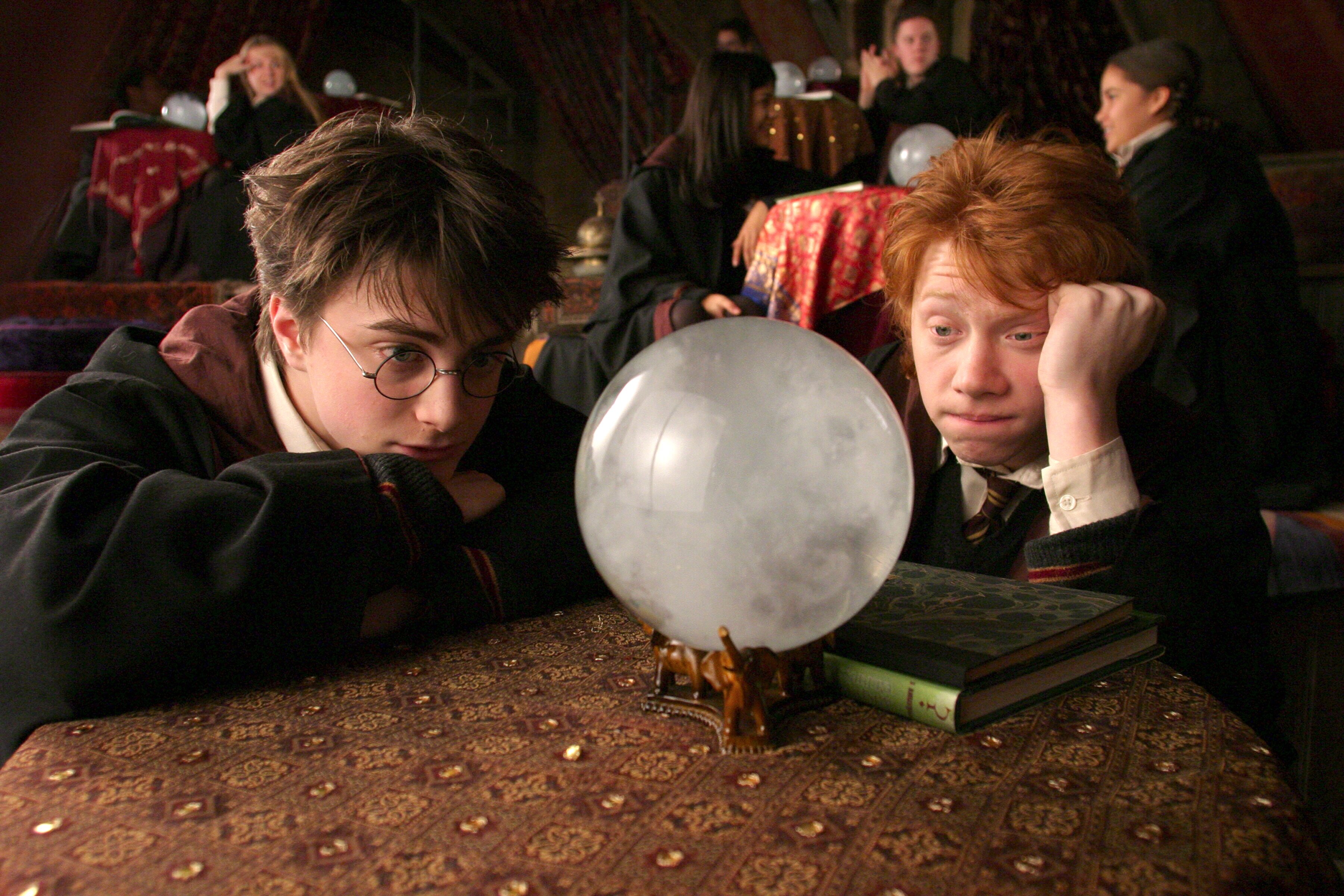 ---
⬇️⬇️ Scroll down in the below area to read all captions from this week! ⬇️⬇️
---
Harry: Man, this is great! I can't believe Hermione knew a spell that would let us watch HBO in our crystal ball!!!
Ron: Yeah, but I wish we got more channels; all these chick flicks are driving me nuts!
Harry: *mumbling* I kinda like them…
-Barrett
---
Harry: I can't believe that Todd would do that to Jasmine! Poor Jasmine, she needs to tell Todd about her life-threatening disease.
Ron: It's great that this crystal ball gets cable…
-Y.M.
---
Harry: I think it's about time to drop this class.
Ron: I agree. We're just no good at seeing the future.
Harry: I only wish we would have quit before I thought I saw the Indians beating the Red Sox in the A.L. Wildcard in this stupid ball!
Ron: Tell me about it. I lost a fortune in bets…
-TDrizzle
---
Harry: Notice any change yet, Ron?
Ron: Yeah, that speck right there? It moved!
-Austin
---
Harry: Professor Trelawney said she saw the grim, but all I see is a frantic rat. You think it means anything?
Ron: Pssh, of course not!
-Haley
---
Harry: See anything?
Ron: Yeah, it's telling us to get a haircut…
-Helana
---
Ron: What do you see, mate?
Harry: I see you wearing a lacey dress.
Ron: What?!
Harry: Oh, sorry, that's just your Yule Ball suit…
Ron: …
-Carm
---
Harry: 'That does it! We're switching to Dish Network!'
-Dr. B. Shadow
---
Ron: Wait, my dad just told me about a Muggle device like this. *Picks up the crystal ball* Is Harry's scar a Horcrux?! *Shakes ball*… …I'm not getting anything. *Puts it down*
Harry: …*Facepalm*
-Jinxmaster
---
Ron: Have you ever wondered what that smoggy stuff in crystal balls is?
Harry: Maybe it's like those Muggle Magic Eight balls. Let's give it a shake!
Crystal Ball: The future is cloudy. Try again later.
Harry: *Blinks* How… appropriate…?
-Cel Hiss
---
Blonde girl in the back *waving*: HI MOM!!!
-Sporcrux
---
Trelawney: *Walks in and starts pointing to random students as she speaks* Let's see. Poor, evil, rich, bad attitude, clumsy, squib, perfectionist, procrastinator, unclean, didn't shower last night. And, now that I've shown off, you all have A's for today. Class dismissed. *Walks out*
Harry: Honestly, I don't know why Hermione hates this class – it's the easiest A!
-Angel
---
Ron: 'Dude, this Cheech and Chong movie is awesome!'
-Big Al
---
Trelawney: Free your minds from all conscious thoughts!
Ron: …Well that's not a problem…
-Malka
---
—In continuation of Kerry's caption last week—
Harry: (Thinking) Wow… This baby would really look good in my marble collection…
-Jazza D.
---
Crystal Ball: 'Why is it that when people look in me, they always see death?!'
-U.M.
---
Ron: Harry, what do you see?
Harry: I see… Lavender Brown… and she is calling you… 'Won Won.'
Ron: Hah! Told you, ours is broken.
-Ivy
---
Harry: Hey Ron, what do you call a sheep with no legs?
Ron: A crystal bahh-
Harry: A cloud, you idiot.
Ron: That's dumb. I've heard that one before.
Harry: Oh yeah?
Ron: Yeah
Harry: Well then, knock knock.
Ron:! Who's there?
Harry: Interrupting starfish.
Ron: Interrupting starfi-
Harry *shoves his hand into Ron's face*
-Rina
---
Sometimes the future is just as boring as the present.
-Deeni
---
Harry: What are you watching Ron??
Ron: The Blur witch project.
-Melissa A.
---
Ron: *Making 'Psycho' violin sounds and stabbing motions*
Harry: Ron, you know threatening it won't do any good…
-Jade T.
---
Harry: 'You know, Ron… if I purse my lips this way… I think I can actually pull off a Mary-Kate Olsen impression!'
-Lulu
---
While Harry probes the mysterious orb for insight into the Horcruxes, Ron secretly desires nothing more than a revelation of Saturday's winning PowerBall numbers…
-Gigi
---
Trelawney: What is the difference between a crystal ball and a magic mirror?
Harry: Well, er…crystal balls are round…
Snape: VERY good, Potter…over 6 years at a magical school you've finally learned that crystal balls are indeed, ROUND.
-Adrianna
---
The class started to really think Professor Trelawney was really starting to go around the bend when she had them examining old crystal balls for next week's Antique Roadshow.
-Serena
---
Harry: What's this?
Ron: I don't know…
Millions of miles away…
Saruman: Where is my Palantir now?!
-Sophie E.
---
Harry: 'Oh, mighty and all-powerful snow globe! We bow before you and are your humble servants!'
-Megan J.
---
Harry: Whaddaya see, Ron?
Ron: …'Made in China'?
-Kay
---