CC #161: Week of December 4, 2005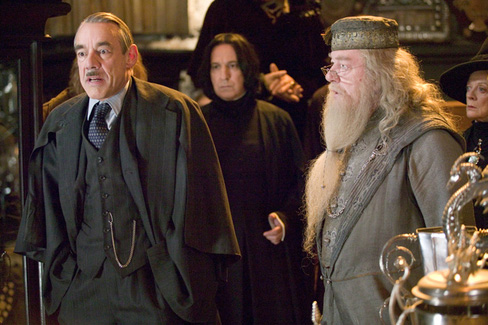 ---
⬇️⬇️ Scroll down in the below area to read all captions from this week! ⬇️⬇️
---
Crouch: Look out! Snape's got an invisible gun on me!
Dumbledore: Barty, I think your moustache is on a little too tight.
-C.R.
---
Dumbledore: Professor Snape! Don't shoot rubber bands at our visitors!
Snape: Sorry, Sir…
Dumbledore: *Silently to Snape* Good shot, though!
-Bryson
---
Severus Snape would long be remembered as the wizard who invented the Wedgie Maximus spell.
-W
---
Snape: *Thinking* Great. I'm stuck with a feminine Adolph Hitler and a man who puts his beard in a ponytail. Listen to them fawn over Potter. Screw this… I am going back to Lord Voldemort. At least he has Muffin Mondays…
-Kaida
---
Snape, McGonagall, and Dumbledore look on in sympathy as Crouch looks in horror in the mirror for the first time as an armless man.
-Amy
---
Snape: If you squatted down, Barty, and you wore high heels, Albus, we could look like those Cingular bars too!
Crouch: That's the most preposterous idea I've ever heard!
Dumbledore: Indeed! I only wear heels on special occasions!
Everyone: …
-M.W.
---
Harry Potter and the Three Wise Men
-Ivy
---
Crouch: Well, Dumbledore, of course I see the seriousness of the situation but I simply must insist that we continue as… *gasp!*
Dumbledore: Severus, for the last time – will you please refrain from using Occlumency to send the minister nude images of yourself?!
-Jennifer D.
---
Crouch: …And that, my dear friends, is the story of how I lost my arms.
Dumbledore: Would've made more sense if you'd lost your legs… Crouch. Get it? Crouch!
Everyone Else: UGH!
-Deppfan
---
Crouch: I never thought I'd see the day.
McGonagall: Oh dear…
Dumbledore: I guess Emerson won't be calling the Ben Schoen/Emma Watson shippers 'delusional.'
-Robert
---
Crouch: The rules are absolute. Potter must teach Gilderoy Lockhart how to tie his shoes.
Harry: *Thinking* Must run away… I wonder whether Sirius has any extra room in that cave of his… I wonder how rats taste?
-Malka
---
Dumbledore: Knock, Knock.
Crouch: Ugh…Who's there?
Dumbledore: Interrupting Sheep!
Crouch: Interrupting Sheep wh-
Dumbledore: BAAAH! *Goes into fits of laughter*
Crouch- Ah!! You scared the Cornish Pixies out of me!
-Lynden
---
Crouch, Snape, McGonagall, and Dumbledore were shocked when the Queen appeared and asked Dumbledore for her nightgown back.
-Dan
---
Barty: What is going on here?
Albus: I never liked this room. I set it on fire. Accidentally, of course
-Annika
---
If all French girls look like that, I'll have to move there…
-Emma
---
Snape: I love to point.
McGonagall: I love to have a sour face.
Dumbledore: I love Barty Crouch!
Crouch: Well I love my sanity, but we can't all get what we want!
-Rianah
---
Crouch: *Gasp* Albus! The hue of your cap and your robes are not the same! Someone call the fashion police!
Snape: *Pulls out stylin' fashion police badge* I'm here already.
Both: …
-Llama of Doom
---
Mr. Crouch: The Triwizard Tournament is not that dangerous, you just have to be stupid *cough, cough* skillful enough to enter it.
Harry: *Looks at missing arms* I see…
-N.T.
---
All: *In song* 'Adeste, fideles, laeti triumphantes, Venite, venite in Bethlehem.'
Snape: *In thought* …Just because we know a lot of Latin doesn't mean we should have to sing Christmas songs in Latin… doesn't mean we should have to sing Christmas songs at all….
-Myze
---
The NEW Maury Show
Dumbledore: The results are in!
Snape: And well… what is it?
Dumbledore: In the case of Severus Snape… you are …not… the father.
Crouch: I-I-I-I don't believe it!? *is shocked* Severus, you'll always be my child.
Snape: Get away, perv!
Crouch: *Cries and runs off stage*
-Ariel
---
Barty Crouch Sr.: Oh my god! I've just realized that my supposedly dead son is using Polyjuice Potion to turn into Moody!
Dumbledore: That's absurd!
Snape: Not possible!
McGonagall: Did someone forget to take their meds today?
Crouch: Yeah, you guys are probably right…
-Levi K.
---
Dumbledore: Er… Excuse me, Barty, but may I ask where your arms have gone?
Mr. Crouch: Into Hershey's cookies and cream, of course!
-Sonya
---
Crouch: AAAHHH!!!
Dumbledore: What is it?
Crouch: It's just that… that… SOMEONE'S PUT CUSTARD IN MY POCKETS!!!!!
-Merciful
---
Crouch: So, were you…
Dumbledore: No, I'm afraid not. No matter how hard I try, I can't get Severus near either a bathtub or a shower.
Crouch: *Sighs* But why?
Dumbledore: It's always the same reaction – 'So much soap… clowns will eat me…'
-G.W.
---
Snape: *Thinking* I'm gonna get you Crouch… Any second now, you've got nowhere to run –
Dumbledore: …and Barty, I assure you that Snape is no more a Death Eater than I am!
Snape: *Whistles*
-Lily
---
[otw_shortcode_button href="http://www.mugglenet.com/fans-fun/crazy-caption-contest/" size="medium" icon_position="left" shape="square"]Return to Caption Contest Home[/otw_shortcode_button]