CC #162: Week of December 11, 2005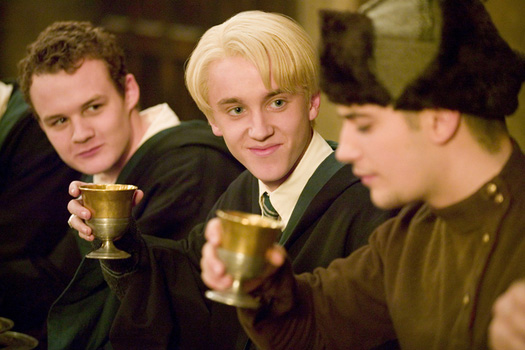 ---
⬇️⬇️ Scroll down in the below area to read all captions from this week! ⬇️⬇️
---
Draco: So what kind of fur is your hat made of? Mink? Beaver? Bear?
Krum: …Ferret.
Draco: …
-Ari
---
Malfoy launches Voldemort's newest recruiting program aimed at attracted younger able bodies to become Death Eaters.
Krum: 'So… ve take a sip, tattoo a skull and a serpent on our vrist, and swear an oath to evil, murder, and the hatred of Harry Potter? This is the veirdest drinking game I've ever played!
-Gigi
---
Malfoy: So how did Karkaroff become Headmaster?
Durmstrang Student: The same vay as all the others – by killing off the previous headmaster.
Malfoy: Really? How did he do it?
-Lady Lara
---
Goyle: *Whispers to Malfoy* He's already going with that Mudblood, Granger…
-Matt
---
Krum: Please let the pretty Gryffindor look at me!
Malfoy: Please let the buff Bulgarian look at me!
Goyle: Please let the blonde bombshell look at me!
-Katy
---
And, ten years later, the boy from Home Alone and the two robbers settle their past differences over some ice and cold beer in stolen goblets.
-Sam
---
Viktor: *Thinking* I haff a vater beetle in my vater…
-LB
---
Draco and Krum: 'To angst! Cheers!'
-Betz
---
Malfoy: Welcome, Krum, to Queer Eye for the Quidditch guy!
Krum: I could've sworn I entered the Triwizard Tournament!
-Ethel
---
Malfoy: Nice hat.
Goyle: IT REMINDS ME OF THE HUNT!
Malfoy: *Facepalm*
-Wade
---
Slytherins: We wish you a merry Krummas. We wish you a merry Krummas. We wish you a merry Krummas and a happy Fleur time!
-DJ
---
Goyle: Is Victor enjoying his pumpkin juice?
Draco: Pumpkin juice?! What he doesn't know is that I've mixed in some Listerine! If Kakaroff's teeth are any indication of this poor boy's future, he better drink up!
Krum: …..
-Ane N.
---
Viktor: What is… is this alcohol!? You can't possibly be old enough to drink!
Draco: Shh, don't tell the fangirls, but I'm over eighteen years old!
Viktor: And you're in…fourth year?
Draco: Yeah. In terms of the movie, I'm fourteen, in terms of the books, I'm seventeen, and in terms of actuality, I'm almost twenty!
Viktor: …
-Lucy
---
Malfoy: Let's see how many captioners think I poisoned his drink…
-Katie F.
---
Idono: Oooh, this picture is just ASKING for a slash joke.
Eric: But you're going to submit something witty and original instead, right?
Idono: Heck no! I'm gonna point out that for dinner, they're all having saus-
Eric: *Deletes*
-Idono
---
Malfoy: Say Krum, if someone has been entering the Caption Contest every week for four months like WickedWitch and their captions have never been chosen, are they considered like a new face or an old face?
Krum: How am I supposed to know that?
Malfoy: I supposed that since you are a very cool Quidditch player and all, you'd know the Management.
Krum: No way. I'm not THAT cool.
-WickedWitch
---
Malfoy: *Singing* You wanna go where everybody knows your name….!
-Tami
---
Malfoy: *Eagerly* So, what do you think?
Krum/Ben Schoen: This Polyjuice Potion works wonders – I will finally be able to take Emma to the ball! *Evil cackle*
-Chaya
---
Jane Goodall: 'And here we observe the Dracovus Malfonious, notorious for attempting to improve his status with females of his species by mimicking internationally renowned celebrities. Let's watch…'
-Waffle
---
Crabbe: *Thinking* I wonder who many people will submit am 'I'm-sorry-I-took-your-russian-hat-in-December-2004' caption…
-D.R.
---
Goyle: How come you're out of focus, Krum?
Krum: Karkaroff cast ze Blurrius Maximus spell on me to stop ze girls from staring at me.
-Malka
---
Krum: What iz zis beetle in my goblet?
Beetle: Do you mind if I use a Quick Quotes Quill?!
Krum: …
-Lauren
---
Harry Potter and the Last Crusade
Krum: Hmm… thees must be de von… *Drinks cup*
*BOOM! SHAKA-LAKA-WAKA SCREEEECH KABLAAZZLE!*
Grail Knight: He chose… poorly.
Draco: …
Goyle: ……
-Eric (Staff)
---