CC #164: Week of January 1, 2006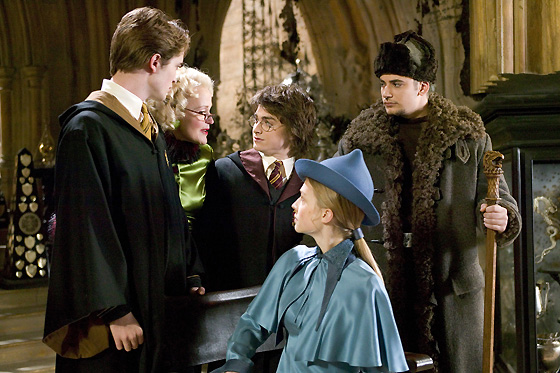 ---
⬇️⬇️ Scroll down in the below area to read all captions from this week! ⬇️⬇️
---
Rita: Why, Fleur dear, what a wonderful uniform! What ever is it made of?
Fleur: Crushed wings o' ladybugz; eetz very popular in France!
Rita: …
-Linnell
---
Harry: 'No, I do not want to try something that'll "blow my mind". All of you leave me alone! I don't yield to peer pressure! NO!'
-Akrabat
---
Harry: Pardon me, Miss Skeeter, but why is it that captions involving you always seem to go in a rather sordid direction?
Skeeter: I don't know what you're talking about, young man.
Harry: Then whose hand is on my —
Viktor: Oh, sorry.
Harry: …
-Skinnerclaus
---
Daniel Radcliffe: Yes! I am finally taller than someone on the cast.
Robert Pattinson: Sorry, Clemence is sitting down, so that doesn't count.
Daniel Radcliffe: Way to smash my hopes and dreams there, Robert the Annoyingly Tall…
-Nikolas
---
Rita Skeeter: 'I'm sorry boys, but you've all lost. Miss Delacour here is our new Musical Chairs Champion!'
-William
---
Shortly after their first interview with Rita Skeeter, the four Triwizard champions are shocked to discover that they now have the same boggart.
-Beth
---
Harry: Didn't we already have this scene as a caption picture?
Cedric: Yeah, except now we have more people to poke fun at!
Fleur: Excusez-moi?
Cedric: Sorry, I don't speak Italian.
-Minish
---
In the Wizarding world, the flight attendant is the one who's sitting while the passengers offer her something to drink.
-Fiskehandler
---
Rita: Has anyone else noticed how left out Viktor Krum is? He's the only one NOT wearing a colour from a Hogwarts House! I'm in Slytherin Green, Fleur is in Ravenclaw Blue, and you two Hogwartians are in your respective house colours.
Krum: I am not left out, I am dressed as Hagrid!
Rita: Oh… Dear, the hairy beard goes on your chin…
-Marama
---
Miranda Richardson: Okay, Stanislav will be the Phantom, Clémence will be Christine, Daniel will be Raoul, and, like always, I'll be Madame Giry.
Robert Pattinson: Who am I?
Miranda Richardson: No, no dear. That's Les Miserables, not Phantom.
-Queen Bee
---
Champions: You want us to do what now?!
Rita: Look, all I am asking for is a little love triangle between Krum, Fleur, and Harry. You know, give the media what they want to hear…
Cedric: Well, what about me?
Rita: You're a Hufflepuff dear; no-one really cares about your love life…
-Katelyn
---
Rita: *Whispers to Harry* Two caption contests ago we settled that Krum's hat is made of ferret. Now, if Fleur's hat is indeed a Hershey's Hugs and Kisses, we've got ourselves a front-page story, boy!
-Nina T.
---
Rita: Now Krum, if you move over there, just between me and Cedric…
Harry: Those Verizon people are paying you again, aren't they?
-Serenity
---
–Continuation from Eliza's caption last week–
Rita: Now would be a good time to make a Verizon Wireless joke.
Eric: Delete this caption, I will…
-;)
---
Miranda: 'Now everyone, let's stay here and watch as over two thousand captions roll in about Stanislav stealing Sean's Biggerstaff.'
-Vive
---
Rita: Now, Harry, I MUST ask you –
Harry: If this is about how I'm coping with the death of my parents, then I don't want to hear it.
Rita: Actually, I was just going to ask you about that rather ornate Christmas tree behind us…. but that's an even better question!
Harry: …
-Sammm
---
Viktor's Walking Stick: 'Viktor–*cough!*–grip's–*gasp*–too tight–*chokes*'
-Schon K.
---
Rita: 'That's Right! I have completed all the necessary paperwork, and so I can now legally adopt you! Muahahahahaha! Oh, the stories I'll print…'
-H.P.F.
---
Rita: Lend me your ears Champions! I have something to say that might interest you all.
Harry: What?
Rita: I have discovered who R.A.B is!
Harry: Who is it?
Rita: It's me! Rita, the Amazing Beetle!
Harry: Are you sure it's not Rita the Annoying Beetle?!
-Gondor
---
Rita: Tell me something about your relatives, Harry, the Muggles you grew up with.
Harry: Well, my Aunt Petunia is obsessed with cleanliness, my cousin Dudley is a stupid fat bully, and my uncle Vernon tends to judge people from their car. By the way, what car do you have?
Rita: *Bewildered* A green Volkswagen Beetle…
Harry: Hmmm…
-Bill the Greek
---
Rita Skeeter quickly put Demi Moore to shame…
-Megan J.
---
Harry figured that only the fangirls could fully understand the complexity and 'plausibility' of the five-person love triangle ignited by the Goblet of Fire
-AchicagoilKim
---
Return to Caption Contest Home