CC #166: Week of January 15, 2006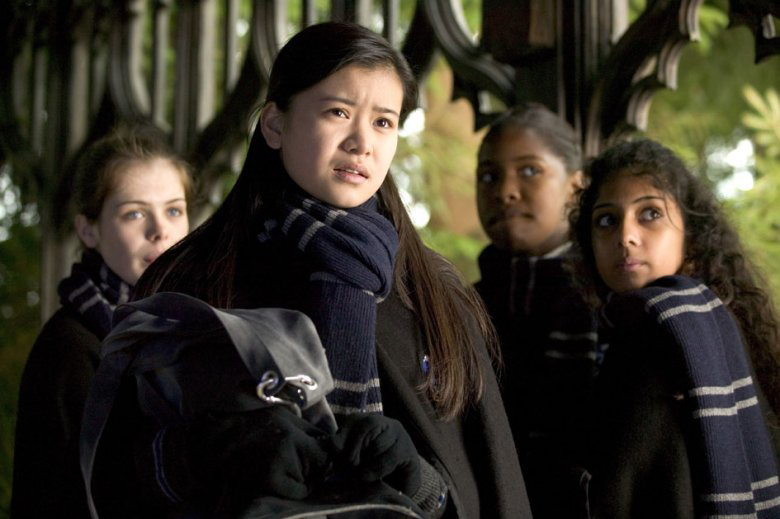 ---
⬇️⬇️ Scroll down in the below area to read all captions from this week! ⬇️⬇️
---
Cho: What do you mean my stunt double gets to make out with Harry?! That's the one stunt I want to do!!!!
-DragonFlame
---
Cho: I'm sorry Harry, but I can't go to Hogsmade with you. I'm going to channel Cedric's spirit into an old potion bottle and ask
him out on the date…
Harry: Excuses, excuses….
-T.G.P.
---
Cho: Oh Harry, I'm really sorry, but …
Harry: Don't worry, Cho, it's ok. I'm pretty sure that this scene isn't in the movie anyway.
-Xena
---
Cho: Wait, hold on. I thought Padma was in our house? Why's she wearing a Gryffindor scarf?
Marietta Edgecombe: Ugh, what a traitor. Don't you hate people like that?
-Leah
---
Girls in background: 'You know… ever since Harry asked her to the ball, her face just froze that way…'
-D.G.
---
Cho's reaction when she learned that her name was mentioned less than ten times in the sixth book…
-Nate
---
And Cho Chang was still pondering whether she'd take a bullet for JKR in order to ensure the release of Book 7…
-Jake
---
MuggleNet Poll: Would you take a bullet for JKR in order to ensure the release of Book 7?
Cho: 'Huh? No… I was hardly in Book 6!'
-Princess Sara
---
This week on 'Breakups from Hell,' we will FINALLY see Cho's response to Harry's proposal! Will it be ….
o- Let's just be friends?
o- It's not me it's you? Or
o- Your scar is a total turnoff and your bizare fetish to save people constantly repells me from you?
Tune it to see!
-Amar
---
—Inspired by Angel's Caption last week—
Cho: Is that a green pillow in the trees?
Curly-Haired Girl:That's the one from the Griffindor common room!
-L.M.
---
'What do you mean I'm about to be attacked by a band of jealous fan girls?'
-Patricia
---
Harry: Come on Cho, just through here!
Cho: What are you talking about Harry?
Harry: I just figured we could be a Gryffindor Lion and a witch in a wardrobe!
Friends: Oh, yuck!!
-Jeff
---
Girl on right: What's the matter, Cho?
Cho: I just can't decide. WOULD I like to be a pepper, too?
-Cheshire Cat
---
1st Girl: What in the world does he mean by putting 'Wouldn't You Like to Be a Pepper, Too?' in the caption scroller?!
2nd Girl: He can't mean it literally, because he'd have to be a pepper to mean it literally, and a pepper doesn't have frontal
lobes, and therefore can't ask anything.
3rd Girl: Perhaps it's a metaphor for something, like he's asking us if we want to be really hot?
4th Girl: If that's the case, he must be some kind of jerk, to imply that we're not already hot, and asking us if we want to be…
Eric: *Mutters* Stupid over-analytical Ravenclaws…
-Aderyn
---
'No, Mr. Allen, I was not adopted by Mia Farrow. Please leave me alone.'
-Cecilia B.
---
Katie: I cannot believe they cast Paris Hilton as Luna Lovegood… there goes our PG-13 for OotP…. MA15+ here we come!
-Razer
---
Cho: I didn't mean to run away. Honest! I just had to see Cedric again. I have this strange feeling that it would be my last time
wtih him.
Mameha: *Off-screen* QUIET! You are geisha! A geisha is not allowed to love. And a geisha is definintely not allowed to do magic!
-Fawkes
---
Ron: 'If those girls wrap their scarves any tighter they'll be Nearly Headless Ravenclaws…'
-SiriusGirl
---
Cho Chang and the clique of political correctness
-Rachel F.
---
Director: *Going through list of required movie elements* '.. Ah here we are.. "Scene showing the ethnic diversity of
Hogwarts".. CHECK!'
-Jeff S.
---
Cho: 'Listen. Just because your wand says, 'Made in China', doesn't mean that I know how it works.'
-Nate
---
Harry Potter and Affirmative Action
-Sqallyre
---