CC #167: Week of January 22, 2006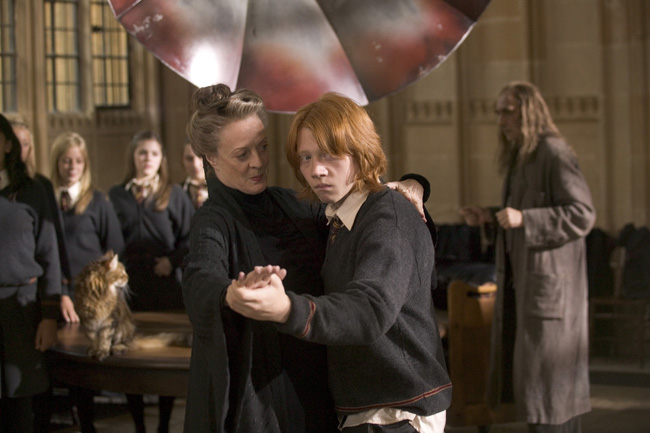 ---
⬇️⬇️ Scroll down in the below area to read all captions from this week! ⬇️⬇️
---
Minerva: *Thinking* You are the Dancing Queen, young and sweet, only seventeeeeeeen….
Ron: *Thinking* At least it's not spiders…. at least it's not spiders…
-JFig
---
Girls in Background: I wish I was McGonagall…
Ron: *Silently* I wish you were, too…
-J. Alexandra
---
Ron: 'Isn't this considered illegal in some countries?'
-Haley
---
And suddenly, Ron realized that there are worse things in life than belching up slugs and facing an acromentula.
-Celeste
---
Ron: *Thinking* I never actually knew what 'bloody hell' was like until just now…
-Leslie N.
---
Ron: 'Ugh. I can see the fanfiction now!'
-Amanda
---
When the casting director took a sick day, his assistants slacked off majorly on the 'ethnic diversity' rule; though to be fair, they did stick a cat in there.
-Carla S.
---
McGonagall: One, two, three, four, five, six, seven, eight, nine-
Ron: What?! Seven ate nine?!
McGonagall: *Facepalm*
-Snuffles
---
Fred and George: *Humming softly off-screen* 'Here's to you, Mrs. Robinson …'
Ron: *Thinking* I am going to kill them!
-Martha
---
After seeing people's faces, Ron had more than enough determination and deliberation to apparate to another universe, but the anti-apparation spell on Hogwarts allowed us to show you the Kodak moment seen here.
-Sephiroth
---
Mrs Norris: 'I only have eyes for you, Mr. Turntable…' *winks*
-Toomanycurls
---
Filch: Tish! Our song!
Mrs Norris: For the last time, ARGUS, I have no first name, and you are NOT Gomez Addams!
-Tenielle
---
Ron: Demi Moore and Ashton Kutcher have got nothing on us!
-Emmer
---
Ron: Would I like to be a pepper? Yes, if it means I don't have to dance with her…
McGonagall: If that is your attitude, Mr. Weasley, I will transfigure you now.
-F and C
---
Dame Maggie: You look uncomfortable. You know, you are in good company; I've held Sir Lawrence Olivier in these arms.
Rupert: Quit trying to make me jealous…
-Bandmum
---
Ron: *Thinking* Now I know what Harry feels like… I'll be scarred for life.
-Megan J.
---
Proffesor McGonagall: *relieved sigh* I feel 58 again…
Ron: …
-CubanChick
---
Ron: 'When did they hire Ben Jabituya to run the scroller?!'
-M.M.
---
Ron: *Thinking* I wonder if Professor Snape has to give this same tutorial to the Slytherins…
-Tige in Shining Armor
---
Mcgonagall: 'You know, Mr. Weasley, your impression of a basset hound is really improving…'
-LavLav
---
CAN YOU FIND:
* The dilophosaurus from 'Jurassic Park'?
* Pozzo from 'Waiting For Godot'?
* Salem from 'Sabrina: The Teenage Witch'?
* The queue for Luna Lovegood tryouts?
* Inspiration for the latest string of shipper works?
-Nib
---
'… Certain as the sun… Rising in the east… Tale as old as time… Song as old as rhyme… Weasley and his "Teach"…'
-Jeff S.
---
McGonagall: Well, Mr. Weasley?
Ronald: Do I have to?
McGonagall: Why yes, of course, your song is playing!
Stray cat strut I'm-a (ladies cat)
Feline casanova hey man that's that
Get a shoe thrown at me from a mean ole man
Get my dinner from a garbage can…
Meow!
-Eric (Staff)
---
Ron: *Quietly to McGonagall* He'll do it… he really will. Any moment, now, Filch will join that line of potential Romilda Vanes…
McGonagall: *Also looking in mirror* I can't say it's no surprise; I knew that Albus letting him buy the Goldilocks Wig from 'Haut Monde Hairs' was a step in the wrong direction!
-Eric (Staff)
---