CC #186: Week of May 28, 2006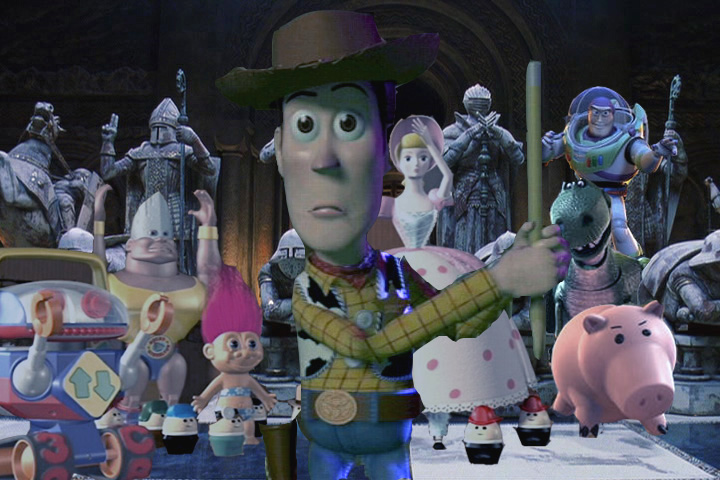 ---
⬇️⬇️ Scroll down in the below area to read all captions from this week! ⬇️⬇️
---
Bo Peep: 'Oh no, I've lost my sheep! I hope Aberforth hasn't got hold of them again!'
-Malka
---
Woody and the gang meet Voldemort…and realize Sid Phillips was child's play.
-Portia
---
Fans: What's with all the anti-Catholocism?
Eric: What do you mean?
Fans: Harry Potter, the DaVinci Code, AND NOW Brokeback Mountain?!
Eric: UGH! It's just a cowboy!
-A.J. Lucas
---
Bo Peep: 'Oh no! Voldemort's turning my sheep into horcruxes! Somebody DO something!!'
-Elaine
---
Harry: 'Wow. I haven't seen this movie in the longest time, but I don't remember them being evil…'
-Zandy
---
Woody was up to bat,
Ken was pitching,
And there were giant, living chess pieces as umpires.
Yup, it was gonna be hard one to win.
-Char
---
Harry picks up the Daily Prophet only to discover this picture staring up at him with the
headline reading, 'Bad Parenting: Reasons why 4-year-olds Don't Have Wands'
-Latisha
---
Umbridge hadn't learned her lesson after messing with the centaurs – later she began teasing those in the Department of Sometimes Inanimate Beings Division and was consequently carried off to the toy chest.
-Jarjar
---
Buzz: 'I've been through infinity and beyond, but I don't know if I can handle this…
-Sephiroth
---
Buzz Lightyear: To infinity and beyond!
Hermione: Well, actually, since infinity is theoretically the greatest number in existance, and anything greater than infinity is also infinity, you really can't go beyond it.
Buzz: Is she always like this?
Ron: *Sigh* Yeah…
-M.W.
---
Harry knew he was out of luck when the only reinforcements the Order had left were from a Disney/Pixar movie…
-Kristen
---
Woody: 'Stay back!! Back, I tell 'ya!! Or else I'll — I'll checkmate you!!'
-Melissa
---
Woody: 'Guys, check out my new wand! It's .45 inches, pencil wood with a core of crayon. Springy, light, particularly excellent for herding Bo Peep's sheep and potion-making!
Toys: ….
-Erica L.
---
Woody: 'Guys, would you please stop doing the YMCA. I'm trying to help find the Holy Grail! Now, if only I could get one of these chess pieces to tal… BUZZ! Stop trying to act like a knight, that's Ron's job!'
-S.M.
---
—Inspired in part by Cloe's caption of May 4th-10th, 2003—-
Dear Woody,
Happy Birthday!
For your present, I got you a giant pencil!
~Eric~
Woody: 'Wow! A giant pencil! Now all I need is a moustache and all my dreams will come true!'
-Robin
---
Woody: What do you mean 'Maniacal May is already over?!?!'
Muscleman toy: Yeah! We've been practicing panicky English accents for WEEKS!!!
-Cayte
---
Woody: 'You are a CHESS PIECE! You're not a real knight! You're…..oh, you're an illegally transfigured muggle artifact!'
-Rory
---
Toy Story 1 1/2, Scene 3, Act 2 Voldemort Lands on Andy's bed.
Little Bo Peep: How come you don't have a wand {like Voldemort}, Woody?
Woody: It's not a wand. It's a little stick that blinks!
Hamm: What's wrong with him?
Little Bo Peep: Wand envy.
-FeZ
---
Jo: 'People did have theories that Riddle's box of stolen toys in the orphanage would be significant, but I bet they never guessed this!'
-Hanna
---