CC #204: Week of February 11, 2007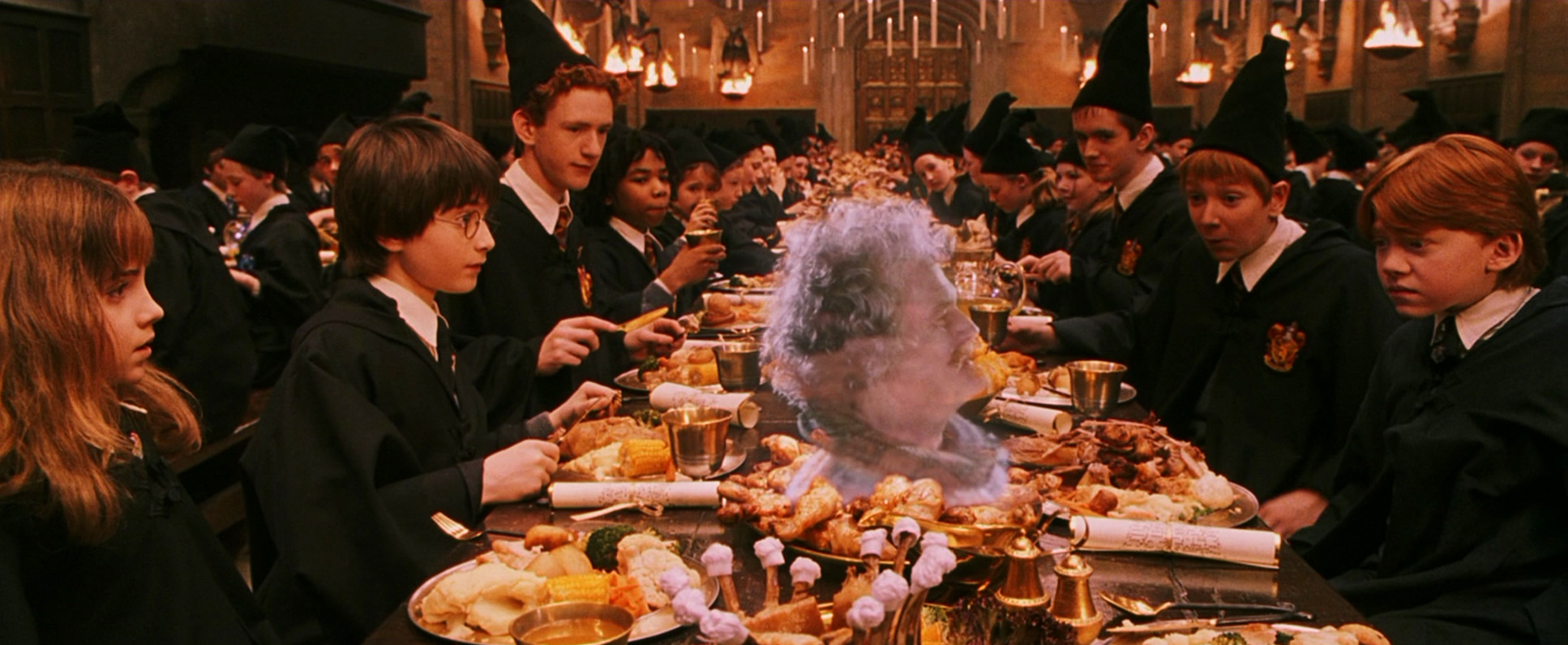 ---
⬇️⬇️ Scroll down in the below area to read all captions from this week! ⬇️⬇️
---
Ron: Are you just a head?
Nick: No, but right now I am separated from my body. I stuck it in a turkey to soften it up. *Looks in turkey* Where'd it go?
Ron: Harry, didn't you just have some turkey?
Harry: *Gags*
NicK: I hope you know that ghost bodies are poisonous.
Harry: *Falls off chair*
-Homad
---
Nick: See, I can go through the table! Isn't it amazing?
Hermione: Yeah… Say, Sir Nicholas, could you go under the table and see who's poking me?
Ron: *Readjusts himself*
Hermione: Never mind, they stopped…
-Sam
---
Voldemort: *Appears in middle of Great Hall* I will kill Harry Potter!
Sir Nicholas: *Stands in front of Harry* Now wait one minute! if you want to kill Harry, you'll have to go through me first!
Voldemort: *Walks through Nick*
Sir Nicholas: …oh…
-Alyssa
---
'No, I am not Nearly Headless Nick! I am his half-brother, Nearly Bodiless Bernard!'
-Megan
---
Ron: I can feel the fat blocking my veins already…
NicK: Oh, boo hoo! *With girlish voice* 'I'm Ron! Poor me, I can eat food and get fat like a normal person! I'm going to complain about it all day! Please, feel sorry for meeee!'
Ron: … I… I'm…
Harry: Like you didn't see that coming…
-Nora
---
George: So… why are you in the chicken?
Sir Nicholas: Well, it all started when this one student asked me to find out which came first – the chicken… or the EGG?!
-C_Bizalicious
---
Ron: Excuse me, are you the imprint of a departed soul?
Nick: Yes…
Ron: Okay, everyone, it's safe. This one's NOT an Inferius!
-WeaselChick
---
Sir Nick: MMMM! Steaming weenies! I love 'em!
Harry: *Shocked* Mother pus Bucket!
Percy: *Annoyed* Back off, man… I'm a Prefect…
George: Sir Nearly Headless Nick… good evening. As a duly designated representative of the House of Gryffindor, I order you to cease any and all supernatural activity and return fortwith to your place of origin or to the nearest convenient parallel dimension.
Ron: That ought to do it, thanks very much, George…
-RJ
---
Percy: Hello, Sir Nicholas.
Sir Nicholas: Well hello, Percy!
Ron: DUDE! I was going to eat that! Hey, wait, you're Nearly-Headless Nick!
Hermione: Nearly Headless? Now can you be Nearly Headless?!
Sir Nicholas: Well, give me a knife and I'll show you…
Hermione: Nevermind!
-Andie
---
Nick: 'Whaddaya mean you like eating something more substantial?!'
-Toffee
---
Nick: Come on in, the table's great!
Ron: Uh… we're not dead.
Nick: Excuses, excuses…
-Sam
---
Nick: 'Wow, look! I popped up in just the right place! All the lead characters sitting together, how terribly convenient!'
-Drew
---
Nearly-Headless Nick: *Angrily* 'I prefer the term "imprint of a departed soul," you twit! Were you born in a bin?!'
-Eapraven
---
NicK: Fred, you lose! Ron, Harry, you're the only two left; keep that juice in your mouths!
-roXtar
---
Nick: And so, young Gryffindors, if you have any questions – any questions at all – just come to me!
Harry: Yeah, I was just wondering… why do some people become ghosts–
Nick: GOTTA GO! *Disappears*
-Alan
---
Harry: OMG, a talking head.
Sir Nick: No, it's quite all right – I'm a friendly ghost!
Ron: *Looks up from the chicken* HOLY SMOKES! A TALKING HEAD!
Sir Nick: They don't learn, do they?
-Elisabeth
---
Percy: I call the eyes!
Everyone: *Stares*
Percy: What?
-Meghanalo
---
Ron: Nearly headless? How can you be nearly headless?
Nick: Never cheat on a demented astronaut woman.
-Flobberworm
---
George: Nick! Why don't you take a bite? *Laughs*
NicK: …Just for that, I'm going to steal all of your cone hats, so you can't wear them in any of the later movies.
Ron: Right… Like that's going to happen!
-Nora
---
Ron: Who are you?
Nick: I'm the Ghost of You-and-Your-New-Friend-Harry-Don't-Have-Your-Hats-and-You're-Making-the-Entire-Gryffindor-House-Look-Like-a-Bunch-of-Idiots.
Ron: Wow. Hey, Harry, we have our own ghost!
-Sam
---
We are now translating the British words in the Harry Potter movies to American gangster slang:
Harry: Yo, homedog!
Ron: What, homeboy!
Harry: Who the hizzle is this and what is he doing getting up into our grill?
Ron: That's Sir Nicholas, our Ghost Homedog.
Sir Nicholas: What's up my Gryffindor homies?
The End.
-Marissa#22
---
Harry: I thought we were having headless duck, NOT headless-nick?!
Nicholas: That's 'nearly' to you!
-Landis
---
Nick: You have set me free from my drumstick. Now I will grant you three wishes!
Ron: Hmmmm, I dunnno. How about a cauldron of felix felicis, a billion galleons and you getting out of my dinner!
-Maggie
---
Nick: 'What were you expecting — a head of lettuce?!'
-Josh
---
Fred: Hey, I know you! You're an extra decapitated head from Sleepy Hollow!
Sir Nicholas: No I'm not! And if I were, what would I be doing on this table?!
Fred: *Laughing* I don't know!
Harry: *Slightly disturbed*
-BloodRedSky
---
Harry: Is that Chicken Parmesian?
Ron: No… Chicken Porpington.
-Emiline
---
Percy: 'What a pretty table arrangement!'
-Banned
---
American audiences of Harry Potter books and movies continued to become estranged by unfamiliarity with British Foods as 'Hollowed Head with Horseradish' was added to the list. Said one 16-year-old teen in the US: "First Treacle Tarts and now this!?"
-Sean
---
Dumbledore: 'And our next course is comprised of Completely Headless Nick. Though there's not much taste, it does wonders for the digestive system, guaranteed to pass right through you!'
-Toffee
---
Ron: Umm… Sir Nicholas? You have something hanging from your nose, Sir…
Nicholas: Darn! I should have looked into the mirror before I was executed…
-Nicole M.
---
Fred: 'Oy, Ron, be a dear and pass the John Cleee, would you?'
-Cydney
---
Harry: Ron, this fork is dirty!
Ron: Waiter!
*A 20-ton weight falls on George and/or Fred*
John Cleese: *Appearing in the middle of the table* And now for something completely different!
-Sandra
---
Ron: Look, it's John Cleese!
Sir Nicholas: I prefer Sir Nicholas De Mimsy Porpington, if you don't mind.
Ron: Why?
Sir Nicholas: Because, if I go by John Cleese then I will be associated with Monty Python and all of the recent captions involving them. By the way, are you a Weasley?
Ron: I wasn't expecting the Spanish Inquisition…
Sir Nicholas: *In a high-pitched voice with a Spanish accent* No one expects the Spanish Inquisition!
-Sidney
---
Nick: I, Sir Nicholas De Mimsy Porpington, have a grave announcement to make. I can now say 'I am dead' in three different languages –
I am dead.
Je suis mort.
Soy muerto.
*People at table clap*
-Kaity V.
---
Whilst Ron dominated the dinnertime conversation, Sir Nicholas made sure he was at the head of the table.
-Anna
---
Nick: Yes, I AM quite aware that my body is missing, but don't worry. The exploding pudding has been robbed of most of its explosives this year!
Percy: Well, actually…
-Marisa
---
Taking 'something for everyone' to a whole new level.
-Axyl
---
Nearly-Headless Nick: Welcome to Gryffindor!
Percy: This is Nearly-Headless Nick, and we are the Nearly Brimless Students!
Ron: So what does that make us?
Percy: Totally Clueless First Years!
-Erin
---
Ron: *Thinking* Great! Now there's going to be ghost ooze on the ho ho's!
-Miss.Syd
---
[otw_shortcode_button href="http://www.mugglenet.com/fans-fun/crazy-caption-contest/" size="medium" icon_position="left" shape="square"]Return to Caption Contest Home[/otw_shortcode_button]