CC #213: Week of April 10, 2007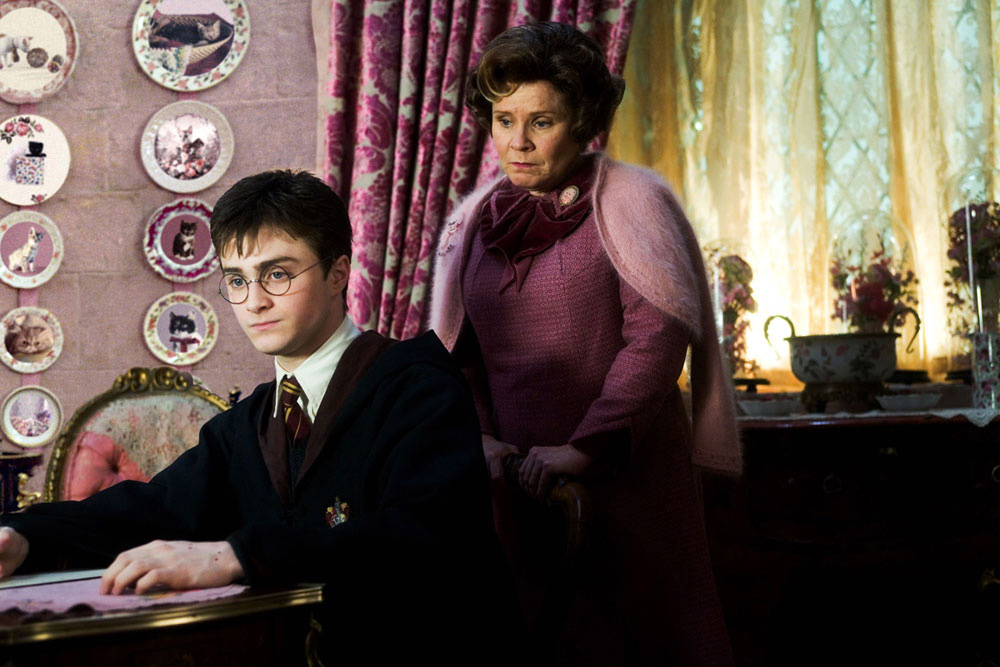 ---
⬇️⬇️ Scroll down in the below area to read all captions from this week! ⬇️⬇️
---
Umbridge: Now, Potter, I would like you to write out the line 'I must not wear glasses with no lenses' for as long as it takes for the message to sink in…
Harry: But, Professor, I can't.
Umbridge: And why not, Potter?!
Harry: I don't have any lenses in my glasses, Professor; I can't see the paper…
-MCH
---
Harry: I'm sorry that you missed out on the Cornelius Fudge limited series collector's plate.
Umbridge: *Sniff* It was supposed to go up in value 25 percent!
-Phantom
---
Umbridge: Now, let's see if serving detention with me has taught you anything. Answer my question truthfully, no lies! What is your opinion of the decorations in my office?
Harry: Uhh, my neighbor Mrs. Figg would totally be jealous!
-Carnali
---
Harry: …
Umbridge: …
Harry: So… how 'bout them Chudley Cannons?
-Kathleen
---
Umbridge: Harry, look at me when I'm talking to you!
Harry: Shh… this is the episode where Mary breaks up with John – I've been waiting forever for this.
Umbridge: What are you talking about? …I thought Mary was with Chris?!
-I'monfire
---
Harry: *Thinking* So… much… pink… melting… soul –!
Umbridge: *THinking* Ha! Little does he know, pink is not soul-melting… but my heat vision is! MWAHAHAHA!
-Slider
---
Harry: You have, um, quite a… unique office.
Umbridge: Really? Weren't your previous teachers a Death Eater, a fraud, a werewolf and an imposter?
Harry: Yeah, but your office is DEFINITELY the most… unique.
-Sam
---
Umbridge: 'Now now, Harry, just because you got a detention for clashing with my room, you don't have to look so sad!'
-Catswimmer
---
Harry: My toad senses are tingling…
-Daniel H.
---
Harry: *To Interviewer* In all reality, Umbridge has only made fifth year a real downer altogether. I mean, she's –
Umbridge: *Ahem*
Harry: -standing right behind me, isn't she…?
-Tara
---
Harry: Oh, I see. So I'm guilty until proven innocent?
Umbridge: Not exactly. You're not allowed to prove yourself innocent, so you're just automatically guilty.
-Sam
---
Since becoming friends with Cruella DeVille, Professor Umbridge has begun making sweaters out of Pygmy Puffs.
-Miesha
---
–In continuation of GraceCharlotte's caption last week–
Umbridge: Mr. Potter, do you even know what WTF stands for?
Harry: Uh… Wednesday Thursday Friday?
-Nusayba
---
Umbridge: Harry, dear, what's wrong?
Harry: Well, Dolores… may I call you Dolores?
Umbridge: No, but we'll address that later.
Harry: Ah, well, I'm troubled by the fact that you are proving to be yet another adult in my life who abuses power for their own ends. Very disenheartening…
Umbridge: Can't be helped, dear. Remember what they said in the 60's – don't trust anyone over 30.
Harry: How old are you then?
Umbridge: Really do want to write lines, don't you, Mr. Potter?
-Eldee
---
Umbridge: How dare you say I'm not perfect! I take umbrage at that!
Harry: You *are* Umbridge!
Umbridge: Quiet, boy!
-Sam
---
Umbridge: Seven points from Gryffindor!
Harry: Why not nine?
Umbridge: Because 7-8-9!
-Tallal
---
Harry: I can't do this, Professor Umbridge.
Umbridge: Oh, but I'm sure you'll find that you can. You don't need ink, ahven't I already told you?
Harry: No, no, it's not that… I'm just not sure what to write…
Umbridge: What do you mean by that?
Harry: Am I supposed to write 'I will not break rules' or 'I must not tell lies?' Warner Bros. hasn't decided…
Umbridge: Well, that does bring up some issues, now, doesn't it?
-Hol
---
Harry: 'Ok! I know J.K. Rowling described you as looking like a toad, but did you have to just eat that fly that was buzzing by my ear?!'
-Aniela
---
Umbridge: Is there something about me you dislike?
Harry: No, Professor, there isn't ONE thing about you that I DISLIKE.
Umbridge: Good!
-Sam
---
Umbridge: 'Well, aren't you emo today, wearing all of those dark clothes…'
-DeScant
---
Harry: *Staring at plates on wall*
Umbridge: Ah, yes, my old kittens. I was quite fond of them all until they misbehaved and I had to turn them into plates.
Harry: *Gulps, scoots chair away*
-Molly
---
Harry: *Thinking* Hey, at least it's not life in Azkaban. WAIT, is that an option?!
-Churchill
---
Umbridge: Mr. Potter, dear, hurry up.
Harry: *Is writing 'Umbridge is a Great DADA teacher' 1000 times*
Umbridge: Now, copy that enough times to give every student in the school a copy tomorrow at breakfast.
Harry: But, Professor, I thought you told me not to spread lies!
-Hazel
---
Harry: Hmm… if the Muggles and the Wizarding world went to war…
Umbridge: *Outraged* What are you doing, Potter?!
Later that Day…
On the back of Harry's Hand: I will not ponder world issues.
-Richard N.
---
[otw_shortcode_button href="http://www.mugglenet.com/fans-fun/crazy-caption-contest/" size="medium" icon_position="left" shape="square"]Return to Caption Contest Home[/otw_shortcode_button]